Reading time ( words)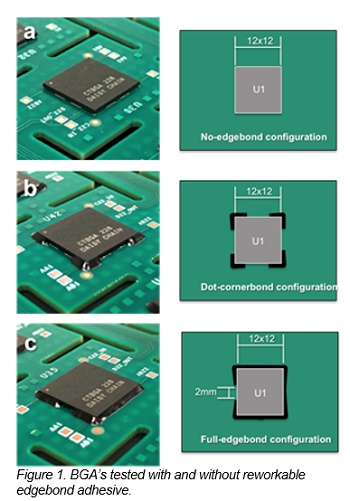 At the SMTA International 2018 technical conference, Portland State University, Zymet Inc., and MK Electron Co. Ltd will present their investigation on the board level reliability of low temperature solder (LTS) assemblies and the efficacy of a reworkable edgebond adhesive to enhance reliability. LTS assembly results in less warpage and, hence, fewer assembly defects. It also offers a path to board level assembly of modules, without subjecting them to their first-level reflow conditions. One disadvantage of low temperature solders is poorer board level reliability, particularly for harsher environments.
The -40°C to +125°C thermal cycle performance of BGA's assembled with LTS is compared with those assembled with conventional SAC solder. Non-edgebonded LTS assemblies (Figure 1a) are compared with those bonded with a reworkable edgebond adhesive (Figures 1b and 1c). The expected lower performance of LTS, relative to SAC solder, is confirmed. The reworkable edgebond adhesive, when applied to LTS-assembled BGAs, is found to improve performance to levels well beyond that of SAC-assembled non-edgebonded BGAs. With appropriate adhesive selection and configuration, LTS-assembled BGAs can meet more difficult board level reliability requirements, even those of a harsh environment application.
The paper, "Low Melting Temperature Interconnect Thermal Cycle Performance Enhancement Using Elemental Tuning and Edgebond Application", will be presented at Session APT7: Reliability of Low Temperature Solder (LTS) Interconnects, October 18, 2018. For more information about edgebond adhesives, visit Zymet at Booth #828, SMTAi 2018, Rosemont Convention Center, Rosemont, Illinois, October 14 -18, 2018.
About Zymet
Zymet is a global supplier of adhesives and encapsulants, focused on the development and manufacture of enabling materials for the electronics industry.
Share
Print
Suggested Items
06/13/2019 | David Lober and Mike Bixenman, DBA, KYZEN; and Marietta Lemieux and Mark McMeen, STI
The continuous challenge in the electronics industry is to keep up with the demand for smaller, faster, and more reliable electronics. When it comes to cleaning, this rapid development of manufacturing and reliability challenges is juxtaposed with the slow pace of new test method development.
06/11/2019 | Nolan Johnson, I-Connect007
I-Connect007 Managing Editor Nolan Johnson recently spoke with KIC President and Founder Phil Kazmierowicz and Manager of Applications and Sales MB "Marybeth" Allen as they each transitioned into new roles in the KIC leadership team. The conversation ultimately turned to the current dynamics in the industry, particularly Industry 4.0 and streamlining processes.
06/10/2019 | Barry Matties, I-Connect007
In this interview with I-Connect007, Denis Barbini, general manager of Laserssel, talks about the company's new laser-selective reflow solution aimed at reducing a typical reflow oven's 10-minute cycle down to just 10 seconds as well as the overall benefits manufacturers could see from streamlining this process.