Reading time ( words)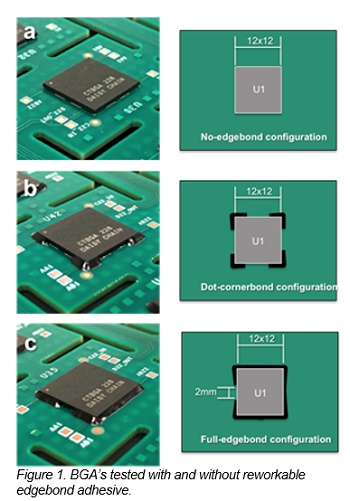 At the SMTA International 2018 technical conference, Portland State University, Zymet Inc., and MK Electron Co. Ltd will present their investigation on the board level reliability of low temperature solder (LTS) assemblies and the efficacy of a reworkable edgebond adhesive to enhance reliability. LTS assembly results in less warpage and, hence, fewer assembly defects. It also offers a path to board level assembly of modules, without subjecting them to their first-level reflow conditions. One disadvantage of low temperature solders is poorer board level reliability, particularly for harsher environments.
The -40°C to +125°C thermal cycle performance of BGA's assembled with LTS is compared with those assembled with conventional SAC solder. Non-edgebonded LTS assemblies (Figure 1a) are compared with those bonded with a reworkable edgebond adhesive (Figures 1b and 1c). The expected lower performance of LTS, relative to SAC solder, is confirmed. The reworkable edgebond adhesive, when applied to LTS-assembled BGAs, is found to improve performance to levels well beyond that of SAC-assembled non-edgebonded BGAs. With appropriate adhesive selection and configuration, LTS-assembled BGAs can meet more difficult board level reliability requirements, even those of a harsh environment application.
The paper, "Low Melting Temperature Interconnect Thermal Cycle Performance Enhancement Using Elemental Tuning and Edgebond Application", will be presented at Session APT7: Reliability of Low Temperature Solder (LTS) Interconnects, October 18, 2018. For more information about edgebond adhesives, visit Zymet at Booth #828, SMTAi 2018, Rosemont Convention Center, Rosemont, Illinois, October 14 -18, 2018.
About Zymet
Zymet is a global supplier of adhesives and encapsulants, focused on the development and manufacture of enabling materials for the electronics industry.
Share
Print
Suggested Items
02/20/2019 | Real Time with...IPC
Joe Fjelstad speaks with Paul Salerno, global portfolio manager at MacDermid Alpha Electronics Solutions, about their latest product and process solutions to combat voids in solder including modifications in pastes, preforms, and vacuum assist soldering.
02/18/2019 | Dan Beaulieu
Joel Scutchfield, sales director with Koh Young America, discusses the company's outlook and new product offerings for 2019, including their Koh Young Process Optimizer (KPO), which won an award at IPC APEX EXPO 2019 for the process control software category.
01/30/2019 | I-Connect007 Research Team
In a recent I-Connect007 survey on jet printing solder pastes, we asked the following question: "What are the major benefits with jet printing solder pastes?" Here are just a few of the replies, slightly edited for clarity.