Reading time ( words)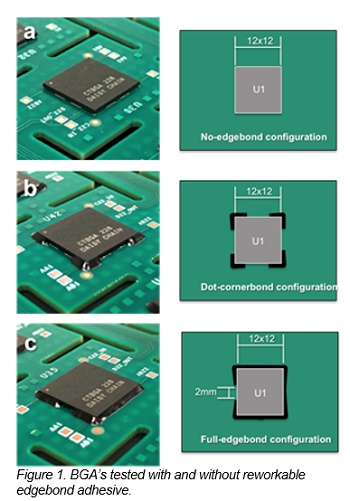 At the SMTA International 2018 technical conference, Portland State University, Zymet Inc., and MK Electron Co. Ltd will present their investigation on the board level reliability of low temperature solder (LTS) assemblies and the efficacy of a reworkable edgebond adhesive to enhance reliability. LTS assembly results in less warpage and, hence, fewer assembly defects. It also offers a path to board level assembly of modules, without subjecting them to their first-level reflow conditions. One disadvantage of low temperature solders is poorer board level reliability, particularly for harsher environments.
The -40°C to +125°C thermal cycle performance of BGA's assembled with LTS is compared with those assembled with conventional SAC solder. Non-edgebonded LTS assemblies (Figure 1a) are compared with those bonded with a reworkable edgebond adhesive (Figures 1b and 1c). The expected lower performance of LTS, relative to SAC solder, is confirmed. The reworkable edgebond adhesive, when applied to LTS-assembled BGAs, is found to improve performance to levels well beyond that of SAC-assembled non-edgebonded BGAs. With appropriate adhesive selection and configuration, LTS-assembled BGAs can meet more difficult board level reliability requirements, even those of a harsh environment application.
The paper, "Low Melting Temperature Interconnect Thermal Cycle Performance Enhancement Using Elemental Tuning and Edgebond Application", will be presented at Session APT7: Reliability of Low Temperature Solder (LTS) Interconnects, October 18, 2018. For more information about edgebond adhesives, visit Zymet at Booth #828, SMTAi 2018, Rosemont Convention Center, Rosemont, Illinois, October 14 -18, 2018.
About Zymet
Zymet is a global supplier of adhesives and encapsulants, focused on the development and manufacture of enabling materials for the electronics industry.
Share
Suggested Items
10/09/2018 | Stephen Las Marias, I-Connect007
In this interview with I-Connect007, Indium Corporation Technical Manager Jonas Sjoberg discusses voiding and other key challenges in soldering, as well as an automotive electronics testing standard based out of South Korea that is seeing increased utilization all over Asia. He also talks about the increasing trend in manufacturers moving to Type 5 and Type 6 solder powders, and how this is causing its own set of challenges in printing.
09/28/2018 | Real Time With... NEPCON South China
Ralf Wagenfuehr, plant manager of Rehm Thermal Systems (Dongguan) Ltd, speaks with I-Connect007's Edy Yu about the developments in the company's convection reflow soldering system, which features a vacuum module, aimed at addressing the increasing demand for vacuum soldering. He also discusses their software developments, as well as how they are helping their customers toward their Industry 4.0 journey.
09/13/2018 | Russell Poppe, JJS Manufacturing
Much has been written about the increasing shortages of electronic components such as MLCCs, chip resistors and other semiconductor devices. And the manufacturing industry is now seeing price increases and greatly extended lead times. It seems the situation is likely to get rapidly worse rather than better. What can we do? Read on.