Reading time ( words)
Calumet Electronics Interview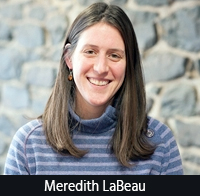 The eager, voluntary support from the industry has been tremendous. It's not just individual graybeards that have stepped up, either. Earlier in the article, Calumet Electronics support was noted. I asked Dr. Meredith LaBeau, Calumet's chief engineer, about their serious support in helping this class get off the ground.
Carter: Thanks for taking the time for a few questions, Dr. LaBeau.
Dr. Meredith LaBeau: Thanks for having me comment on this unique program in our backyard at a strong, regional university where we draw many new, young, vibrant, and talented employees to Calumet Electronics.
Carter: How did Calumet Electronics get involved in this effort?
LaBeau: In 2008, Calumet Electronics engaged in a Naval Air Systems Command (NAVAIR) research program HIOPTIMA project that then transformed into a Small Business Innovation Research (SBIR) project with MTU. Although this project was not funded into a secondary stage, this set the stage for our continuing partnership with MTU and Dr. Middlebrook. Fast forward many years to this past spring when Dr. Middlebrook contacted Calumet about developing a joint internship program that would assist in developing the practical lab for this course, using tabletop equipment from the SIBR project. We readily joined forces to support our partner and ensure the continuing education and development of engineers in what some consider a dying industry. Calumet is actively engaged in activities to support the domestic supply chain to be robust and resilient especially for customers such as the DoD. Calumet has been supporting an intern since May 2018 to assist in the development of this course.
Carter: This has to be diverting some key resources that Calumet could use for other, more immediate needs. What's in it for Calumet Electronics?
LaBeau: Calumet Electronics strives to continue to ensure a thriving domestic supply chain, which includes knowledgeable engineering staff from designers to process engineers. Developing a close partnership with MTU allows Calumet to recruit some of the best and brightest locally who will soon have visibility to a vital industry for the United States—an industry that we all depend on for the future of technology. Educating these engineers through this class and other potential classes at MTU will provide the required next generation of designers, problem solvers, and leaders.
Carter: What would you like to say to your colleagues in the industry—including your competitors—about getting involved in this effort or helping one like it get started?
LaBeau: It is vital that all actors in the PCB industry support a robust domestic supply chain. Building a strong relationship with local universities provides educated talent, partners in future years, and a career ladder for the aging workforce to successfully transfer their knowledge to continue innovation and support our nation.
For further information, email Dr. Middlebrook (ctmiddle@mtu.edu) or myself (pmcarter01@gmail.com).
Marc Carter has worked in the electronics interconnection industry since 1984 in a variety of roles in fabrication and assembly materials, processes, environmental compliance, and supply chain management activities around the world. He has had the honor and privilege of working with and learning from many of the true giants of this industry in multiple functions over many years. His experience includes a major mil-aero OEM, field and development work at materials suppliers to the printed circuit industry, and an educational stint as the sole proprietor of a manufacturer's agency representing multiple high-tech mil-aero material suppliers.
Share
Print
Suggested Items
02/13/2020 | IPC
Electronics are increasingly being used in the design of new vehicles, driving IPC activities in standards development to help the industry adapt to building electronics better for the automotive industry. At IPC APEX EXPO 2020 we saw an increase in automotive content throughout the show which also provided opportunities for automotive OEMs and Tier1 suppliers to network.
02/13/2020 | Pete Starkey, I-Connect007
Pete Starkey and Eduardo Benmayor, general manager for Aismalibar, discuss ways in which insulated metal substrates have been modified to relieve stresses on the solder joints of high-end LED assemblies during thermal cycling. Eduardo also describes a range of thermally conductive FR-4 laminates that can be processed like standard FR-4 for applications where thermal dissipation can be maximized without changing the design.
02/05/2020 | Barry Matties, I-Connect007
Barry Matties recently took a tour of AT&S's Austrian factory, which is developing new circuit design strategies surrounding embedded and active components. Gerald Weis discusses the company's focus on serving and educating PCB designers around the world, as well as their plans to embrace the latest technology and Industry 4.0 processes going forward.