Reading time ( words)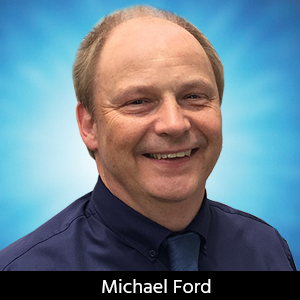 Michael Ford: Yeah, it's easy to forget that it was not even a year ago at IPC APEX EXPO 2018 when people saw CFX working for the first time. The people there could not believe that they could just go to a QR code with their mobile phone and look at data with value and meaning from so many different machine vendors all in one platform—no installation or configuration, it was just there.
That was the point where started to chart the history of what's happened over the last year in terms of people getting really excited about it. Whenever we talk about CFX, you would think that people would be into all of the messaging, protocol, and technical stuff, which people do have an interest in. But for me, most of the questions surround, "How is CFX going to solve Industry 4.0 and how is going to bring me that value?" People are talking about the value that is brought for manufacturers as well as that for machine vendors.
For example, in the beginning, we had a number of machine vendors who were interested in taking part in that very first demo. What you will see coming up is that so many more machine vendors have come along. Even those who had kind of been holding out, hedging their bets, and waiting to see what the industry was going to do have heard from customers who had specific issues in manufacturing related to Industry 4.0, and suddenly related to making machine processes smarter than they used to be.
They're being faced with the idea of having to develop something again, worrying it's going to cost too much money, and it will all bespoke for this customer. But now CFX is in their minds, and they're thinking, "Well, with that CFX demo we saw, we could use the messages in that to achieve what we want to do." They start to really understand the business process that this represents for the whole industry. It's not just one or two companies or certain of companies—absolutely everyone that is involved is going to benefit from this.
As we've been talking about CFX, the business processes have been put into place as well. That is what drives the achievement of that critical mass of adoption for the standard, which I believe is happening behind the scenes right now. A lot of companies have taken on board their own demonstrations. They've set it up in their own workshops and are starting to go out and explain it to customers proactively. We've had people come along recently and say, "The software development kit (SDK) that we have is completely free of charge from IPC and it is so easy for people to adopt CFX, but what about smaller pieces of equipment?" We had one company with soldering irons. How do you embed a whole infrastructure of an industrial internet of things (IIoT) standard within a soldering iron? They came up with a solution. It's a five-millimeter square chip, and they're running a Linux-based software development kit and producing CFX messages directly and natively from their soldering irons.
This is something I hope we are going to see at IPC APEX EXPO 2019—the fact that it's not just the big expensive machines now. The majority of the machines that actually exist in the factory are smaller, bespoke, niche, specialist, and even homemade for the functional testers. We're even talking about a method to integrate all of that within CFX as well. It means that the excitement is reaching areas that, from what we've seen in the past in terms of communication, it has never even gone to. It's never even been able to get kind of close to these areas.
But CFX, even now that we are imminently close to publication, has already started to reach these kinds of people. It's really exciting to see it coming together because that marks the sustainability for CFX in the future. We've had an incredible year with so many people providing contributions and ideas, and getting together and talking. Even direct competitors are willing to talk to each other and help each other out in certain areas. It's been an amazing ride.
The milestone of getting this first revision, as Dave said, has everything in there that we need to establish this as a real, usable, and valuable industry standard, and we will have further messages to come. On this publication date, we're going to find a lot of people who already have embedded CFX into their machines. We have around 40–50 different machine types that already have CFX. Many people are already developing and close to having full support for their machines. This was an amazing year from the first initial public demo all the way through now to a published standard, and not only that, but the actual implementation being supported as well.
To read the full article, which appeared in the December 2018 issue of SMT007 Magazine, click here.
Share
Print
Suggested Items
01/28/2021 | Steve Williams, The Right Approach Consulting LLC
Smart factories require the core underlying processes to be connected and "talking" to generate the data necessary to make real-time process decisions, that is, the IIoT (Industrial Internet of Things). In a truly connected factory, an ongoing continuous dialog between machines, business processes, suppliers and customers is happening in the background. This dialog is not only interactive, but proactive, as a constant stream of real-time data is tweaking and adjusting processes to drive improvement. It also provides time-critical information on how processes are operating, supply chain pipeline, and delivery status updates—all based on data.
11/03/2020 | Nolan Johnson, I-Connect007
Nolan Johnson spoke with MIRTEC President Brian D'Amico about how the role of test and measurement equipment is changing in the smart factory and how shops can adjust to make use of the new technology. D'Amico shares this insight: "While approximately 90% of U.S. electronics manufacturers recognize the potential of Industry 4.0 to improve productivity, many are slow to adopt smart factory solutions within the manufacturing process."
10/20/2020 | Pete Starkey, I-Connect007
Organised as a virtual event by Lenora Clark of ESI Automotive and Tara Dunn of Omni PCB, SMTA's Additive TechXchange addressed additive technology specifically in the context of the electronics industry. Pete Starkey details the keynote presentation, an outlook on advanced printed circuit board fabrication, from Jeff Doubrava, managing partner at Prismark Partners.