Reading time ( words)
Goepel electronic has updated its inline X-ray system X Line · 3D Series 400 with a new detector option to enable high-resolution 3D X-ray inspection of electronic assemblies.
The MultiAngle Detector 3 combines the high image quality of the StingRay Detector introduced last year with the rapid inspection speed of a scanning image, making the system suitable for AXI inspection of multipanel PCBs and complex assemblies with many concealed solder joints.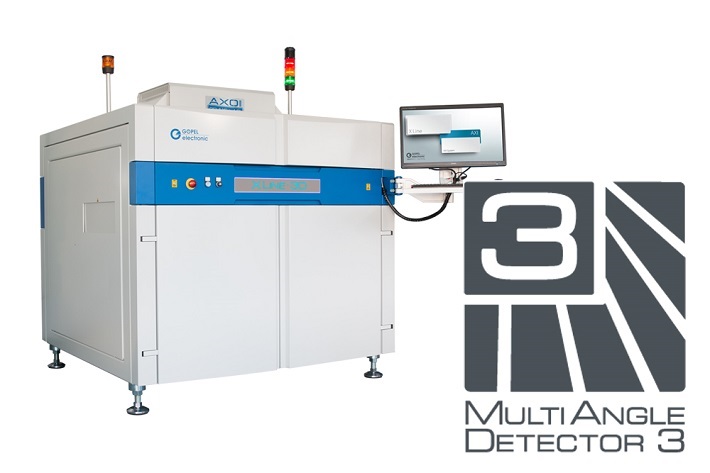 In addition to image quality and inspection speed, the resolution in the Z-direction has been massively increased. Even thinner reconstructed layers allow complete separation of the top and bottom assembly sides, resulting in complete fault detection.
For customers who only require single-sided assemblies to be inspected, the system enables inspection with fewer projections, thereby increasing inspection speed. In addition, the uniform component library can continue to be used with this procedure and the time for creating the test program can be drastically reduced.
Goepel electronic's X Line · 3D is delivered with the programming software PILOT AXI 3.4 as well as the machine software PILOT Inspect 3.4. This allows the system to automatically monitor itself and to create usage-based maintenance plans in advance—thus reduces maintenance and machine downtimes, and costs.
ABOUT GÖPEL
The German company GÖPEL electronic GmbH is one of the leading vendors of electric and optical test and inspection systems for electronic components, PCBs as well as vehicle control units.
The company was founded as spin-off of a large opto-electronic company in 1991. Due to the continuous growth GÖPEL electronic moved into its first own company building in 1995. Designed for about 45 to 50 people the building became too small in the following years which lead to the decision to set up another plant, that was opened in 2003.
Besides the about 230 people who work in the company's headquarters in Jena, GÖPEL electronic runs several support and services offices in UK, India, China, Hong Kong and the USA. More than 300 additional specialists ensure the local and on-site support of GÖPEL electronic's products via the worldwide distribution network.
Share
Print
Suggested Items
08/06/2019 | A. Prasad, L. Pymento, S.R. Aravamudhan, and C. Periasamy, Intel Corp.
This paper evaluates the current state of inline SPI tools from multiple vendors for solder paste measurement accuracy and capability. It discusses a measurement capability analysis that was carried out against a golden metrology tool across a range of volume deposits, and highlights the results from the study.
07/24/2019 | Adam Murling, Miloš Lazić, and Don Wood, Indium Corporation; and Martin Anselm, Rochester Institute of Technology
In the last three to five years, there has been a resurgence of interest in the use of low melting point alloys for SMT applications. Typically, the compositions are around the eutectic bismuth-tin alloy, perhaps with additions of other elements to increase the robustness of certain alloy properties. Now, there are several new products on the market and numerous ongoing reliability projects in industry consortia.
07/24/2019 | Neil Sharp, JJS Manufacturing
The electronics manufacturing process can often be extremely complex, and the costs associated with product recalls can be astronomical. A robust approach to test is key to ensuring the quality of your product and the satisfaction of your end user.