Reading time ( words)
Goepel electronic has updated its inline X-ray system X Line · 3D Series 400 with a new detector option to enable high-resolution 3D X-ray inspection of electronic assemblies.
The MultiAngle Detector 3 combines the high image quality of the StingRay Detector introduced last year with the rapid inspection speed of a scanning image, making the system suitable for AXI inspection of multipanel PCBs and complex assemblies with many concealed solder joints.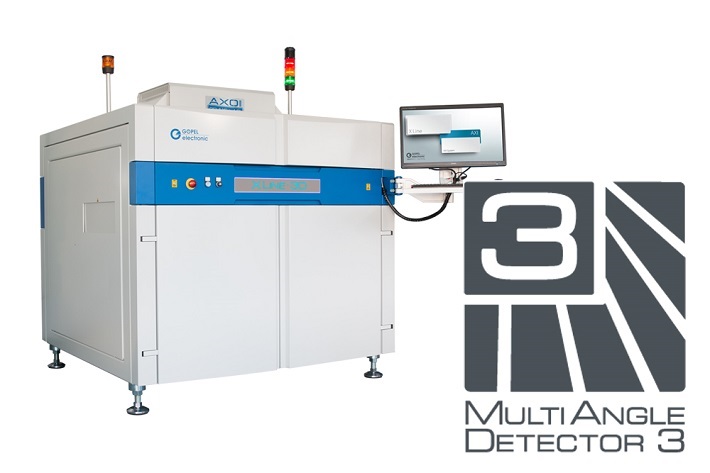 In addition to image quality and inspection speed, the resolution in the Z-direction has been massively increased. Even thinner reconstructed layers allow complete separation of the top and bottom assembly sides, resulting in complete fault detection.
For customers who only require single-sided assemblies to be inspected, the system enables inspection with fewer projections, thereby increasing inspection speed. In addition, the uniform component library can continue to be used with this procedure and the time for creating the test program can be drastically reduced.
Goepel electronic's X Line · 3D is delivered with the programming software PILOT AXI 3.4 as well as the machine software PILOT Inspect 3.4. This allows the system to automatically monitor itself and to create usage-based maintenance plans in advance—thus reduces maintenance and machine downtimes, and costs.
ABOUT GÖPEL
The German company GÖPEL electronic GmbH is one of the leading vendors of electric and optical test and inspection systems for electronic components, PCBs as well as vehicle control units.
The company was founded as spin-off of a large opto-electronic company in 1991. Due to the continuous growth GÖPEL electronic moved into its first own company building in 1995. Designed for about 45 to 50 people the building became too small in the following years which lead to the decision to set up another plant, that was opened in 2003.
Besides the about 230 people who work in the company's headquarters in Jena, GÖPEL electronic runs several support and services offices in UK, India, China, Hong Kong and the USA. More than 300 additional specialists ensure the local and on-site support of GÖPEL electronic's products via the worldwide distribution network.
Share
Print
Suggested Items
05/23/2019 | Nolan Johnson, I-Connect007
KIC is one of the leaders in reflow and thermal process control and smart oven technologies. On March 25, 2019, KIC announced that Philip Kazmierowicz, company co-owner, would take on the position of president. Nolan Johnson took that opportunity to sit down with Kazmierowicz in his Oregon-based R&D lab to discuss KIC's history and his plans for the future of the company.
05/08/2019 | Greg Smith, BlueRing Stencils
In the first part of this two-part article, Greg Smith talks about a study wherein a test vehicle was created to show transfer efficiency over a wide array of area ratios. Part 2 discusses the results of the experiment, including discussions of the different SEM results featuring the paste transfer efficiencies of each material, to better understand how the aperture wall surface smoothness compares to SMT stencil performance.
05/07/2019 | Dan Beaulieu, D.B. Management Group
Yarbrough Electronic Sales (YES) is one of the fastest growing contract manufacturers in the Southwest. As people get to know them better, they are becoming the go-to company in their area. In this interview, long-time industry veteran Darrel Yarbrough, owner of YES, provides a background about the company, its capabilities, and his outlook for the industry.