Reading time ( words)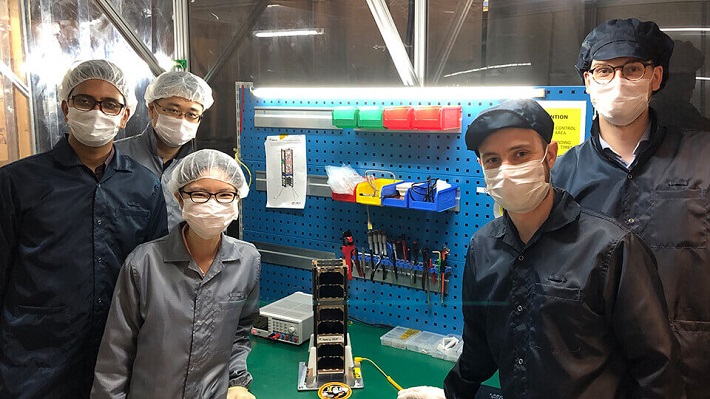 CQT researchers with the completed satellite before it was launched
The Golden Record 2.0 was inspired by two Voyager spacecraft launched by NASA in the 1970s carrying golden records engraved with messages about Earth and humanity. The innovative theatre project was led by students from NUS Stage, together with Director Ms Edith Podesta and writer Ms Corrie Tan. It centred on the prompt "Given the opportunity to select sounds, images and greetings that portray life on earth, what message would Singaporeans choose to communicate to the universe?"
To develop the script of the play, some 30 people in Singapore of varying ages and backgrounds were interviewed, including students, a poet, a housewife, a domestic worker and professors of Law, English Language, and Biochemistry. Assoc Prof Ling, who is also a faculty in NUS Physics, was one of those interviewed.
In the play, he talks about the motivation for developing space missions. "You can talk about the spin-offs, about the technology that comes with it, but it's really curiosity-driven. I'm hoping that, as a scientist in NUS, I am part of the slow cultural change where people actually think of these fundamental questions with a bit more of a sense of wonder," said Assoc Prof Ling.
A new iteration of the play, named The Golden Record 3.0, will be staged on 18 October as one of the NUS events marking Singapore's bicentennial year.
Share
Print
Suggested Items
06/25/2019 | University of Cambridge
The experiment aims to test the possibilities of printing graphene inks in space. Graphene inks can be used in the production of batteries, supercapacitors, printed electronics, and more. If researchers are able to demonstrate how these inks work in space, astronauts could potentially print their own devices on the go, or they can repair electronics with graphene ink printers.
06/20/2019 | NASA
Developed by NASA's Jet Propulsion Laboratory in Pasadena, California, the Deep Space Atomic Clock is a serious upgrade to the satellite-based atomic clocks that, for example, enable the GPS on your phone.
05/13/2019 | NASA
Using complex robotic work to perform critical maintenance allows astronauts to spend more time working on scientific experiments and helps develop better technologies and procedures for future human and robotic exploration beyond low-Earth orbit.