Reading time ( words)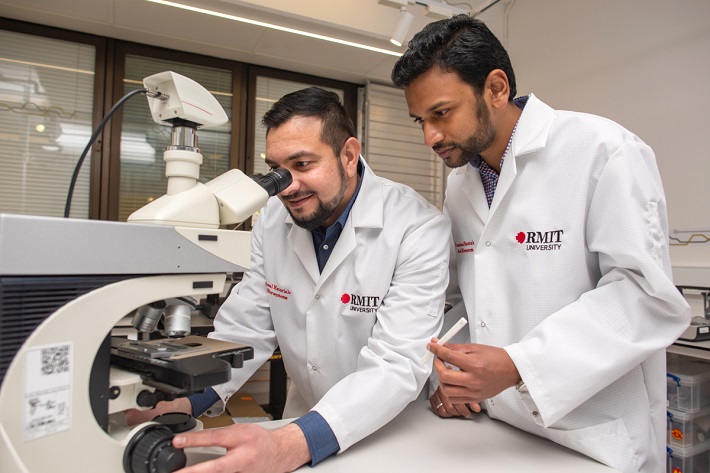 Dr Taimur Ahmed and Dr Ganganath Perera examine samples from the nanotechnology-enabled sensors developed at RMIT University. Photo: Adam R. Thomas
The IMCRC funding, which matches contributions from ESN Cleer, is enabling a $3.5 million project investment into addressing the challenge of manufacturing and large-scale production of these diagnostic swabs.
"Utilising advanced materials and adopting high-precision, automated manufacturing processes will allow the swabs to be high value and at a competitive cost", explained David Chuter, CEO and Managing Director at the IMCRC.
Being manufactured in Australia the swabs will also adhere to medical regulatory approvals.
RMIT University healthcare design expert Dr Leah Heiss is also on the team, bringing insights into designing the device to be as user-friendly as possible.
"The aesthetics, tactility, and usability of the product has to be balanced with manufacturability and cost," Heiss said.
"By bringing users into the design process early on, we are considering the human experience in parallel with the operation of the technology."
Incentivised feedback through the system with encourage users to take preventative actions, while machine learning algorithms used to assess results will further improve system accuracy over time.
It is envisaged that the device will also be used to predict cancer risk down the track.
Share
Print
Suggested Items
06/27/2016 | Marc Carter
There was a time, not so many decades ago, when that most commonly-stated mantra ("lower labor costs") behind offshoring printed circuit fab (and some assembly) operations, still had some case-by-case validity.
04/25/2016 | DARPA
Advanced materials are increasingly embodying counterintuitive properties, such as extreme strength and super lightness, while additive manufacturing and other new technologies are vastly improving the ability to fashion these novel materials into shapes that would previously have been extremely costly or even impossible to create.
04/08/2015 | Purdue University
New research shows how inkjet-printing technology can be used to mass-produce electronic circuits made of liquid-metal alloys for "soft robots" and flexible electronics.