Reading time ( words)
Returning to thermo-mechanical modelling, Heltzel discussed in more detail the relationship between microvia positioning and stresses resulting in failures on interconnection stress testing. He also commented on the influence of the resin fill in the core vias, whether it was a special low-expansion epoxy plugging formulation or ordinary prepreg resin.
There were many tests that could be carried out, and chamber thermal cycling was the classical choice. Interconnection stress testing and even the old-fashioned solder-float test were also used for qualification and lot conformance. Various other tests were used for technology development and capability assessment.
There was a round‐robin campaign in progress in the high-reliability PCB industry to establish a standardised test panel for microvia capability testing based on consolidated and fixed design drivers, with multiple patterns to suit various test methodologies and freedom for other parameters preferred by individual PCB manufacturers and their customer chains. This would provide a robust assessment of capability and reliability, secure the HDI supply chain and validate several test methods.
Regarding the manufacturing process review, ESA's microvia process guidelines ESA‐TECMSP‐TN‐19672, containing recommendations for processes and tests for qualification, lot conformance, and in‐process verification, were available at the ESCIES website mentioned earlier.
Heltzel's concluding statement was that microvias could be used reliably in space applications, provided that a review of the design considered all critical features and compared them against a qualified envelope of technology features. Manufacturing processes could be optimised through mutual assessment among the supply chain and compliance demonstrated by test and inspection, qualification, lot conformance, in‐process verification and capability assessment. And it was not only the PCB manufacturer, but the whole supply chain that must contribute!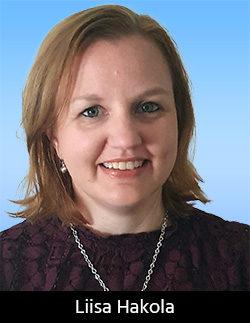 Back to Earth for the final presentation, with Liisa Hakola, senior scientist and project manager at the VTT Technical Research Centre of Finland, with a paper entitled "Sustainability creates new opportunities for electronics industry."
She explained that sustainable development aimed to meet the needs of present generations without jeopardising the ability of future generations to meet their own needs. It was a core principle of the Treaty on European Union and a priority objective for the Union's internal and external policies. The United Nations 2030 Agenda included 17 Sustainable Development Goals, intended to apply universally to all countries. It was a commitment to eradicate poverty and achieve a sustainable world by 2030 and beyond, with human well-being and a healthy planet at its core.
Continuing the definition of the terminology, she further explained that circular economy covered the principles of designing-out waste and pollution, keeping products and materials in use, and regenerating natural systems. Eco-design considered environmental aspects at all stages of the product development process, striving for products which would make the lowest possible environmental impact throughout the product life cycle.
It had been determined that global electronic waste was increasing rapidly and would reach 74 million tonnes by 2030. It had almost doubled in just 16 years with only 20% collected and recycled properly. Global consumption of material resources was expected to more than double between 2015 and 2050. These figures provided convincing motivation for sustainability in flexible electronics.
The electronics industry could decrease its environmental burden by shifting from fossil-based materials to bio-based materials, reducing the use of metals and utilising eco-design concepts. Utilising printing-based additive manufacturing processes would reduce energy and material consumption and remove the need for etching chemicals. The main environmental impact in printed electronics would come from materials.
Hakola stated the goal of the team at VTT—the implementation of bio-based materials as a new normal in electronics. They were tackling sustainable development through multidisciplinary competences in bio-based material development, and printed and hybrid electronics. She showed several examples of achievements, including pioneering work in paper-based electronics, flexible and textile electronics based on grapheme, sustainable electronics and optics used in intelligent packaging, and anti-counterfeit labels printed on paper.
VTT were a partner in the ECOtronics project, for which Hakola acted as coordinator, focused on sustainable material development and evaluation, and on component and process development. Funded by Business Finland, the main goals of the ECOtronics consortium were to support renewal of Finnish electronics and optics industry, to increase export, and to support development of sustainable electronics and optics throughout their lifecycles. The consortium was investigating technical feasibility by the selection, characterisation and testing of highly recyclable and compostable materials. Hakola showed an example of poly-lactic acid film used as a substitute for polyester as a substrate material. Members of the consortium were also involved in the promotion of environmentally friendly manufacturing technologies to reduce the use of materials, the development and integration of components with eco-design, developing the methodology to recover the materials and quantifying the environmental impact of the developed solutions. The project was approaching completion and an online event was planned to report and discuss the results.
There was a lot to absorb. Each of the three Technical Snapshot presentations covered its respective subject in comprehensive and informative detail and left the packed audience with plenty to think about.
Another extremely successful event and a great credit to the EIPC team for pulling it all together. Alun Morgan thanked everyone who had participated and announced that the next event would be held on February 23 to take the place of the originally planned live conference, unfortunately not practicable under current restrictions, and would have an extended format. Details to be announced.
Share
Suggested Items
03/24/2023 | Nolan Johnson, I-Connect007
It's almost as if upheaval is the new normal. We often describe slow-moving but unstoppable change as moving in "geologic time." But occasionally–like an earthquake–geology shifts suddenly. Here in my office, tracking the news of the industry, things are moving faster than geologic time, but more slowly than the jolt of an earthquake. The wave seems almost surfable, where before it seemed overwhelming. In this week's list, we bring news from five different, high-vibration areas in our industry. If you read nothing else this week, these five items will keep you informed.
03/17/2023 | Patty Goldman, I-Connect007
Sarah Czaplewski-Campbell, a materials/product development engineer at IBM, shares her experiences as a young professional who has benefited from the guidance of seasoned mentors alongside her own unflagging drive to expand her industry knowledge. She offers poignant advice for prospective professionals, urging them to assertively seek out advice and experiences that will help them progress in their careers.
03/02/2023 | Pete Starkey, I-Connect007
During an excellent packed-house luncheon on the Monday of IPC APEX EXPO 2023, IPC Chief Economist Shawn DuBravac gave a keynote address titled, "What's New in Tech: The Micro Trends Defining the Future of Electronics," with an introduction by IPC President and CEO John W. Mitchell.