Reading time ( words)
Frank had been a lackluster student. Patty specifically remembered that he skipped class on one of the days that she was teaching statistical process control. It was easy for her to remember this because she gave a brief attendance quiz that day. After finding out that he missed the quiz, Frank wanted to take it. However, the entire purpose of an attendance quiz is to encourage attendance. Frank was a multi-sport athlete and was close to probation, grade wise. He was worried that he might not be able to play his sport during the next term if his statistics grade was too low. He ended up going to the Dean to try and get Patty to let him take the quiz. The Dean supported her position that Frank was not entitled to take the quiz. Frank's concerns were realized when he was kicked off the baseball team for too low a GPA.
As the meeting began, Patty was surprised that Frank was presenting. The sole topic was Cpk for stencil printing of 01005 passives.
"We measure the volume of the solder paste at ten 01005 passive pad locations on each board, for ten boards each hour," Frank began.
"How do you select the locations?" Patty asked.
"We have looked at historical data and the sites appear to have similar print volumes," Frank answered.
Frank then showed some of the data and his argument that the site section was reasonable was convincing.
However, Patty thought the sample plan a little strange. She would have expected something like 10 samplings on one board or one sampling on 10 boards. But she couldn't really find a fault in the plan.
"Your Cpks for the data you have collected are amazing, but yields are down somewhat. This situation seems counterintuitive. What do you think is going on?" Patty queried.
The site general manager, Byron Hansen, chimed in, "We have been getting sub-standard PWBs from our supplier. We have an amazing team here for stencil printing. I'm surprised that other ACME sites can't equal our Cpk of greater than 3. You know that is more than a 10 sigma process, much less than a 1-in-a-trillion defect rate."
Patty felt something wasn't quite right, but she couldn't put her finger on it. Many other issues were discussed and the end of the day was at hand. They would meet again the next day.
While Patty was in the meeting, Pete was out on the shop floor seeing what he could learn. They agreed they would meet for dinner to discuss what they had observed.
A few hours later, Patty and Pete were dining at a restaurant called Fatz. Patty didn't think the name was very inviting, but the food was great.
After they were seated, Pete didn't waste any time, "They're cheating," he said, getting right to the point.
"What makes you think that?" Patty asked.
"I talked to Pam Scaglia," Pete began.
"I remember her, she was a technician who took Ivy U's Lean Sigma Green Belt course. She was a great student," Patty interrupted.
"One and the same. She told me that they are averaging the ten readings on each board and treating that as raw data. She pointed it out to Frank, but he told her she didn't know what she was talking about, because she was only a technician and he was a graduate of Ivy U." Pete continued.
Hearing this further annoyed Patty. It really bothered her when someone like Frank would treat a technician like that.
Before they knew it, the next day had arrived. Patty and Pete were meeting with the Charlotte team, continuing the discussion on the Cpk of stencil printing solder paste deposits for 01005 passives. Frank was showing a Minitab graph of the data. Patty thought she would listen without comment until Frank finished.
"As one can see from Figure 1 below, the Cpk is 3.44," Frank concluded with confidence.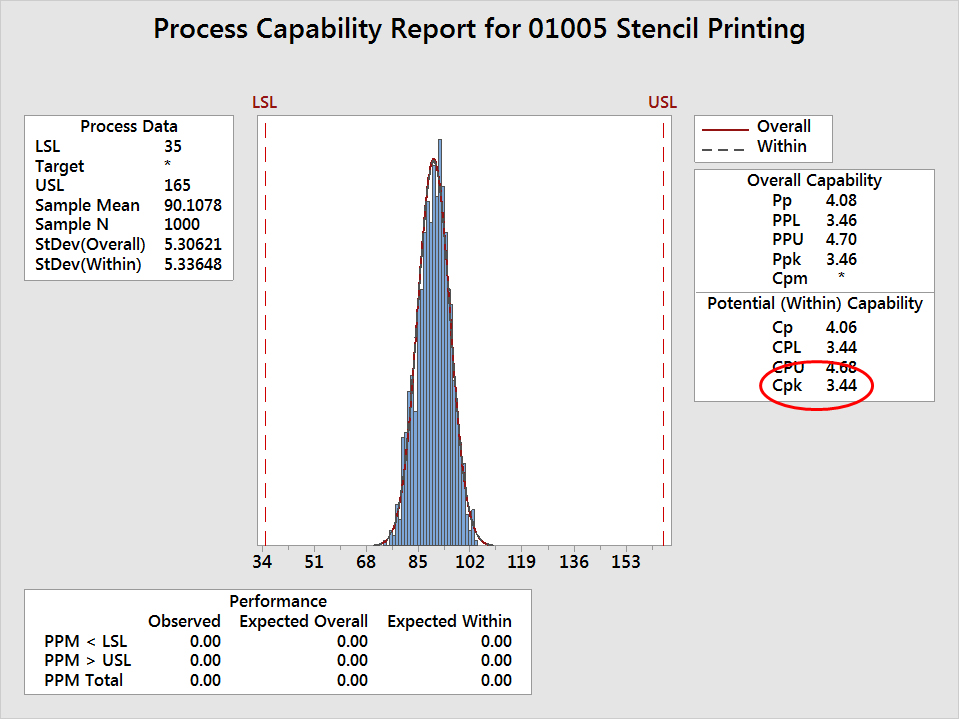 Share
Print
Suggested Items
06/12/2019 | Pete Starkey, I-Connect007
The Institute of Circuit Technology (ICT) held its 45th annual symposium on June 4, 2019 in Dudley at the Black Country Museum—a symbol of the spirit of innovation in engineering technology and the entrepreneurial and manufacturing skills that had established that region's supremacy in leading the original Industrial Revolution. Here's a recap of the events and presentations at the symposium.
01/08/2019 | Pete Starkey, I-Connect007
At the 2018 electronica exhibition in Munich, Frando van der Pas, director of marketing and sales for MacDermid Enthone—Europe, and Technical Editor Pete Starkey discussed the consolidation benefits and the vision and future of the company.
07/26/2018 | Dan Feinberg, Technology Editor, I-Connect007
I-Connect007 Technical Editor Dan Feinberg accepted an invitation recently to tour Nano Dimension's new USA headquarters in Santa Clara's Silicon Valley, which included a sit-down with President and Co-Founder Simon Fried.