Reading time ( words)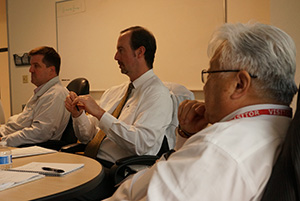 "Congressman Mike Honda's recent visit to IPC-member Hunter Technology Corp. in California was one of these scheduled visits and part of a nationwide effort to educate policymakers on legislative and regulatory issues that affect the electronics manufacturing industry."
More information about IPC's government relations efforts can be found here.
Joe O'Neil, President, Hunter Technology:
"I've worked with Congressman Honda and his staff, both in his district office and in Washington D.C., for nearly 10 years now. I sincerely appreciate his support of business in the Silicon Valley, most recently through his backing of the Revitalize American Manufacturing Innovation (RAMI) Act[2].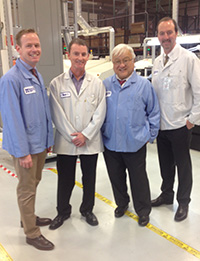 "The greatest impact that I observed during Congressman Honda's visit to Hunter was with our employees. Congressman Honda took time with a number of employees throughout the factory to learn who they are, what they do for Hunter and how they go about their jobs. This was an outstanding opportunity for citizens to connect with their elected representatives within their daily environment. This interaction helped demonstrate that representatives are indeed normal people, people who are working to make everyone's lives better. I believe events like this help to create ties to the political process which can at times be viewed as out of reach to the average citizen.
Competing on a global scale within the United States has its challenges and having those challenges understood by our Representatives is critical. As we continue to expand by hiring new employees and developing those which are already on our team, it is important that the impact of tax changes, insurance costs, research and development tax credits as well as hundreds of other decisions being made in Washington that directly effect on those hiring decisions is fully recognized.
The Interview
Barry Matties: I've been in publishing in this industry for 30 years. I started here in the Bay Area with my Mac Plus, with no hard drive, and began a desktop publishing company.
Congressman Mike Honda: I remember those days. But you saw the future!
Share
Print
Suggested Items
11/20/2019 | Chris Mitchell, IPC Vice President of Global Government Relations
From where I sit, representing the interests of electronics manufacturers and related companies around the world, I regret to say that the future of our industry—while bright overall—is fraught with uncertainties, from trade policy disputes to government leadership turnovers and economic and social megatrends. IPC is working with all governments and parties to overcome these uncertainties, but there is a lot to tackle.
11/01/2019 | I-Connect007 Editorial Team
Meet Ray Prasad, one of our SMT007 columnists! Prasad's columns explore DFM, manufacturing processes, yield improvement, quality control, IPC standards, and much more.
10/30/2019 | I-Connect007 Editorial Team
I-Connect007 reached out to representatives from several industry standards organizations and talked with them about how they participate in the standards process. Along the way, these conversations clarify which group does what, how they all work together as well as clarify and dispel a couple of industry myths.