Reading time ( words)
Morgan: I haven't quite finalized that yet. It might well be on the reliability topic, and I think it probably will be. I think of all the topics we've discussed in the last several years I'd have to say, this has become more and more important, and Europe is really a place where reliability is discussed day by day, hour by hour and it's really in the life blood of what we do in Europe. We have so many areas.
For example, when we think of the Swiss manufacturers, Swiss quality comes to mind, especially with reliability and medical devices. We think of defence and space, aeronautics. This morning we've been discussing with the European Space Agency and with guys from Airbus, again, on reliability and how that can be more built into the process. So I think the liability is a topic that we have as a very strong thread through what we do in Europe. So I think we'll probably focus more on that, and I think that will be something that will be interesting for people to listen to and something we can use to really differentiate our facilities and our production in Europe for the future.
Starkey: Michael, could I ask you what you believe should be the theme of the next EIPC conference, in addition to what Alun has already suggested?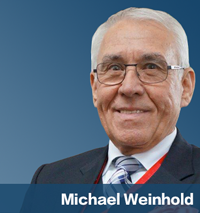 Michael Weinhold: Well I think we have to bring the standardization process in line with the global requirements, and the EIPC is very much supportive in selling IPC standards. But on the international basis, the IEC standards and the UL standards are more related to safety standards, while the IPC standards more related to manufacturing standards. So the objective should be in the years to come, and also for my visit here in the United States at IPC meetings are the harmonization of the IPC requirements, which we have in Europe, and the safety requirements with the IEC requirements that we have to fulfill in Europe.
Starkey: To what extent, Michael, are standards controlled by the Western world? And to what extent are the Asian authorities beginning to impose their beliefs and their priorities on the next generation of standards?
Weinhold: Well, I think this is a very valid question, and we have seen this this morning when we were discussing the 4101, the laminate standards. Some concessions have to be made in the English language because certain words could not be translated into Chinese language, or could be misleading in Chinese language. So we have to understand that even if the standards are written here in the Western world, we have to consider the capability, or the ability to translate the standards into Chinese. Chinese represent approximately, at the moment, more than 40% of the global market, and therefore it is important. So we have to make sure that the standards are consistent, with IPC standards that they are harmonized with the IEC and the UL standards and at the same time that they are understandable in different languages, not only in English.
Starkey: But will it still be IPC and IEC that will set the lead with the standards, provided they are in harmony with the standards of China, Japan, Taiwan, etc.?
Share
Print
Suggested Items
08/14/2019 | I-Connect007
Chris Mitchell is vice president for global government affairs at IPC—Association Connecting Electronics Industries—where he is responsible for development and implementation of the organization's global advocacy efforts and public policy agenda with a focus on electronics industry business improvement, environment, health and safety, and defense initiatives.
12/31/1969 | Andy Shaughnessy, I-Connect007
Foresite CEO Terry Munson recently spoke with Andy Shaughnessy during the IPC High-Reliability Forum and Microvia Summit in Baltimore about his presentation on the causes of conductive anodic filament (CAF), the dangers of resin starvation, and what advice he'd give to PCB designers to avoid those types of failures.
07/24/2019 | Chris Mitchell, IPC VP, Global Government Relations
More than five months remain in 2019, but U.S. congressional leaders are already running out of time as they face a long list of must-pass bills before year's end. Although some of these bills do not affect the electronics industry, some of them do, and the overall agenda does affect the opportunities and risks we face.