Reading time ( words)
For example, one of the ways we connect elected officials with industry leaders is through our "Meet the Policymakers" program, in which we invite elected officials to tour our members' facilities. In 2014 we organized 12 of these visits across the United States, creating goodwill and a higher awareness of IPC and our policy priorities. These site visits give everyone from engineers to CEOs a chance to share their insights with their elected representatives.
In addition to meeting with policymakers at member facilities, we also meet with them in Washington, D.C. and other world capitals. For example, we schedule meetings year-round with various Members of Congress and Administration officials to keep them informed, maintain our strong voice on Capitol Hill, and inform them about important legislative and regulatory issues.

We also host an annual "fly-in" event—IMPACT: IPC on Capitol Hill—which brings industry executives from our member companies to our nation's capital to meet with officials for meaningful discussions. At IMPACT 2014, we facilitated meetings for our members with more than 30 government officials. These meetings had a significant influence on the successful passage of the Revitalize American Manufacturing and Innovation (RAMI) Act in late 2014. This landmark bill will establish a national network of public-private partnerships to promote specific areas of advanced manufacturing. It has the potential to be a game-changer for manufacturing in America and the world. It was one of the key policy initiatives we advocated for during IMPACT 2014, and something we continued our efforts on afterwards to ensure its passage.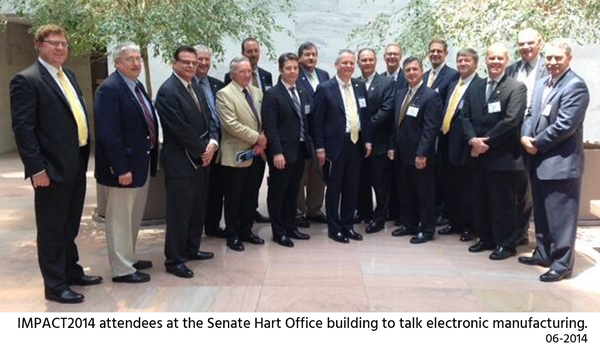 IMPACT 2015 is coming up soon, on April 29 and 30, and we are aiming to build on last year's successes and continue to solidify our position on Capitol Hill.
To ensure our members are well informed and engaged, IPC educates our members about GR issues via a blog on our website, as well as face-to-face workshops held across the country. In 2014, we held six workshops on how to comply with conflict minerals regulations, providing valuable information and serving as a resource to our members on this critical issue. These opportunities allow us to raise awareness of the policy issues affecting our industry and provide value to our members, who can then join us in our advocacy efforts.
U.S. members can also get involved in the IPC Political Action Committee (IPC PAC). Political Action Committees are transparent, legal entities in which U.S. citizens with common interests band together and make contributions to candidates for federal office. The IPC PAC supports pro-manufacturing candidates in both parties based on their positions on key policy issues. In the 2015–2016 election cycle, we are working to grow our PAC so that it can help elect more candidates who share our general outlook.
Share
Print
Suggested Items
10/30/2020 | Nolan Johnson, I-Connect007
Welcome to the Halloween issue of the I-Connect007 Top Five Editor's Picks! This year's Halloween lands on a doozy of a day. Astronomers among us will, undoubtedly, already have noticed that not only does the spooky holiday fall on a Saturday night, but it also falls exactly on a full moon—and a Blue Moon, at that! The last time a Halloween Blue Moon occurred in all time zones was in 1941. As if there weren't enough "ghoulishness" already, 2020 delivers yet another rare occurrence.
10/19/2020 | Pete Starkey, I-Connect007
Although current circumstances have forced the postponement of its live conferences, seminars, and workshops, EIPC continues to provide a platform for the exchange and dissemination of the latest knowledge and technical information to the European interconnection and packaging industry. Pete Starkey details how its current series of technical snapshots, delivered in a webinar format, address technology challenges facing the automotive, telecom, and high-speed sectors of the industry.
10/16/2020 | Nolan Johnson, I-Connect007
Trade shows and technical conferences haven't died; they've just moved online. The trade show season continues in virtual full force this week, and event coverage dominates the top five this week. Surprisingly, I don't see events as this week's theme. No, this week's theme is "pundits." We have Walt Custer's industry outlook, seven experts on additive electronics, a designers conference keynote, and the IPC's government relations expert. Don't get me wrong: These folks are asked to speak to the industry for a good reason. They know their subject matter, and they present it skillfully. This week's top five picks are worth reading.