Reading time ( words)
Vrtis: It was a twinkle in the eye. It started with these activity band-type systems. I think Nike was one of the first, and I'm not promoting any product, but I recall as a runner, you would put the accelerometer in your shoe and if you had an iPhone, it would connect to it. Then Nike put it on a wrist. It was a very interesting transfer of the product. If you look back in time and you think back to the 1960s, one of the first things I remember in wearables was the feedback technology. Take the mood ring, for instance. The mood ring, if you think about it, was a wearable device that could tell the mood of the person based on a thermotropic technology system. That was the first one that I remember, but electronically, my experience was probably running with the Nike band.
Matties: You have talked about flex and all the challenges in the field. But in terms of manufacturing wearables, what are your challenges?
Vrtis: As I stated, almost everything we've done in the past have really been 2D, flat printed circuits, where you place it in the end product and the printed circuit never moves again; it stays static. Now that wearable electronics products move, the printed circuit has to move, the assembly has to move, and a better understanding of the use condition to maintain circuit integrity has to be understood. Printed circuits are primarily copper and polymer systems, the dielectric—what materials are chosen is based on what the requirements are of the end product. In my group we understand the end-product so we can engineer and select those materials best suited for a reliable, wearable product.
Matties: You've mentioned that electronics can learn from other industries—like apparel for instance?
Vrtis: Apparel is one. From an electronics standpoint, we're getting smarter in that area. How do we integrate our electronics into that fabric system? Do you use the fabric as your substrate, base system and print directly on the fabric, or place it in the fabric? Printed electronics is going to be very important in the apparel side, where there are multiple circuit pattern application options such as stencil print, screen print, inkjet, and others. Making the circuit pattern on a fabric is fairly simple, but when you are putting that it into a jacket or some sort of a shirt to wear, how do you link all of the circuits together?
Matties: So if we fast-forward 10 years from now, the level of complexity and functionality has got to be just crazy.
Vrtis: Consider what happened with the phones. It's amazing the amount of density that is now in the phones from a printed circuit standpoint. The displays have become so much better and bigger. If you think about a wearable, everything is going to have to be some sort of flexible circuitry, and be able to handle stresses such as flexing; the material side of the business and the equipment side are truly going to enable what can happen. Getting in front of that and positioning with road mapping activities that predict the trends is essential. Other aspects, of course, are power and recharging requirements. Right now, you can easily plug in a phone, but if you're wearing one of these smart watches or it's a medical device and you want or need it 24/7, how do you recharge? What does the battery look like? What happens when you immerse it water? There are a lot of things that need to converge to make advanced wearable solutions happen. In 10 years, I think the material side, the equipment side, and definitely the vision of people thinking of these things that seem way out of the box are all going to drive some of the new technologies.
Matties: Is there anything else you would like to share about this technology?
Vrtis: Yes, probably one more thing. One of the very important things in wearable products is making sure it has sustainability. In the medical sector of the business of Multek and Flextronics, we are seeing very interesting opportunities in wearable technology. Of course, in some cases it has to go through a lot of regulatory steps. What has been learned from the consumer side of business is now transcending into the medical side and that sustainability is going to be critical.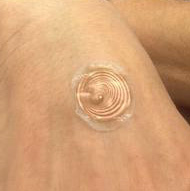 Matties: When I think of medical and wearables, I think of extending lives, because of the instant feedback and the potential for notification that something might be happening prior to an event.
Vrtis: All these wearables are really part of this intelligence of things, right? You want to connect everything. People talk about big data…what is that data and how can we learn from it? The world is now connected. The formatting of connecting, the data of connecting and then also making sure there is security around that data is really going to be important. Since so many people want to have their phones connected to other things, the phone is definitely the hub, which is how I see it for probably the next few years—until something new comes out. I don't know what that is yet. But the phone will be the hub for anything wearable. When you get into the medical applications, this technology has the opportunity to help so many people because the patient can be at home and the doctor or professional can receive information from the patient's wearable system in real time status and make some tweaks, via a phone call, or notify the patient to come in for a visit.
Matties: It's an exciting time to be alive. Of course, when the toaster came along that was pretty exciting.
Vrtis: That was pretty cool, too! (laughs)
Matties: Not that I remember it specifically, but I can imagine, "Look what we can do with our bread!" Okay, moving right along, in terms of Multek and Flextronics, where's the manufacturing taking place?
Vrtis: We manufacture globally. Flextronics has more than 200K employees operating in more than 100 locations in 30 countries. Our high-volume manufacturing in Multek takes place in Northfield, Minnesota, and Zhuhai, China. In total, we have an annual capacity of more than 36 million square feet of printed circuits. And we continue to make investments in additional capacity and technologies to grow our business. We support every industry and we're in every industry where printed circuits are needed. We leverage earnings across multiple industry applications to help enable solutions in the wearable market, and we provide printed circuit technology to automotive, aerospace, white goods, infrastructure and mobile communications. So we have a very broad knowledge base to service these markets.
Matties: Joan, thank you for sharing your story with us.
Vrtis: Thank you. I appreciate the opportunity.
Share
Suggested Items
03/16/2023 | Pete Starkey, I-Connect007
Widely believed to be the traditional Centre of England, Meriden was a popular venue for a gathering of the UK printed circuit community this month. They braved the forecast of heavy snow for the Institute of Circuit Technology's annual general meeting to learn about current developments and challenges in a thought-provoking technical seminar and to network with industry peers and contemporaries. Thankfully, the forecasted heavy snowfall did not reach Meriden until after the event; we only had a few flurries, although the weather caused considerable disruption elsewhere in the country.
02/28/2023 | Pete Starkey, I-Connect007
Day 2 of the EIPC Winter Conference at the Groupama Stadium in the Décines-Charpieu region of the Metropolis of Lyon in eastern France included a privileged visit to the Bugey Nuclear Power Plant for those who were registered and passed their security clearance. Such was the interest that the party was split into morning and afternoon groups. EIPC board member Martyn Gaudion, CEO of Polar Instruments, made a fine job of moderating Session 6 twice over.
02/27/2023 | Pete Starkey, I-Connect007
The EIPC Winter Conference returned to the Metropolis of Lyon in eastern France this month. In 2018, the venue was Villeurbanne in the Auvergne-Rhône-Alpes region. Five years later the setting was the Groupama Stadium in Décines-Charpieu, and leaders of the European printed circuit community gathered in expectation of a spectacular programme of 16 presentations, a visit to a nuclear power station, and an invaluable networking opportunity. They weren't disappointed.