Reading time ( words)
Jennings: Mechanical drills hit a wall a few years ago, especially in flex. wheras the ability to do a blind via both in an FR-4 type construction, or in a flexible construction, is especially well tuned to laser. With our patented two-step process, you go through the copper, and then you go through the dielectric at a very controlled rate, so you don't scuff up or damage the bottom copper—less than one micron damage on bottom copper in blind via applications with Gemstone. That's very important to customers, especially with copper getting thinner and thinner.
Matties: There are a lot of mechanical drills, but do you see a crossover where laser just replaces mechanical at any point?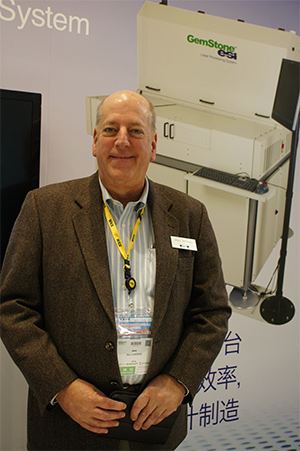 Jennings: Laser starts to get its legs at under 150 microns, really gets its legs under 100, and is pretty much the best way to do it for 75 and under, and blind via, of course. It's no question, right now.
Matties: You're a few months into your relationship with WKK. How is that working out?
Jennings: It's worked out really great. We've done a lot of training sessions, because on products as complicated as laser drills and laser processing machines, substantial training is necessary. We've already had four sessions with people from the U.S. who have met with multiple groups of WKK at multiple offices to bring them up to speed on the product and on the applications. Our customers are very happy to have us engage with WKK, because it gives them more localized sales interface support, more localized handholding, if you will. Previously we had one or two people here in China who covered the whole country, so now the attention to the customer is much higher.
As a matter of fact, just last week we had the first two orders—in Taiwan and China—as a result of the WKK relationship. I was pleased to be able to be in the meeting where the customer agreed to place the order with us in Taiwan. It was exciting to do that.
Matties: Back to the mechanical and laser comparison. There's an operational cost that's pretty high with mechanical, bits, pre-sharpening, that sort of thing. How does the operational cost compare to laser?
Jennings: For the operational cost for laser, the only real consumable you have on a laser drill is the fact that the laser is going to wear out. When the laser wears out it's a substantial cost, but you end up with so much more productivity and throughput that by the time you get there, it's just part of the cost of operation of the process.
The lifespan of the lasers generally run a year to a year-plus. With Gemstone, because we control the laser, it's not an OEM laser from somebody else or a tweaked laser to meet a spec; it's actually ESI designed and built. We are going to be guaranteeing that laser for 10,000 hours and it's a pro-rated guarantee. If you only get 9000 hours, you'll get 10% off the cost of your new laser. If you get 11,000–12,000 hours, that's good for you; we're not going to charge extra for the replacements.
The rest of the machine, electro-mechanically and optically, contains components that have an extremely long life, if there is correct debris removal for volume and pressure. Our optics cabinets are positive pressured, and we have computer-designed debris removal nozzles that were actually prototyped using 3D printing processes. So with an air assist, the debris and dust that are generated by the process are pulled out properly and completely, and it doesn't get all over the optics.
Matties: Is automation an issue here for this process? I know it's paramount for most in China.
Jennings: In the case of our systems, we've worked all along with an open architecture. In 1994, we were the first laser processing system of any type for PCB to provide roll-to-roll compatibility. Because so many others were already on roll-to-roll, we decided that rather than build our own handlers, we would make our system open architecture and compatible with anyone else's handlers. We will provide to any equipment manufacturer, we'll provide the pin-out and we'll provide the coding to work with the PLC to be fully compatible with our systems. And we do offer turnkey roll-to-roll handling solutions with our partners, Northfield Automation Systems from Northfield, Minnesota.
Matties: When you look to the markets, what do you see coming up in China in terms of market condition or growth?
Jennings: It continues to be driven, especially in the flex world, by the handheld consumer electronics products. More and more things are converting over to flex from thin rigid, and as the China market grows, increasingly more of the China-based players are seeing the value of integrating flex in their design. Originally put off by higher costs, they are realizing now that for the capabilities needed for their product, the higher costs are well justified. In that part of the market, it's a natural fit with laser processing.
Matties: Thank you, Mike, I appreciate you sitting down with me today.
Jennings: Thanks so much for taking time with us today, and we're always excited to sit with PCB007 and talk about our new products
Visit esi.com for more information.
Share
Print
Suggested Items
12/16/2019 | Pete Starkey, I-Connect007
Since 2016, the Institute of Circuit Technology (ICT) has held its northern area Christmas seminar at the Majestic Hotel in Harrogate—the elegant and historic English spa town in North Yorkshire. Pete Starkey provides an overview of this popular ICT event.
12/02/2019 | Nolan Johnson, PCB007
Nolan Johnson talks with Brian Hess of Calumet Electronics and Mike Vinson of Averatek about the new, insertable additive processes that the companies are working on together to help factories running primarily subtractive processes to quickly convert to very high-density interconnect (HDI) features, including trace and space from 2.5-mil line and space to 1-mil line and space and below.
11/22/2019 | Kelsey Smith, All Flex
Many of the issues that arise when using a flex circuit come from a lack of knowledge about how to properly design one, especially when the circuit is required to bend. Many novices will design a circuit that calls for bending the flex in too tight of a bend radius, which can cause damage to the circuit and lower the reliability of the end product. This series of articles will focus on the seven key aspects to consider when designing for maximum durability and maximum "flexibility."