Reading time ( words)
Altogether, there are presently nine key manufacturing image transfer technologies that are either being employed or are proposed for PE production.
Traditional printing technologies:
Screen printing
Rotogravure printing
Flexographic printing
Offset printing
Inkjet printing
Imprinting and stamping
Plasma printing
Direct laser imaging or ablation
Curtain and roller coating
Of these enabling technologies, stenciling and screen printing have been around the longest and both methods are still widely used in production today. Membrane switch technology, a clear member of the printed electronics family, relies heavily on screen printing to make products. Stencil printing and transfer printing are among the first printing technologies devised by man. One need only look to ancient human hand prints found on rock walls left by our ancestors who either placed their pigment covered hands on cave walls or sprayed pigments from their mouths at the backs of their hands held flush against the rocks to provide an outline of their five digit stencil. Those basic processes are still in use today, albeit with better equipment. For example, in the electronics manufacturing industry stencil printing remains the method of choice for printing solder ink onto printed circuits for SMT assembly.
Web printing of circuits has been in use for several decades. In the printed circuit industry, the benefits of printing circuits on a flexible base were seen very early and brought into practice by a number of companies including Sheldahl Corporation in Northfield, MN (now part of Multek, a division of Flextronics), which entered the flex circuit business as an extension of its involvement in the development of materials for the military in the early 1960s. Sheldahl engineers developed roll-to-roll processing using a step-and-repeat screen printing process for etch resist and an etching process to remove the background metals.
Over the years, web printing has been supplemented with different photolithographic methods, including direct write and, more recently, direct printing of catalytic toners and inks along with conductive and resistive inks and the printing of semiconducting materials. Rolltronics Corporation, a Silicon Valley technology company, was an early industry leader, pioneering what is now called printed electronics during the late 1990s and early 2000s. Rolltronics developed flexible electronic device printing technology and roll-to-roll production processes for low-cost, durable, thin-film switch arrays for display backplanes, sensors and other large area circuits. They were targeting the technology for products such as standard and custom backplane displays based on ultra-thin flexible structures with integral LCD-like switchable materials that they were printing into the product. Unfortunately, the company's vision did not come to fruition as a result of market timing and/or positioning.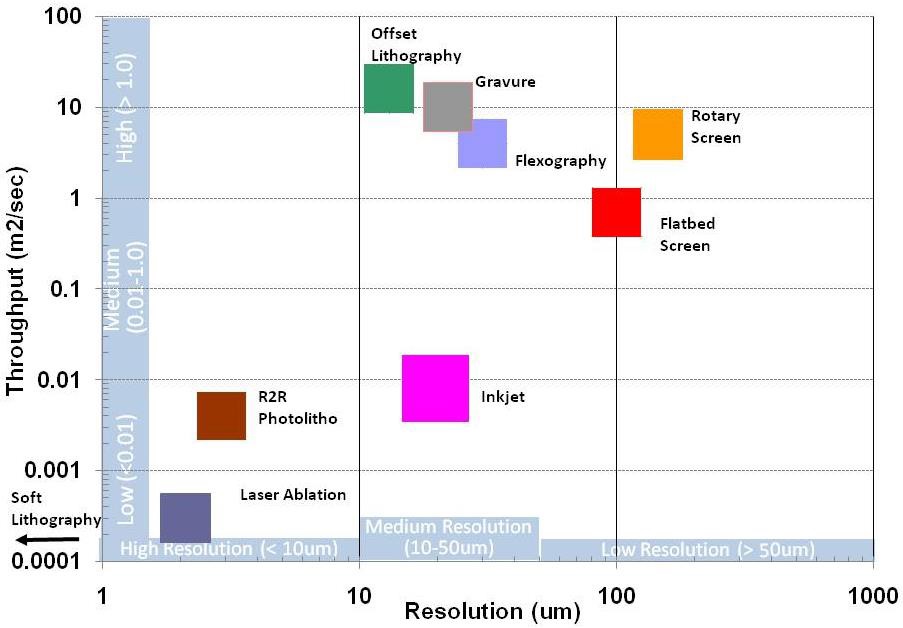 Figure 1: Overview of how printing techniques compare for resolution versus throughput. Curtain/roller coating is similar to other roll-to-roll techniques and soft lithography is a photo-imageable technique that is off the scale to the left.
In Part 2 of this article series, Happy Holden digs deep into the different technologies that are being used for PE production.
Editor's Note: This paper has been published in the proceedings of SMTA International.
Share
Print
Suggested Items
08/12/2019 | Pete Starkey, I-Connect007
Technical Editor Pete Starkey recently attended a webinar on advances in X-ray technology and its applications in the electronics industry, as presented by Keith Bryant, Chair of SMTA Europe, on behalf of SMTA India. Here are the highlights of the webinar.
08/09/2019 | Neil Sharp, JJS Manufacturing
The primary objective for any OEM is to design, manufacture, and deliver high-quality products in the most cost-effective way possible. When demand patterns change, or there is an increase in competition, it can be easy to rely on the calculation of unit cost to relieve the price pressure. But, as many manufacturers are discovering, choosing to base their outsourcing decisions purely on unit cost may not always reap the expected benefits in the long term.
08/07/2019 | Chris Mitchell, IPC VP, Global Government Relations
In the nine months since IPC joined in President Trump's "Pledge to America's Workers" and committed to creating 1 million new skilled workforce opportunities over the next five years – a fair question has been asked: Are we taking credit for actions we would have done anyway? Was this motivated by politics?