Reading time ( words)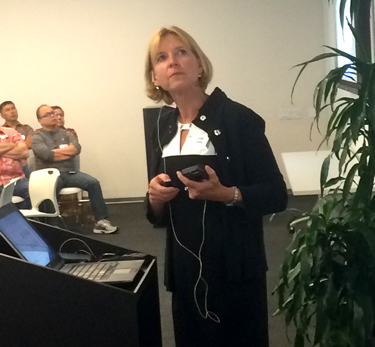 Shaughnessy: It looks like something that would make a fabricator say, "Are you serious?"
Ellis: The industry has changed tremendously since I started in it, that's for sure. I used to wire wrap assemblies when I was a kid.
Shaughnessy: In your talk, you mentioned how everyone talks about drilling vias below six mils. But then you point out that six mils is only two times the width of a human hair.
Ellis: Yes. I feel like I'm always splitting hairs when I build fine-pitch stack-ups, because they require trade-off analysis between minimum aspect ratio, hole sizes, pad and antipad sizes, the space left between those pads, and how many traces can be run between the pads, if any. 6 mils is the smallest mechanical drill size we'll use in North America, and it's only the diameter of 2 human hairs and smaller than a hypodermic needle. Because 6 mil drill bits break easily, can't be re-sharpened, and are very expensive, Asia sites rarely use them. So I never design a stack-up for our China sites using a 6 mil drill. But as hole size increases, so do the pad diameters in order to maintain annular ring requirements, and that can kill the routing space between pads.
Come to think of it, another thing I would like to see engineers do more often is consider the production site technical capabilities. Offshore PCBs are significantly lower in cost, because they're optimized for continuous processes that don't need to be interrupted or require highly advanced, but slow, equipment or processes. Asia sites have excellent capabilities, but they are not all at extreme tech levels of some of our N. America sites. So designs should be done in accordance with production site guidelines and available materials.
Shaughnessy: Sure. Well, it was a great talk. You covered a lot of really cool cutting-edge stuff. The designers in the crowd really enjoyed it.
Ellis: Thank you.
Shaughnessy: Thank you, Julie. I appreciate your time.
Share
Print
Suggested Items
09/17/2020 | Andy Shaughnessy, Design007 Magazine
I recently spoke with Max Clark, business unit manager with Mentor, a Siemens Business, and Z-zero founder Bill Hargin about the newly formed partnership that resulted in a new stackup tool that Mentor is now selling worldwide. Fun fact: Hargin used to work for Mentor as part of the HyperLynx team, which now has an interface with Z-planner Enterprise. Talk about coming full circle.
08/13/2020 | Happy Holden, I-Connect007
We asked for you to send in your questions for Happy Holden, and you took us up on it! We loved them so much, and we know that you did too, so we've compiled all 21 questions and answers into one document for easy reference.
07/07/2020 | I-Connect007 Editorial Team
We asked for you to send in your questions for Happy Holden, and you took us up on it! The questions you've posed run the gamut, covering technology, the worldwide fab market, and everything in between. Enjoy.