Reading time ( words)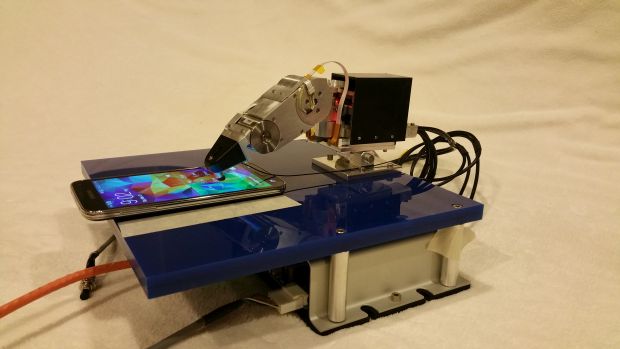 Las Marias: In which industry segments do you expect this technology being adopted pretty quickly?
Neff: The technology will be used very quickly in assembly – replacing human hands. We supply many standard devices that are used to manufacture and assemble, to a certain extent, many well-known consumer electronic products. There is a lot of push coming from the manufacturers of these kinds of products. They want very small and light force robots. Our finger is pointed towards these applications first.
Las Marias: What challenges did you encounter during the designing of this robotic finger?
Neff: The development was all about increasing the flux density. So we were lucky in that we aren't rotary motor specialists; we didn't have preconceived notions about the design. An example of that comes from our name, which is a combination of MAC and SMC. In pneumatics, rotary motion is done using rotary actuators with limited rotation. That idea helped us. It's been a step by step process. There have been four iterations so far and each has jumped the torque up by about 50%. Luckily, we are close to the final torque/size goal because we only have a couple of ideas left!
Las Marias: Speaking of robots, how do you see the robotics industry developing in the next two to three years and their adoption in manufacturing lines?
Neff: The future of robotics in industry is brighter now. The big challenge is dexterity – since that is what humans have. That will be overcome. So, automating assembly will become easier. There is another aspect – the expanding cyborg side. At SMAC, we are experimenting with different ways to control the finger, and hence a hand. One goal is a useful and sophisticated prosthetic hand, sort of a semi-cyborg solution.
Las Marias: The automotive industry is one of your end-application segments. From your perspective, how has the automotive electronics industry evolved over the past decade, and what major changes have you witnessed?
Neff: In automotive electronics, the innovations have been impressive. I have a new Tahoe. Voice control, Bluetooth so all the classical (and Faces) recordings play from my iPhone into the car's stereo system. The camera really helps backing up—I get warnings about objects outside of the car—and maps that direct me anywhere.
Las Marias: What do you see as the biggest driver of automotive electronics innovation, i.e., safety, reliability, efficiency, etc.?
Neff: The driver is the driver for innovation. Hands free communication - all sorts of things that help pass the time. We plan to take part in a seminar, if we get invited, at the Consumer Electronics Show. The subject is which method – touch/voice/gesture – will be the preferred method in cars. We plan to show the finger operated by voice commands making humorous gestures. We have a grip on this approach.
Las Marias: Finally, what is your outlook for the automotive electronics industry?
Neff: I suppose no need for drivers in the future. That will be handled by the car.
Share
Print
Suggested Items
10/19/2015 | Stephen Las Marias, I-Connect007
SMAC Moving Coil Actuators president Edward Neff talks with I-Connect007's Stephen Las Marias about the strategies they implement in their production lines to reduce cycle times and go to market faster. He also talks about how using proven components can help manufacturers ensure the uptime of their equipment and processes.