Reading time ( words)
Electroless Copper Plating
Electroless copper plating involves immersing the laminate in a series of baths that include a catalyst (usually palladium) followed by an alkaline, chelated solution of copper. Copper is thereby chemically bonded to all surfaces that are immersed. This chemically bonded coating is rather thin, but it allows electrical current to flow across the dielectric, which enables electroplating. Figure 2 depicts the through-hole immediately after electroless copper plating (technically it is not a plating process since electrical current is not used).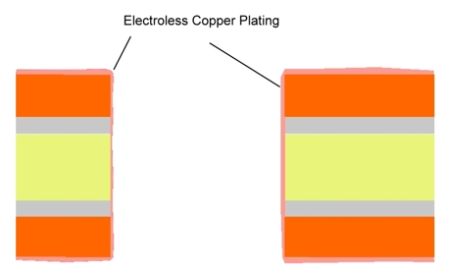 Figure 2: Electroless plating on the hole wall.
Figure 2 shows that a very thin layer of copper is deposited over the through-hole. Electroplating is next. Figure 3 depicts the through-hole after electroplating.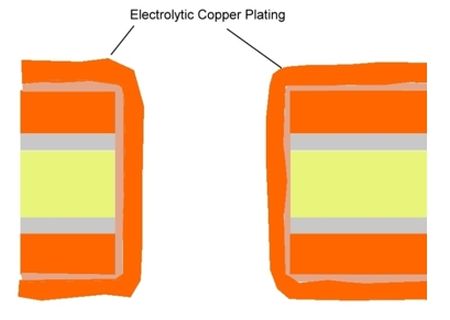 Figure 3: Electrolytic plating over electroless copper.
The through-hole now has a solid coating of copper that is both electrically and mechanically robust.
Shadow Plating
The Shadow® process performs the same basic function as the electroless plating process, which is to create a conductive bridge across the insulating layers so that electroplating can be performed.
The drilled copper laminate is immersed in a solution with conductive carbon particles. The carbon will adhere to the entire surface, creating a very thin, fragile layer. A micro-etch is then performed that removes the carbon from the copper material, so that only the dielectric areas remain coated, as shown in figure 4: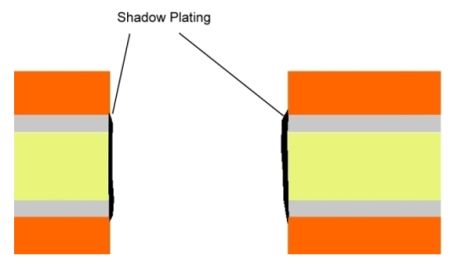 Share
Print
Suggested Items
11/30/2020 | Pete Starkey, I-Connect007
Pete Starkey details the November EIPC webinar program that combined knowledgeable market analysis and advanced manufacturing technology, including insights from Prismark's Dr. Shiuh-Kao Chiang, Averatek's Mike Vinson, and Atotech's Roland Herold.
11/25/2020 | Happy Holden, I-Connect007
Mentor conducted its annual User2User Conference virtually this year on November 10. In a departure from past U2U conferences, this event was focused primarily on developing semiconductor advances. Happy Holden reports on all the details.
11/25/2020 | Pete Starkey, I-Connect007
With its regular program of physical seminars and symposia on hold, the Institute of Circuit Technology went virtual and presented a webinar of three technical papers, organized by Technical Director Bill Wilkie and introduced by IPC Chair Emma Hudson. Pete Starkey brings you all the details.