Reading time ( words)
Figure 4: Carbon deposited on dielectric.
The Shadow process ultimately leaves conductive carbon only where it is needed. The carbon-coated through-hole can now be electroplated as shown below: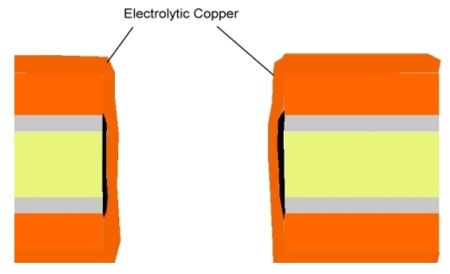 Figure 5: Electroplated copper over carbon.
It is important to note that both the Shadow and electroless processes are only used to create the conductive bridge. Neither coating is robust enough to withstand environmental stress or conductive enough to carry significant current.
The Shadow Process vs. Electroless Copper
Some flexible circuit manufacturers are primarily using electroless copper and some are using conductive carbon. Each process has its benefits and drawbacks.
Share
Print
Suggested Items
12/28/2020 | Pete Starkey, I-Connect007
For the third in a series of Technical Snapshot webinars, EIPC chose to focus on PCB surface finishes, comparing specific properties, examining corrosion behaviour and discussing selection criteria for low-loss, high frequency applications.
12/18/2020 | I-Connect007 China Team
Forces within and outside the PCB industry have led to concerns over rising prices for raw materials of copper-clad laminates (CCL). Recently, two major explosions at epoxy resin plants in China had a great impact on domestic resin suppliers. Prices have risen steadily in 2020, with leading CCL manufacturers announcing price increases of 20-30% recently. As the cost of raw materials such as electronic copper foil, resin and glass fiber have risen, the cost for manufacturing CCL has taken off as well.
12/15/2020 | Happy Holden, I-Connect007
This is the first Electronic Circuits World Convention that I have not attended in person since 1978. To refresh your memory, these are held every three years on a rotating basis. The HKPCA hosted this year's conference and they kept up the fine tradition of collecting outstanding keynotes, nearly 60 technical presentations and myriad poster papers. HKPCA was also kind enough to provide English slides and translations. It is still possible to sign up and view the presentations. I have listened to 20 of the presentations, and hope to attend even more in the coming days as they are all worth watching.