Reading time ( words)
Matties: They're on the horizon.
Custer: Right, they are not volume markets yet. I think 2016 is left without a volume driver worldwide. Fortunately, the local, non-consumer driven U.S. markets have held up better than the rest of the world, but no region is booming.
If you look at semiconductor shipment data, which is a good measure of electronic assembly activity, it was down 5.8% worldwide in January 2016 vs. January 2015. The leading indicators suggest that semiconductor shipments will continue to contract versus the same months in 2015, at least for the next couple of months. Electronic assembly will probably be soft through mid-year.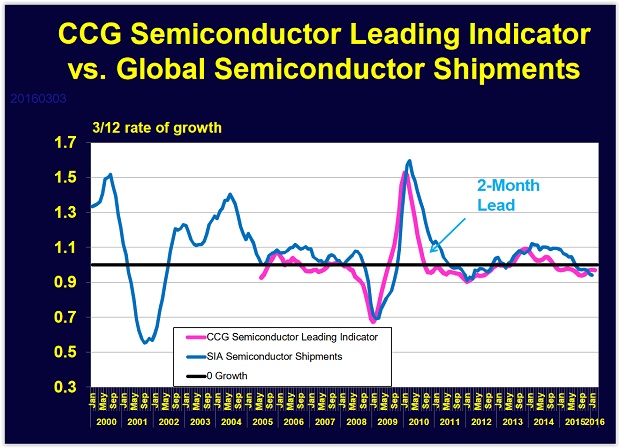 The printed wiring board market in 2015 was down a couple of percent, primarily because of currency effects –with $60.2 billion total in 2014 and about $59 billion in 2015. Currently North America and Europe are flat, Japan is contracting and China, Taiwan and S. Korea are no longer enjoying boom years.
If you sum it all up, semiconductor shipments look to be in a zero growth this year and, although electronic equipment sales are still expanding, they are not doing so very robustly. The outlook for PCBs for 2016 will be modest—maybe 1% growth. I know that's not what people want to hear, but that's how we see it.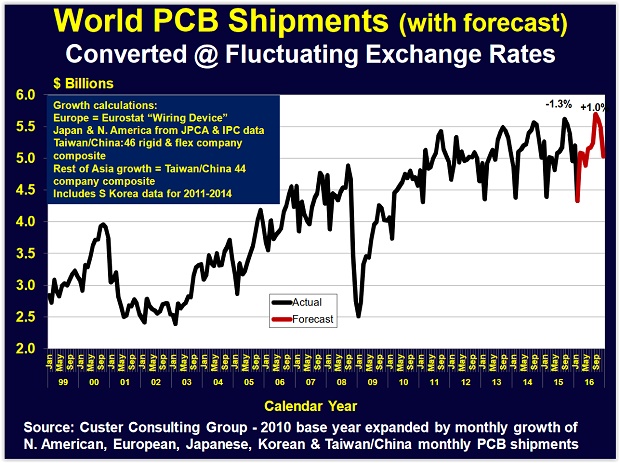 I just gave a "Market Outlook" talk at the show, as you said. Readers can send me an e-mail and I'll send my charts and the follow-up comments. Don't expect to be dancing on the tables when you see my forecast! However it's my honest opinion of what's happening.
Matties: Data is data, right? Do you think that the political climate in America is having a global effect on any of these markets?
Custer: I think a lot of people are looking at the U.S and wondering what the heck is going on. They are aghast at the current domestic political circus!
Matties: Does that leave uncertainty?
Custer: I don't think the USA is having that big of an impact on what's going on in China or Korea right now. However, the global political climate is very fragile especially as it relates to terrorist threats.
Matties: With talk of tariffs and all that kind of rhetoric coming out, it's got to have some sort of impact, I would think.
Custer: I'm sure it does, but I don't think that's the overwhelming driver.
Matties: Nothing that's manifesting in today's numbers.
Custer: I think this slowdown is more product driven. If we had cellphones and computers growing at 40% a year, you probably wouldn't see any of this downturn. The political unrest and political uncertainty is certainly an issue, but I don't think it's the top issue, personally. You may have a different view.
Matties: Typically, when you get into these cycles, though, there's tends to be a wait-and-see attitude because it will go left or right come November and the policies may be a lot different.
Custer: Yes it will. I hope we'll get out of this "do nothing" U.S. congressional mindset that we're in right now. That's really the thing that hurts. If one group was driving the train and kept it on the track going in one direction, that would be one thing, but when we stop at the station for a year, that's not very useful.
Matties: How do you see China?
Custer: If you look at their indicators, they're down dramatically, and they've been down for a year. They're not showing signs of recovery yet. It's probably going to take most of 2016 for China to stabilize.
Matties: So it's not great news, but it's not jump-out-the-window news, either. Walt, thanks for taking time to fill us in today. It's always good to talk to you.
Custer: Thank you for the interview.
To reach Walt Custer and request a copy of the data presented in his yearly forecast, click here.
Share
Print
Suggested Items
09/18/2020 | Nolan Johnson, I-Connect007
Two weeks ago, when it was my turn to pick the top 5, I made a comment about themes. I'm making a stretch here, but this week's theme is technical education. Three out of the five most popular news items this last week reported on upcoming technical events or publications.
08/17/2020 | I-Connect007 Editorial Team
Schmartboard has a surprisingly simple patented process to improve solder joint reliability; in this interview, they discuss the process in detail, along with their search for a go-to-market partner.
08/03/2020 | Dan Beaulieu, D.B. Management Group
It's always fun to talk with a company that can do something different—in this case, ultra-heavy copper PCBs, meaning over 20-ounce copper. Wanting to know more, Dan Beaulieu talked to Aurora Circuits Director of Business Development Thad Bartosz.