Reading time ( words)
Each of these issues can result in system downtime due to time spent on extra optics cleaning or root cause investigation. Even worse, more frequent costly optics replacement may be necessary if these site requirements are not satisfied.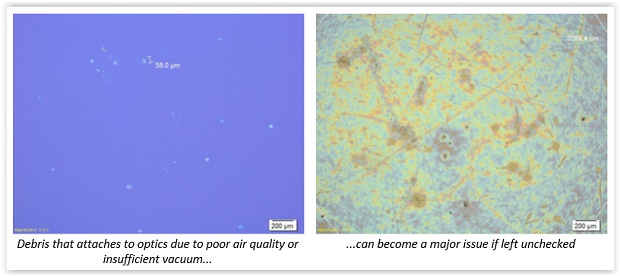 Compressed Air
Compressed air is often used on UV laser systems to purge the laser and optics areas inside the system and—in some cases—to assist the debris removal vacuum in removing debris from the processing area. Given that this air also flows over and around the system's laser and optics, one must take into account not only air pressure and flow, but air quality as well. The use of membrane type oil/water separators is essential for ensuring laser-quality compressed air.
Standard pneumatics engineering protocols should be followed to allow for proper draining of oil or water from air lines prior to entering the system.
Environmental Air Quality
The issue of air quality isn't limited to the quality of compressed air. The facility's environmental air quality is also a factor. Despite air purging designs that are common in UV laser processing systems, environmental air containing high levels of particles and oils can result in high maintenance costs caused by the need to clean and replace optics more frequently.
Floor Vibration
It is also important to minimize floor vibration, which can impact system accuracy. Systems can be located anywhere in the manufacturing building, from ground floor up to the top floor of a multi-story building. While well-designed systems include vibration-mitigation mechanisms like vibration-absorption foot pads, those are typically designed to only isolate the rest of the factory from vibration from that particular system itself. Obviously, one should avoid placing the laser system near heavy machinery, too close to multiple mechanical drills, or next to other heavy vibration-inducing factory machinery such as the facility vacuum pump, air compressors, or backup generator, especially if you are placing the tool on a higher floor. Typically, the placement of multiple laser systems in the same area does not cause issues, and it is common to find single shop floors containing as many as 40–50 laser systems.
Summary
With so many processes to keep track of in a flex manufacturing line, it can be easy to get lost in the details and begin to rely on your suppliers to address any issues that might crop up. However, given that laser processing equipment and flex materials are both impacted by your facilities, your attention to and investment in clean, stable, and robust facilities and support equipment will quickly pay off in less downtime, higher yield, and—perhaps most importantly—fewer headaches!
Mike Jennings is director of product marketing with ESI's Industrial Products Division. Patrick Riechel is product manager for ESI's flexible circuit micromachining tools.
Share
Print
Suggested Items
08/19/2020 | I-Connect007 Editorial Team
Jim Metropoulos, CEO and founder of Blue Box, talks about the innovative foam solution he developed to clean the coils of HVAC systems in large facilities, ranging from casinos and manufacturing plants to some of the top hospitals in the country.
07/15/2020 | Barry Matties, I-Connect007
Eric Cormier and Dave Ryder of Prototron address the ransomware attack that locked them out of their system last December, bringing business to a screeching halt and forcing them into the arduous process of a full rebuild. With things finally starting to normalize, Eric and Dave now offer precautionary advice they've accumulated over the past six months.
03/10/2020 | Pete Starkey, I-Connect007
Rested and refreshed, delegates returned to the conference room for the second day of the 2020 EIPC Winter Conference in Blijdorp, Rotterdam, South Holland. Pete Starkey provides an overview of the presentations and activities from Day 2.