I am just back from the first major CES 2017 event, CES Unveiled. This event literally draws a few thousand members of the press. The exhibitors range from well-known companies such as: Lenovo, showing their latest high-end (and very impressive) notebooks, tablets and all in one computers; Ampad, with their new series of very capable fast and long range routers; and Thrustmaster, showcasing their virtual reality-ready gaming peripherals. Additionally, there are many previously almost unknown companies exhibiting many IoT items.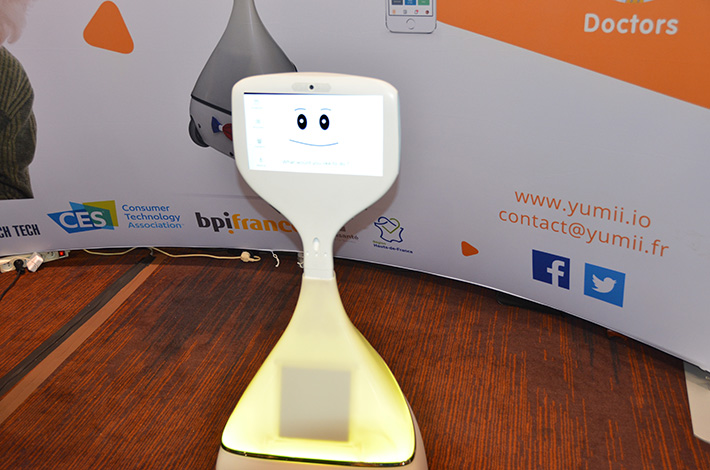 First, there were robots—lots of robots—some of them just toys as in previous years but more and more of them truly useful. For example, the Ymmii Cutii is a somewhat toy-like device when first seen, but is a true robotic home care platform for the elderly or disabled. This friendly-looking robot allows a caretaker who is not in the residence to communicate face to face with and provide services and share activities to a loved one or friend. The screen goes from a smiling face to the caregiver as it follows and communicates. Other robots being shown do similar things.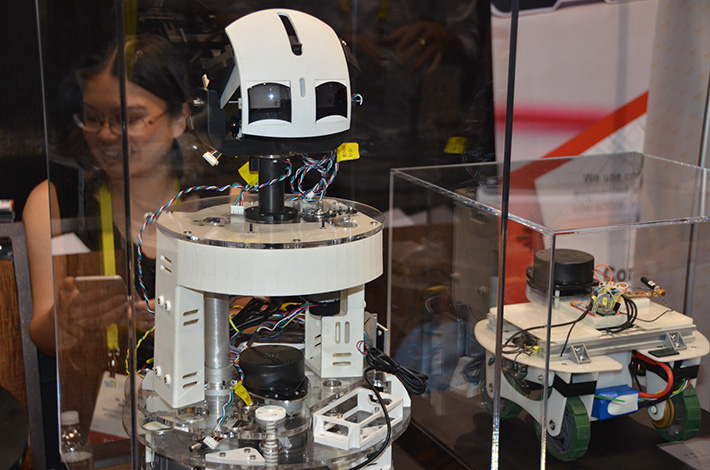 Is the day of the true robot companion dawning? I think so, as we have gone from remote controlled toys to capable devices providing honest companionship and valuable services. Let's see what other advances in robotics will be shown when the show opens on Thursday. One thing for sure, if the advances in robots continue at the same pace we could be on the threshold of seeing a truly disruptive technology becoming mainstream.
Let me talk about a few of the more interesting IoT offerings. The IoT is not a network of computers, it is the connection and networking of physical devices, including vehicles and smart devices, buildings, houses, toys, control items such as thermostats, light switches and other items—embedded with electronics, software, sensors, actuators, all with network connectivity that enable these objects to collect and exchange data and control and be controlled by both people and other devices.
IoT devices can be as simple as a coffee maker being told to brew by a command sent by a smart phone app, to something as powerful as IBM's amazing Watson taking control or a legal proceeding by searching for legal precedents. Some IoT items are silly, for example, the smart trash can that send you a message to empty it but other rather simple ones provide potentially high value.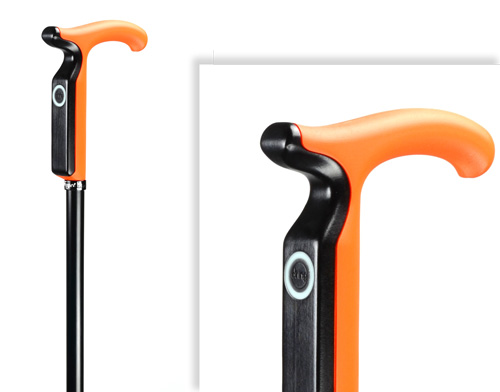 For example, there is the Smart Cane joining the IoT. It is offered by Fayetin France and uses technology by Dring. Thanks to its Dring technology, Nov'in, a French start-up, has developed the first smart connected walking stick. This innovation, which is of interest to seniors, people with reduced mobility, and their caregivers, has been awarded the "CES 2017 Innovation Award."
The Dring alert system offers the latest in high tech and includes several types of motion sensors (accelerometer, gyroscope), a microprocessor, a rechargeable battery, and GPS/GPRS and GSM technologies. Its small size and low weight allow it to be built in other types of objects (safety shoes for example). Data collected by the Dring system sensors are directly transmitted to a server. Artificial intelligence algorithms process the data to memorize the habits of each user and to better detect unusual situations (fall, reduced activity, late awakening, etc.). Data exchanges are carried out in a totally secure and confidential way. If need be, caregivers will automatically receive a text message, an email or a phone call to alert them. With the GPS, the user can be located. The system is programmed to keep getting in touch with caregivers until confirmation has been sent. The user himself can call for help by pressing a fitted-in button on the cane.
As I try to choose the areas I will visit in the next few days, it becomes obvious that one person, no matter how motivated, cannot see even half of CES; but no matter which area I visit there will be robots for every type of task and every type of wanted companionship.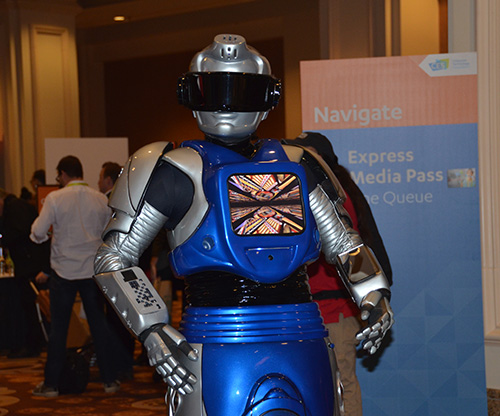 A few thoughts:
1. Drones and autonomous mobile robots will soon transform home delivery and even emergency medical response. Sometime in the next year or two, most of us will experience a robot knocking on our door or just dropping off a package and ringing the bell.
2. Robots are smarter than they were even a year ago, but major improvements are still needed to allow humans to seamlessly interact with them. AI, deep learning, and other technologies are helping robots be more involved in everyday life in virtually every way.
3. Robots are no longer relegated to science fiction. Robots have arrived and are working alongside humans and impacting our world. This is just the beginning.
As I see examples of major advances in robots this week I will add descriptions and pictures to that day's column. One thing for sure, this is just the beginning of what is a very disruptive technology. One must wonder if Isaac Asimov's three laws or robotics will be considered a key part of this rapidly advancing disruptive technology or will things truly get disruptive in the future.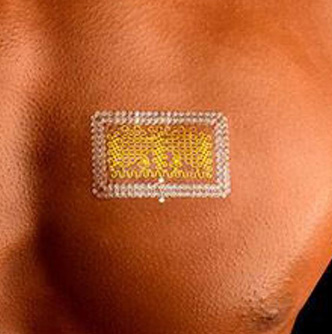 An area and segment of the IoT that is gaining interest are medical devices for use in the home. Wearable technology was expected to disrupt the way we live by connecting humans to the IoT for mobile health, and athletic training. After years of development, wearables represented by smart watches and wristbands are still considered by some as fancy pedometers, although many of us use them as an extension of our smart phones. In 2016, however, the consumer wearables market delivered a growth rate of 25%, which was below expectations.
At CES, Rotex demonstrated several of their E-tattoo prototypes including wireless electrocardiogram (ECG) monitoring chest tattoos and gesture control arm tattoos. As our largest organ, skin is not only the body's protective barrier but also the most important medium for non-invasive access to physiological signals. Skin-mounted sensors can collect vital biometrics such as electrophysiological signals, respiratory rate, temperature, hydration, blood pressure, biomarkers in sweat. In healthcare, continuous and ambulatory tracking of multimodal biometrics can provide unprecedented data for diagnosis and disease management. Electronic tattoos are multifunctional, high-fidelity, noninvasive sensing/therapeutic platforms that are hair thin and skin soft, which is considered the ultimate form factor of wearables. They are mountable on any part of human skin like a temporary transfer tattoo.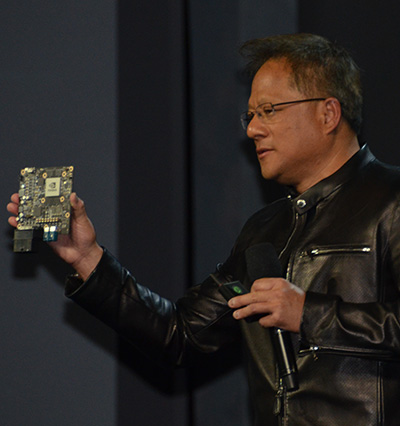 This evening, the CES keynote was given by NVIDIA—their first. NVIDIA has made great strides in the past few years, going from being the leading developer of computer graphics processors to a world leader in the development of artificial intelligence using mini super computers. Tonight, Jen-Hsun Huang, CEO and co-founder of NVIDIA, showed a packed and cheering room several achievements for the highly successful company that has seen its stock triple in value over the last two years. Tonight, they announced a new generation of their Shield device console/streaming unit. This latest Shield will support 4K HDR TVs and by connecting to an NVIDIA supercomputer in the cloud, it will allow even those with less powerful computers such as standard notebooks or Macs to play the more demanding computer games that up to now required relatively powerful Windows based PCs. The service called GeForce now will be available as a paid subscription on the popular gaming network Steam, starting this spring.
In yet another announcement, Huang announced that NVIDIA is teaming with Google to create the first Android TV device supporting the Google Assistant service. Communicating with what will become a truly smart home will rely on a small wall-mounted microphone peripheral called the NVIDIA Spot (not yet available).
In addition, NVIDIA announced several new partnerships with the most exciting one being a partnership with Audi and a commitment by both companies to introduce a commercially available truly autonomous automobile by the year 2020.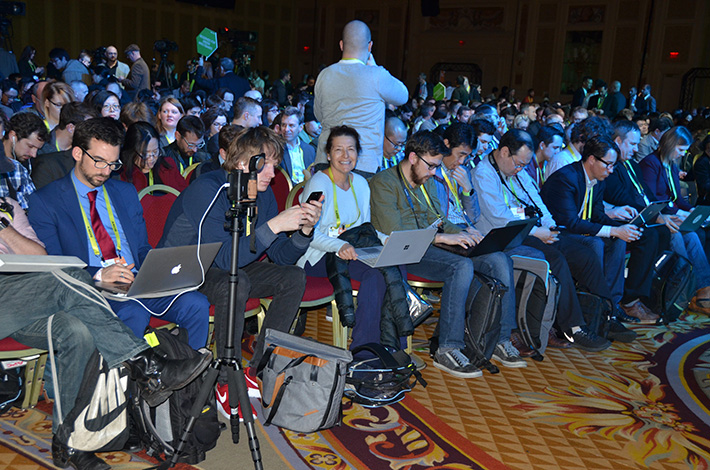 Overall, the keynote was a very positive and convincing infomercial for NVIDIA, who rightly so had many positive successes to show off. I would not be surprised to see their stock take another jump. The only disappointment I felt was that the expected next version of their amazing series of Graphics Processing Units for high end PCs, the expected GTX 1080Ti, was not announced. I am sure that the gaming community will take notice and that this will overshadow all the amazing progress in the mind of gaming techies.
Thursday is the first day of the actual show. In addition, Thursday evening is Showstoppers, so stay tuned for much more from CES 2017 as we look at the latest in home entertainment, 3-D printing, automotive technology and even more IoT devices.
To read the recent "CES 2017: Preview and a Projection for the Future" article, click here.