Those of you that have read my previous columns covering CES 2017 know that at recent CES shows I have seen many drones, autonomous cars, IoT devices, robots, and many other items ranging from robots who stand in for your doctor to smart trash cans who tell you via Alexa, Google, or soon, Cortana on your own computer, that since you have thrown away two empty milk cartons in the last few days it may be time to order more milk; just say yes and consider it ordered. (It will also tell you it is time to take out the trash.) The IoT is certainly disrupting life as we know it and much of the connected world does provide good value.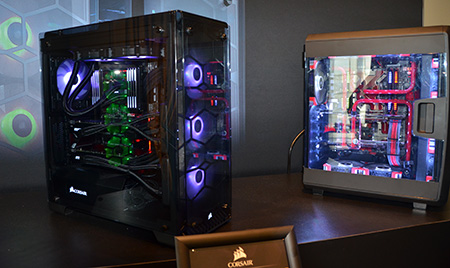 Of course, at CES, as always, there were very many phone cases, chargers and even disinfecting devices for your smart phone, lots of new TVs and some truly new advanced personal computer technology.
But what about truly disruptive technologies, technology that will radically change the way things are made and used and the way we live? In this column, I will discuss three of the most disruptive areas of tech—technology that will radically change the way we design and make electronic (and other) devices, the way we commute and the way we are entertained as well as the way we travel. Over the next five to ten years these areas will undergo radical and disruptive change and that change will be happening rapidly.
In addition, I will be speaking on the disruptive technologies that most affect the PCB and EMS industries at the upcoming IPC Executive Forum and IPC APEX EXPO on Monday, February 13, in San Diego.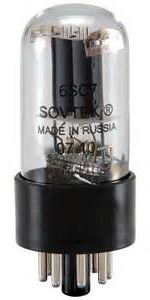 Think about the radical change in the late '40s and early '50s from AM radio to TV; think about when in 1886 the first gasoline powered auto-mobile, the Benz Patent-Motor wagon was invented by Karl Benz and what that did to the way human beings travel (also what it did to the buggy whip industry, talk about disruptive). For those of us who have spent a lifetime in the electronics industry, think about the disruption the invention of the semiconductor caused. In a few short years, we went from hard wiring point by point, connecting tube sockets to transformers and discrete resistors and capacitors to each other, etc. to plated through-hole printed circuits soldered on a conveyer. Those disruptions were in fact minor and slow to happen compared to what is now happening. So, as the topic of this column being disruptive technologies we will primarily discuss three of the most visible at CES. These are 3D printing, virtual/mixed reality, and autonomous driving. These three encompass so much more, for example, one might say what about robotics? Well, robotics uses many of the key elements of the three, as do other up and coming devices. In addition, would you not consider an autonomous vehicle, a driverless car a type of robot?  
3D printing—Not your Grandfather's Way of Making PCBs
With shorter life cycles, sending prototypes out to be made takes time and the risk of the copying of confidential designs, especially when offshoring prototype production, is very high. If there must be changes then the cycle times are further extended while waiting for the next prototype to arrive. With 3D printing a prototype can be made right in the office, right away. Even a company that does not have any traditional PCB fabrication can now do it. 3D printing as a concept as well as a demonstrated possibility is not new but the advances in this technology as well as in the design of both the printers themselves as well as the materials (ink, so to speak) have, over the last few years, equaled, and I might add surpassed the rate of Moore's Law.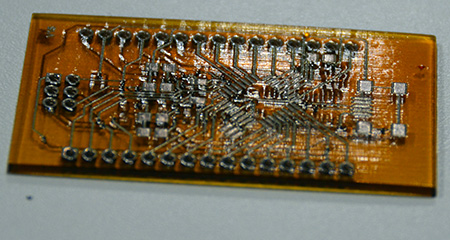 There are now 3D printers specifically designed for fast production of PCB prototypes. Let me quote Neil Sharp from an article he wrote last summer: "I don't think it will be long before their customers start viewing these as "standard" pieces of equipment alongside the pick and place machines. As 3D printing technology continues to evolve, so too will its application within electronics manufacturing." This is in fact happening, but at an even faster pace. Also, let me quote my good friend Joe Fjelstad, from an article he wrote a few years back: "3D printing allows the manufacturer to make mistakes at a prodigious rate enabling much faster cycles of learning (and redesign) then have ever been available…"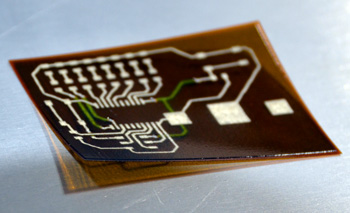 At CES I saw several 3D printing devices and samples of boards that they have produced. This is significant as only a few years ago, there were none and last year there were just a few. Many of the 3D printed circuits they were showing however looked more like copper pictures of a circuit on a substrate. I am sure that some of these companies will survive and in fact thrive. The sheer number of new 3D print offerings will accelerate the usefulness and acceptance of this technology.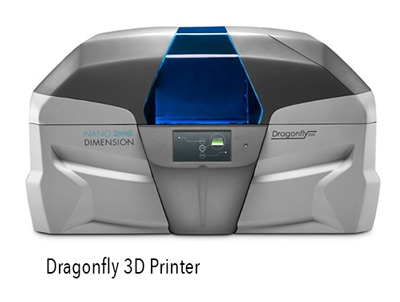 One company, Nano Dimension, who just a few years ago, was showing an advanced prototype, this year exhibited a commercially available unit, the Dragonfly 2020 3D printer . To me, calling it a printer does not do it justice, it is in fact a tabletop PCB prototype shop developed, designed and manufactured by an Israeli company, NAN-ODIMENSIO-N (Nano Dimension). (At this point I must disclose that I was enthused by their progress last year and when their stock went public I bought in, so I do have a modest vested interest.)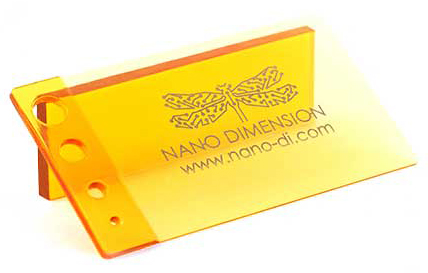 While there were an increasing number of 3D printers being shown many of them looked like prototypes not quite ready for prime time, the Nano Dragonfly was very impressive. Using their latest high conductivity and dielectric inks they are producing boards that look ready for the commercial market. At the show, I was informed that there are already six of these new devices sold and in production at their customers' facilities and based on the interest being shown at CES I would expect that soon there will be quite a few more.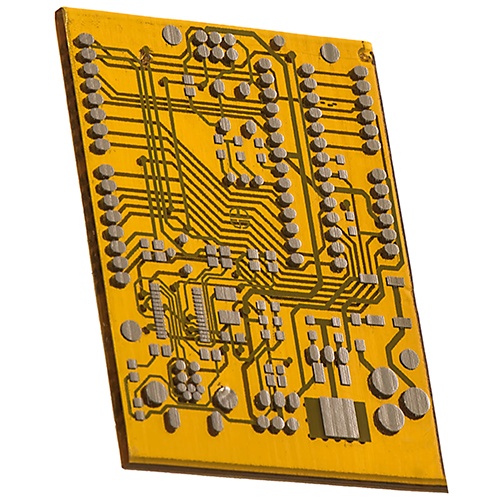 Nano Dimension has successfully 3D-printed a series of multi-layered rigid PCBs, connected through printed flexible conductive connections. This important breakthrough addresses traditional production limitations in the electronics industry, such as continuous transfer of conductors between circuits, loose contacts, the size of connections between the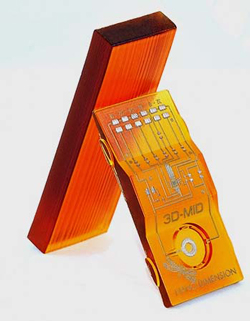 circuits as well as fabrication of multi-layered flexible material. It also means PCBs can be bent so they can be combined with curved and complex geometrical products or cases.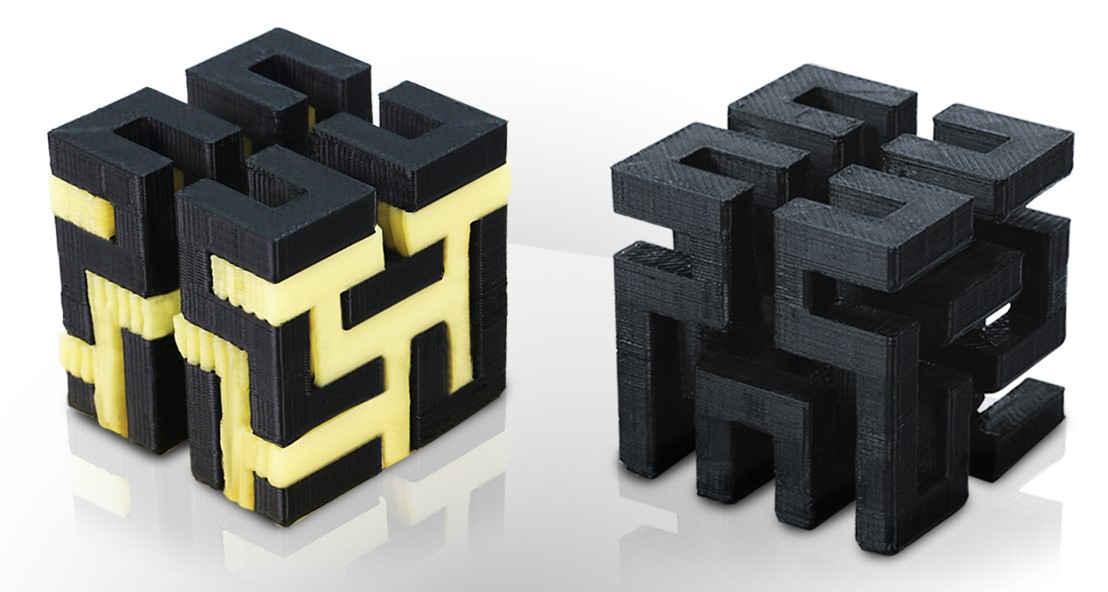 There were many other 3D printing applications in evidence at CES, most focused on making prototypes of  "things" such as plastic gears, prototypes of various parts, handles, cases, prosthetic devices, custom fixtures, small custom tools, pieces of art and custom jewelry and even medical implants.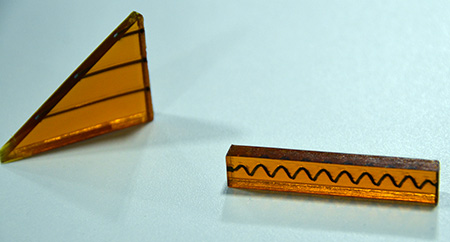 There is no doubt that 3D printing will disrupt far more than the PCB fab industry. Some of the more impressive units available include Formlabs' new form 2 desktop 3D printer, units from MakerBot, Airwolf HydroFill, Robo 3D , and so many more that I did not have a chance to visit. All of these companies are moving toward more compact units with affordable price points. There are also now companies that can rapidly produce your 3D printed prototypes for you, 3D printing services that can produce many things rapidly. 
At CES 2014 I recall a very few 3D printers being shown making very simple small items. This year I estimate there were over 60 companies showing their capability to make so many more, larger and far more complex items and doing so with far more professional looking and less expensive printers. Amazing progress with no limit as to what can be accomplished in sight.
It is disruptive, for sure, to the prototype traditional PCB shops. Just as photoresist was disruptive to the screening segment. I would strongly suggest that any forward-looking PCB manufacturer install a 3D printing machine and take early advantage of this promising technology. 
Virtual/Mixed Reality: Am I really here, or is it really there? 
Those of you that have followed my musings for the last few years know that virtual reality in all its forms (VR, AR and MR) is something I am very interested in. The question has been where do these all fit. Rather than repeat what I have already written, if you are interested in an overview of the present state of virtual reality and the differences between VR, AR and the upcoming MR, please click here.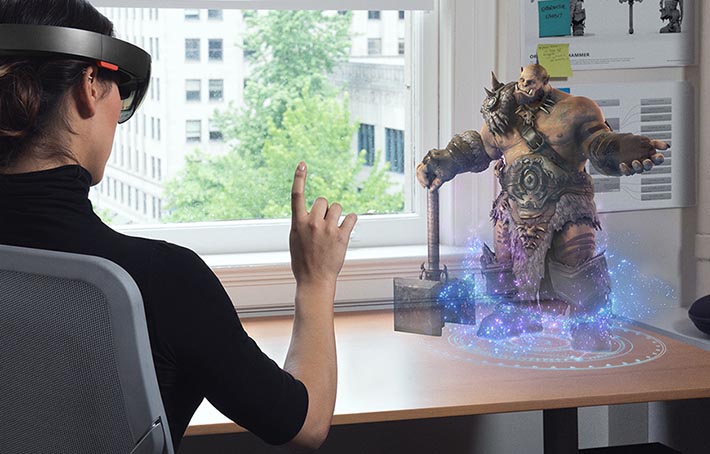 This year at CES there were impressive gains in the number of offerings both at the low and the upper end of the growing VR market. Yes, there are now a number of cellphones that work with a viewer to let you experience very basic virtual reality but that is like using a 1980s color TV to experience watching a modern high-budget movie. There was much higher-end VR gear than last year however. Not that long ago we were all standing in line to experience the Oculus Rift, or the HTC Vive, and we were waiting for the yet to be defined ultimate VR gear, the Microsoft HoloLens. We are still waiting for the HoloLens to become commercially available, as it is a true self-contained VR computer/headset. As of this writing it is only available for developers and at a very high price ($3k to $5k) so it is still kind of in its own "elephant in the room" state. It promises to be astounding but we will still have to wait and see. 
Some notable new VR hardware was announced but it did not seem like to be more advanced than what we have had for the last six to eight months. Lenovo introduced a VR headset that seems similar to the HTC Vive, or the Oculus Rift. There is a new pair of android powered smart glasses offered by Osterhout Design Group that have virtually reality capability; they have cinema quality displays and give the same virtual display size as looking at a very large TV. The key interest is that they let you run AR programs that add virtual scenes or items superimposed on the real world. I guess these will let you play Pokémon Go while seeing the real world. VR and AR were everywhere at CES in Las Vegas this week, with countless booths displaying headsets and accessories.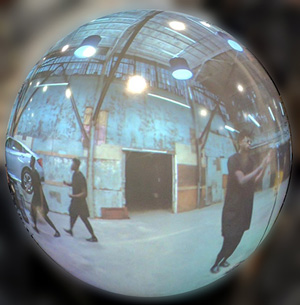 A number of studios and creators also used the event to either launch or preview new experiences. But the biggest advancements may not be available to consumers for another year or two. Global Imagination from the UK brought its "VR Sphere" to CES, which displays 360° videos on an oversized glass globe.
There are several very practical applications for VR in use and in fact there are some that have been in use for the last few years. For example, Amazon's product preview lets you visualize different size and brand TVs in your home and the home improvement giant Lowe's has partnered with Lenovo and Google to introduce Lowe's Vision, which can take measurements using augmented and virtual reality tools powered by Google's Tango. The Lowe's Vision app enables customers to easily measure any room in their home and style it placing real Lowe's products in their own environment through augmented reality.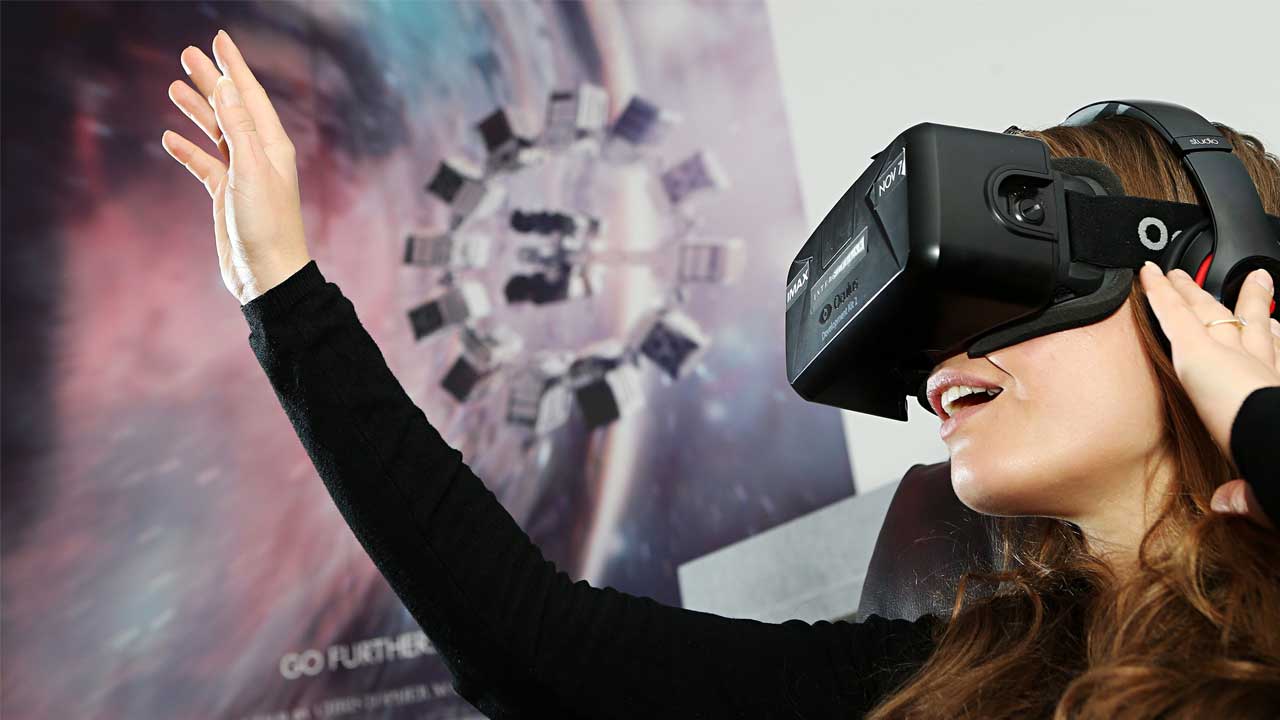 SoftKinetic, a subsidiary of Sony, demonstrated technology using a customized Oculus Rift headset. The idea is very interesting.  Using your hands instead of controllers in VR would be an advancement into capitalizing the "R" in reality, this seems pretty impressive. However, we were cautioned that it may be another two years before we see anything like it integrated into the VR headsets from major manufacturers.
No doubt AR, VR and soon MR will totally disrupt everything from entertainment to home and office design, medical procedures, military training and now one of the biggest drivers in entertainment technology, the one that played a big part in driving the choice of VHS video recording over the, at that time, slightly more mature and capable Beta Max, that driver being the adult film industry, has signed on to producing their product in VR. Talk about disruptive! 
One area of disappointment in VR universe, however, is the lack of excellent content, especially in the entertainment sector, and not just movies but also gaming, virtual touring and just about everything else. Still, the general feeling is that as the technology improves and the devices become more capable and able to provide a good quality experience when being driven by less than a high-powered gaming like computer that the content will come. For example, 20th Century Fox has announced that their Innovation Lab is working on a VR experience that will let you cross the species line in Planet of the Apes and let you band together with other apes to fight the humans. 
So who is the leader in VR in January 2017? I must agree with other reviewers that right now it seems to be HTC with their commitment to rapidly progress and to eventually offer a wireless VR headset (like what we think the Hololens will be) If you are interested in the VR universe I would wait—not long, but unless you really want one now and recognize that you will want to replace it on a short cycle I would wait. I am a techie and I love new stuff, but I have decided to wait until I see the HoloLens and the new content later this year. 
Autonomous Vehicles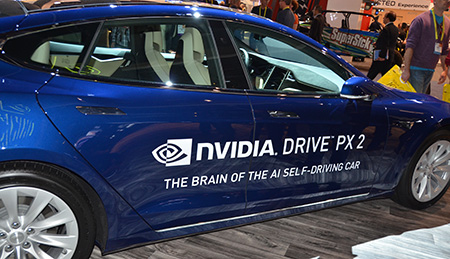 Autonomous vehicles are an area showing amazing progress in just the last year. I covered this rapidly advancing technology in some detail just over a year ago, you can find that article here. However, there has been much progress in the last year and also much commitment to making this happen by the automotive industry.
It is interesting that I focused on NVIDIA at that time. At that time, they were working with a number of major automotive companies with the goal of partnering with some of them to bring the dream of self-driving vehicles to reality. This year at CES NVIDIA announced partnerships with Audi, with both companies committing to have fully autonomous vehicles available by the year 2020.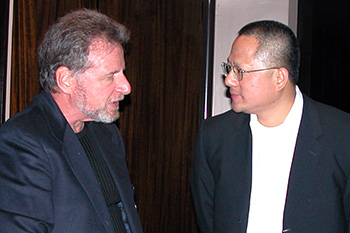 Later in the show we received a text saying that if we would immediately come to the Mercedes booth Jen-Hsun Huang would be making a major announcement. That was interesting because if there was any major announcement to be made why wait less than 48 hours after the Key-Note address? Obviously, it must be something that might have been in the works, but in my humble opinion, not finalized until meetings were held at CES. The news was that NVIDIA and Mercedes announced a partnership, so Mercedes is now committing to their AI path.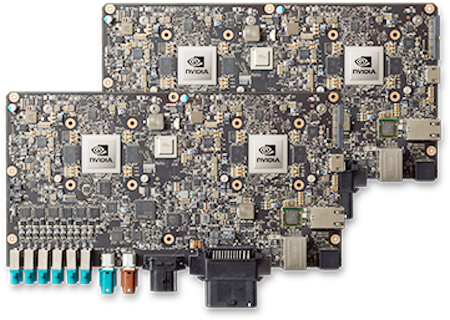 What is the disruptive technology behind the rapidly advancing success of autonomous vehicles, it is AI (Artificial Intelligence). AI of this power requires a supercomputer of sorts and the mini supercomputer in a cigar box of choice running the autoploid system for many is the DRIVE PX  2. The new Tesla Model S is capable of fully autonomous driving with expected software updates.
Some additional interesting announcements and progress shown: Baidu featured their L3 autonomous driving solution for environmental sensing, based on a Baidu created High Definition Map. Raw HD map data is processed via DRIVE PX 2 to detect and classify the surroundings, such as lane marking, and traffic signals, signs and other landmarks. Working with all the world's major mapping companies so more of the world's roads will be mapped sooner. These high-definition maps, accurate down to centimeters, are vital to enabling vehicles that can autonomously zip through the world safely and efficiently.
At the show Zenrin, Japan's biggest mapmaker, announced Wednesday it's working to streamline its map creation process using PX 2 powered AI.
LG featured a multi-screen vehicle cockpit demonstration. Finally, at the outside exhibit, you could see an Audi Q7 piloted driving concept and the NVIDIA BB8 test vehicle that both use DRIVE PX 2 as their brain. The upcoming vehicles, just a year or so away, are learning on their own. And that's perhaps the surest sign that AI cars are here to stay.
And just the other day I received news that at CES 2018, one year away, there will be a number of fully autonomous shuttles fully in use shuttling us from hall to hall and from event to event.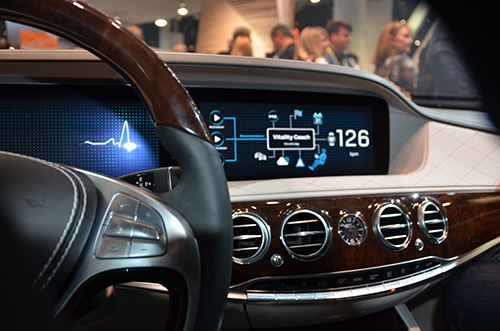 In addition, I was able to try the latest Mercedes concept car that tends to the driver's physical (and mental?) state. Upon sitting in the car and holding the steering wheel, it quickly measured my blood pressure, heart rate and I guess other things, and gave me a message as to my mood; it played music and adjusted the odor of the air flow using ionized air to elicit a calm attitude for safe driving. I do not know if this is something we want or would need, after all if the car is driving itself, why? But the fact that it can be done shows how far things have progressed.
As far as disruptive technologies, the one that seems to change our everyday lives most in the next five-plus years is autonomous vehicles. The automotive industry has incorporated technology at an ever-increasing speed; in the last 25 years, we have added cellular communications, GPS navigation, various warning systems and greatly enhanced audio and comfort features, but as the man once said, "You ain't seen nothin' yet."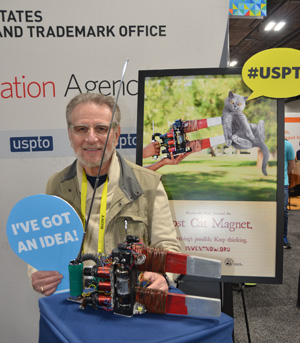 No doubt that fully autonomous travel in your own car is not only possible, it is already here and will be widely available before our next presidential election. Assume that in the year 2027, just ten years, we will live in a world of 100% fully automated cars, no human driving. After all, the only thing that the supercomputers and up-to-date network mapping will not be able to determine is what humans that it shares the road with will do. What will this world look like? I can see highways being limited to just driverless cars and I predict it will start here in California. After all this is the state where the government knows more about what is good for you than you do, However, in this case they might be correct (if it happens and I believe it will.) Per Rory Buckeridge: "Well, first and foremost, it's a much safer place to be. Road death is the eighth leading cause of death, with between 90% and 95% of car accidents the fault of human error." The economic cost of road accidents is estimated to be around $277bn in 2013." It will be a very different world for sure and while there are many disruptive technologies that are about to mature, I believe that this is the one that will have the greatest impact on our lives, our legal system and our economy. It is certainly one that we will continue to follow with great interest. After all, the next car we buy may very well be the last one we will be able to drive any time and any place we wish.
On a lighter note, my award for the most, uh, surprising offering of the show, how about a pair of underwear designed to protect you from the radiation emitted from that smartphone that you keep in your pocket. Disruptive? I do not want to know.
Note: Photos by Racheal Feinberg