I-Connect007's Barry Matties sat down with the COO of Ventec USA/Europe, Mark Goodwin, to discuss the laminate market as a whole, the market segments behind that growth, and how Ventec has positioned itself in the thermal management space.
Matties: Mark, can you begin by giving our readers a little of your background in the industry—not just where you have worked, but the tasks you've done?
Goodwin: I started in this business for a company called Photocircuits. Not the big American Photocircuits, but a little photoplotting bureau in Barton-le-Clay, in Bedfordshire, England. I worked there from '83 to '90, and I started off with red and blue reductions, red and blue separations and taped artworks on a big Littlejohn wooden camera.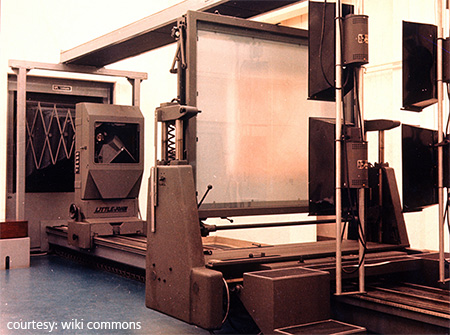 Then I ended up in a sales role, but that was at a point when everybody started buying laser plotters and the business was clearly going to have to change and decline. I kind of realized that and when I saw Isola's advert in the Luton news I remember thinking, "Well, every circuit board needs laminate and lots of it. It only needs one set of artwork and they use lots of laminate. It's got to be a better bet." They offered me a job with a mobile phone and a company car, and that always swings it, doesn't it? In 1990, I started with Isola.
Matties: Was sales something that you were interested in?
Goodwin: I was already selling for Photocircuits, technical selling. I'm a great believer in people that look back and discover they've had a career. I know very few people that have written it down on a sheet of paper and said, I'm going to do this, this, and this and then have actually gone and done it.
I just see opportunities and take them—or not—but mostly the good ones I've taken. And you know, I got a great education in the laminate business and owe a lot to Manfred Cygon, a really good guy. I spent the first two or three months at Isola working in the factory in Cumbernauld, and then working in Cygon's labs in Düren, Germany and that gave me a very good grounding on materials. I always said, and I really believe this, that I'm not a technical guy, not at the level of detail you really need to be a technical guy, but I do understand all of the concepts that go on in this business, and I really attribute that to Manfred Cygon, who was a fantastically good guy.
Matties: How long did you work at Isola?
Goodwin: I was there until 2004 and then disappeared out of the business for 18 months or so in a non-compete and joined Ventec at beginning of 2007. The rest is Ventec history. We started with a 1985-vintage Schmid saw and a Rosenthal slitter from when Pontius was a Pilate.
Matties: It's quite a climb from there to here.

Goodwin: I know. We've got state-of-the-art equipment now. Some people say we should have big Schelling saws, but I disagree for the UK market. The UK market is low-volume, high-mix, so why do you want an automated, big piece of kit? We've got big automated saws in the German facility where we have the kind of volumes that dictate that. It's far better off to have two small manual saws for the UK market, which is high-mix, low-volume, and service-driven. It gives you two things: the first is redundancy, but because we run two saws eight hours a day we gain bandwidth and If we have one piece of kit go down, we can run one saw 16 hours a day and still keep all our customers supplied.
Matties: So capacity and redundancy.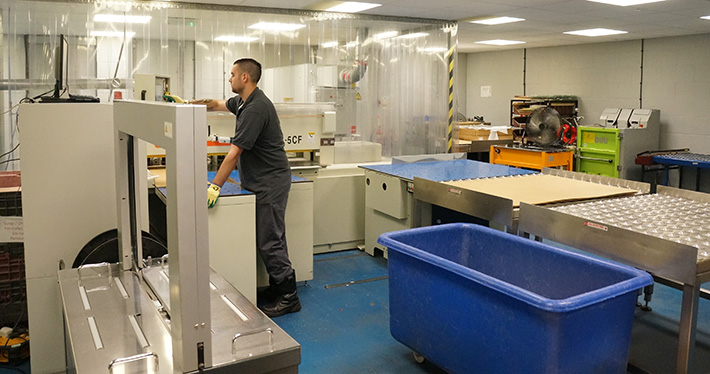 Goodwin: Bandwidth is more important for us, but we've got more than enough capacity if we run this plant 24 hours a day to cut and ship everything the UK market needs.
Matties: How many people do you have in this factory?
Goodwin: We've got seven on the shop floor and about the same in all the admin, sales desk and management functions and external sales.
Matties: That's a pretty lean team.
Goodwin: Yes, the whole business here now is 16 people including me, but I don't really sit in this business unit anymore. I have Germany and the U.S. reporting to me, so that's been hard letting go of this and letting other people play with my train set; but they do a great job, so I'm pleased with it and it's freed me up to do other things.
Matties: What about turnover?
Goodwin: This year it's going to be somewhere between a seven and eight million-pound turnover for the UK business unit, which would have been a lot more dollars last year than it is this year, which is the currency we report in, and that interests HQ.
Matties: It's good for a visiting American. Pounds are a little bit cheaper right now. So you've been profitable basically from the first few years just growing?
Goodwin: We had some startup losses in the first couple of years, but we've been profitable ever since. We manage our profitability carefully. It's a combination of margin, volume and mix, and managing costs, so maximizing what we do in China and minimizing what we do in high cost regions whilst maintaining service levels. We offer a very high level of service, very quick delivery to our customers. That means we need bandwidth in a working day, so we have a very high equipment capacity, and we carry extensive inventories, and tightly manage our supply chain out of Suzhou. You can see we've reinvested a lot of the profits in the factory, from all the new plant and equipment on the shop floor—you've seen that briefly, to make sure we can continue to provide a good level of service and a good level of quality to our customers. In fact, globally we have a very clear strategic investment plan to make sure customers in every region can reap the benefits of our fully managed and coordinated supply chain. Mix has also been important in our growth: polyimide, low-flow/no-flow prepregs, all those kind of little specialty products. The IMS business, thermal management, is a huge driver for us in the last two years, but in the last year in particular, we have world leading products in our VT-4B series of IMS.
Matties: What sort of applications are those typically going into?
Goodwin: A lot of high-powered LED lights and automotive car lighting, DC power conversion, and electric power trains, e-motors all these are going to be a big thing.
Matties: And these are growing markets too.
Goodwin: E-vehicles and hybrid vehicles are going to be a huge business for us and we're really well-positioned in those. We're bringing some new products on like the VT-5A2, which are thermally conductive multilayer materials. Basically, it's built around thermally conducted prepregs so we can make thermally conductive laminates and thermally conductive prepregs. You can build up complex multi-layer structures and bond those to an IMS, bond them in hybrid form to other FR-4 type or polyimide type laminate. You only have to have the heat dissipation thermal management where you need it.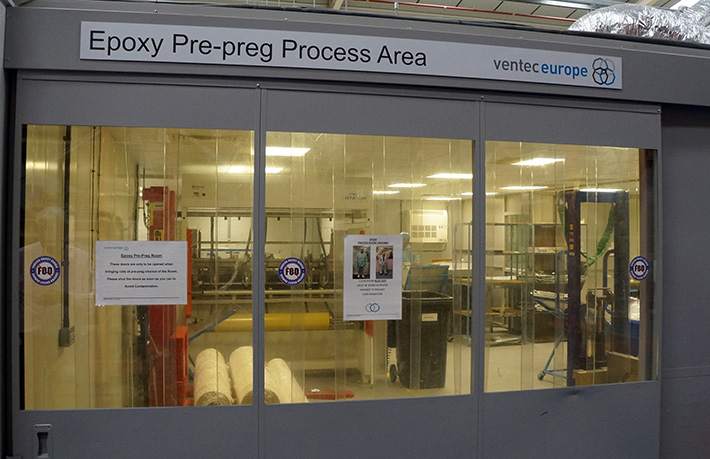 Matties: In the area where you need the performance?
Goodwin: Exactly. This is the direction we're heading and we're definitely becoming a world leader in thermal management, and we're becoming a leader in quality, technology and processability of our polyimide products as well. We really have come from nowhere in the polyimide business in five to six years and we have pretty much the UK market and big chunks of the European market. It's a bit slower in the U.S., but then the U.S. is polyimide central and all our competitors are already there, so it's harder to dislodge the incumbents in the American market than it is here. But we are making steady progress and a have few developments up our sleeve that will accelerate the polyimide business in the USA for us.
Matties: That's a big market, but there's a big play in Asia, right? That's really where the big play is for you guys?
Goodwin: If you look at Ventec's model, we're not small, but we're not one of the really big laminators.
Matties: There's a lot of head room there, though.
Goodwin: Yeah, a lot of head room, but we're more interested in the interesting niches. Again, thermal management being one of those. Polyimide being another. Of course, we also have really good business in standard materials, standard FR-4s, halogen-free FR-4s. We're a high service model in China as well, generally we're not supplying the 200,000, 300,000, 400,000 sheets somebody needs every month. We're supplying the 50,000, or 75,000 sheets, which is still a big number, but we do those within a few days.