I recently sat down with Ted Pawela, Lawrence Romine, and Judy Warner of Altium to wrap up their sold-out AltiumLive 2017 PCB Design Summit in Munich, Germany. This conference, following on the heels of an AltiumLive event in San Diego, was packed full of PCB designers who attended a series of great keynotes and an excellent technical program. We discussed some of the highlights of the show, including designers' reactions to a new version of Altium Designer 18 and the brand-new Altium Nexus tool.
Barry Matties: We're here wrapping up AltiumLive 2017 in Munich. Ted, why don't we just start with you? What are your thoughts on the event?
Ted Pawela: I have to say that I'm really pleased with the participation from the design community, and Altium customers, people from manufacturing industry, and keynote speakers. Everybody was really engaged and, as you saw, stayed until the end of the event in both San Diego and Munich. So I have to say that our goal was to create an amazing customer experience, and I feel pretty good that we've achieved that.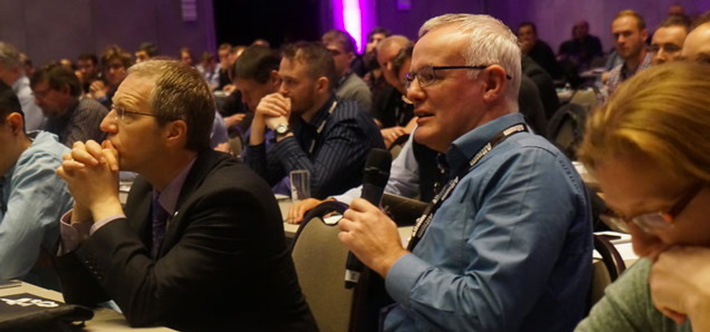 Matties: Lawrence, what do you think about the show from your point of view?
Lawrence Romine: As we were discussing previously, and Ted just mentioned, I'm most excited about how we're able to really connect these groups of people who are within a stone's throw of each other, from a technology and business standpoint, but who seemingly don't communicate too often. And if we can play that part, in really connecting all these groups of people, then I feel like our goal has been achieved. I definitely feel like our job was achieved here at AltiumLive.
Matties: Judy, you're the director of community engagement. What's your take?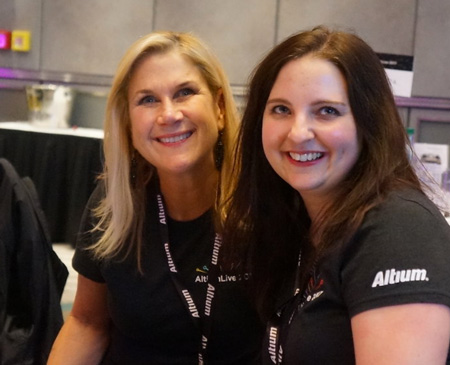 Judy Warner: I told Ted after San Diego, and now I would double-down on my words, that these two events have been the highlight of my 25-year career. I'm in a position at Altium where I can be the matchmaker who helps bring together the manufacturing community, the engineers, PCB designers, thought leaders and experts whom I've known for all these years, and help facilitate this amazing synergy. Altium has been a generous host in providing spectacular venues and the resources to create a platform in which users can gather to learn, grow and connect. I think that it's beneficial not only to Altium users, but to anyone who is a PCB designer or engineer. We've received a flood of positive feedback from attendees, many of whom have said it was the best PCB design event they'd ever been to. We aimed at providing a great user experience and, I'd say in that regard, we hit a grand slam—not just for Altium, but for the entire PCB design community.
Matties: I think between the two events, you had something like 550 attendees. I heard people say, "Wow, I've never seen so many designers in one spot before." So, well done. Now, let's talk about your new product. You released version 18 of Altium Designer and that seemed really well-received.
Pawela: Yes, actually we released two new products. Altium Designer 18 is the most significant release of Altium Designer, probably ever, and we introduced a whole slew of new features like multi-board design and things like that. But at the same time, we really redid a lot to the underlying architecture to give it better performance, speed, and stability, and as you could see, we completely overhauled the user interface to be more modern and so forth. So, it's something that we're really proud of. I would consider it to be kind of a crowning achievement over the last several years. And then we've released Altium Nexus, a brand-new product that uses the same technology foundation, and so you see much of the same look and feel, but adding a lot of team capabilities for collaboration and workflow in a multi-user, multi-person design environment.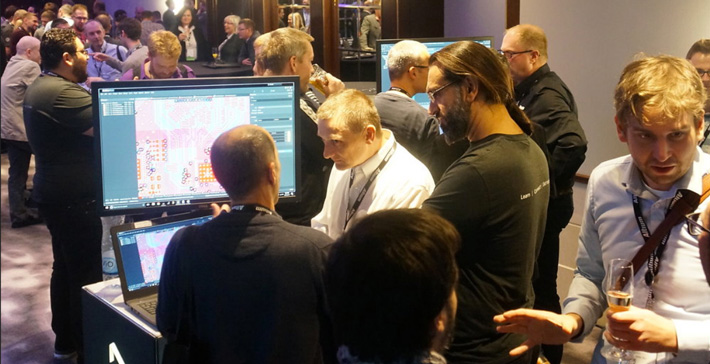 Matties: Lawrence, what sort of feedback did you get from the participants here about Altium Designer 18?
Romine: I'd say quite frankly, the most significant thing is this latest PCB software release. It's the most significant in the past 15 years. And what's truly great about it and what the users are now really seeing is our user focus. If you look at what was palpable here, particularly during the robot challenge, is the passion that these individuals have for designing really cool stuff. And if we can create a product that allows them to design really cool stuff, but is suited to the way they want to design it, then we've achieved our goals. That is really the feedback that we're getting. So, mission accomplished.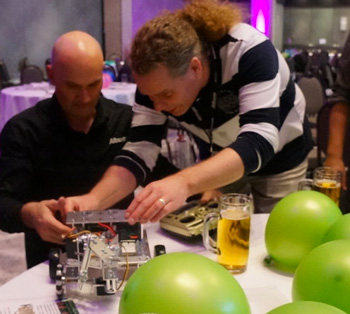 Matties: You mentioned the robot challenge and, Judy, from your community engagement point of view that had to be just an amazing success.
Warner: Indeed. And how do we top that, Barry (laughs)? That's our only problem. But we loved it. The people started off as strangers all sitting at a table, where we intentionally put them out of their comfort zone with people they were unfamiliar with. And then, next thing you know, they're physically on top of each other building these robots with so much excitement and passion. It was a team effort putting that Robot build and battle together but, we loved it and thank you for noticing it. Our challenge again is just how do we repeat that?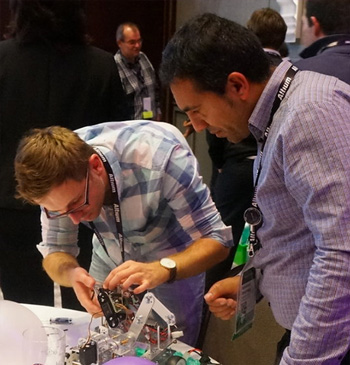 Matties: I'm sure you'll find a way. Ted, any final thoughts you want to share?
Pawela: I'll just tag on to what Judy was saying. The robot event, and actually the event in its entirety, was really designed from the start to build community and to create something more than just a customer-vendor relationship, but actually start to build a community where people come here and don't think of it as Altium trying to sell products, but think of it as Altium facilitating building a bigger network and a sense of community amongst PCB designers.
Matties: Judy, any final thoughts?
Warner: My favorite part of both events, and the moment I knew that we had succeeded, which happened exactly the same way in both events, was that at the end of day one, after the robot challenge, people were coming up to me saying, "You know, why did you buy those robots? We could have built those for you. Here's my card." Or, "Hey, I was thinking, we should do a design challenge next year." All of a sudden there was this change in language from "us and them" to "we," and they took ownership of this event and took it proactively into their hands. To me, that was when I knew we'd hit a home run.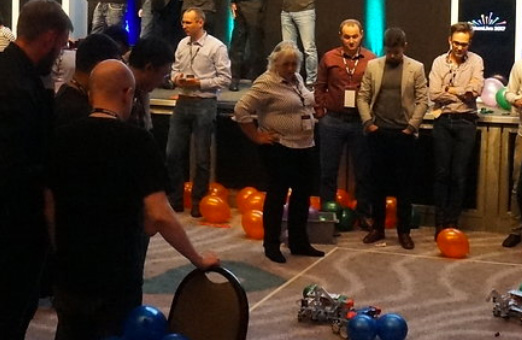 Matties: That's a great point. Do you have some other cities selected?
Romine: We have decided, based on lots of feedback to repeat in both cities. So, our European venue will be in Munich again, and we're going to repeat in San Diego. San Diego is never a bad place to come in the fall.
Matties: And same time period? October?
Romine: Most likely.
Matties: Congratulations, and thank you all.
Warner: Thank you, Barry.
Pawela: Good to see you, thanks.  We really appreciate your participation. This has been fabulous.
Romine: Yes, Barry. I've mentioned this to you already, but you definitely have contributed directly to our success in Munich. Because the coverage you gave us about the San Diego show helped fill this room.  
Romine: You definitely helped. We sold this to our partners internally, and you're a big part of that.
Matties: Thanks for the kind words.
Warner: Thank you, Barry.
Related coverage:
VIDEO: AltiumLive 2017 Germany Highlights
AltiumLive 2017 Germany photo gallery.
Dan Beeker's AltiumLive Keynote: It's All About the Space