Being a new person in any industry comes with a sharp learning curve. Gaining the necessary knowledge, experience, and skill can come from a variety of sources, such as specific training, attending industry events and trade shows, and experiential learning.
Recently, Anaya Vardya, CEO of American Standard Circuits, invited two of I-Connect007's newest team members, IT Coordinator Jonathan Zinski and Editor Kiersten Rohde, to tour his facility in West Chicago, Illinois. Happy Holden, resident PCB expert, also joined the newbies on their field trip to ASC.  
In the following articles, Jonathan and Kiersten describe their experience touring ASC. Special thanks to Anaya for hosting the I-Connect007 team.
Only the Beginning
by Kiersten Rohde, I-Connect007
Most end-users don't consider the internal components of the devices they use every day. These household devices might include cellphones, computers, microwaves, or even toasters. As a millennial who is new to the industry (and in a non-technical role as an editor for I-Connect007), I have most often experienced the end-products. Little did I realize that inside many of these devices were PCBs—the detailed and fundamental part that serves as the foundation for electronic devices.
My appreciation for the PCB industry expanded when I had the opportunity to tour American Standard Circuits' facility in West Chicago, Illinois. CEO Anaya Vardya guided me and Jonathan, another millennial coworker, through a number of different process steps involved in making a PCB. We learned more than we could have imagined about PCB construction, and at times were slightly overwhelmed with all the new information. 
Throughout the tour, I learned that ASC produces PCBs for much more than typical household uses; they also handle PCB construction for other crucial areas, such as medical and military/aerospace. Further, seeing PCBs being built made some of the terms I've encountered "come to life" by connecting them to real materials, factors, components, processes, and applications.
M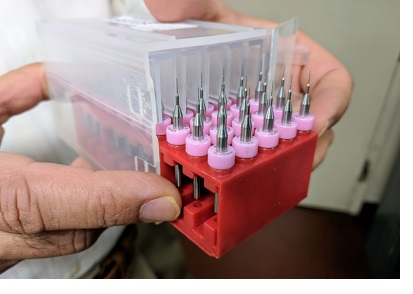 oving from the very early steps of creating a PCB, we explored various rooms, such as the warehouse, drill room, and yellow room where we wore bunny suits (no, not for Halloween) for entering the cleanroom. During the tour, it quickly became clear that there are numerous steps involved in constructing a PCB, and these steps must be meticulously executed. Employees often handle boards multiple times to successfully finish the PCBs and send them to customers without any errors.
Because I'm a detail-oriented person, I most enjoyed learning about the necessary quality inspection tests done to ensure the final PCBs meet IPC standards. Who would have guessed it, especially since I'm an editor! I was impressed by AOI technology used to identify anomalies on the inner layers and outer layers, and correct them when possible. Additionally, seeing a cross-section of a board examined under a microscope to measure copper thickness in the vias using computer software also amazed me.
Overall, I didn't know what to expect when we stepped out of our Lyft ride at the front doors of American Standard Circuits, but I left with an increased knowledge base that I can continue to build. What I experienced will help me to better understand the content I read and edit, and to view the various technical components as less conceptual and more concrete. Although I'm only beginning to learn about how PCBs are made and how they operate, I now know how integral PCBs are to electronics of all kinds. I hope this is only the beginning of my growth in the industry.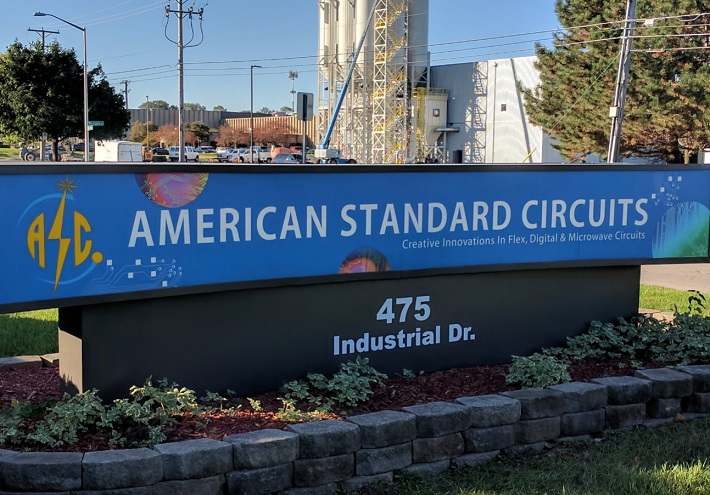 Seeing is Believing
by Jonathan Zinski, I-Connect007
I recently had the privilege of touring American Standard Circuits' facility in West Chicago, Illinois. CEO Anaya Vardya was very welcoming and started us off with a PowerPoint crash course on what to expect. Being the IT coordinator for I-Connect007, I'm more familiar with putting together computers and troubleshooting software than I am building a PCB. In fact, I never really put much thought into it. Even in my hobbies, playing with breadboards and hand-soldering through-hole components, I realize now that I barely even scratched the surface.
I had never considered the many aspects of creating a PCB. I have gone on only one other tour, to Whelen Engineering, and their setup was so different I can't even compare the two. I rather expected to smell chemicals when I got there, since many are involved in PCB manufacturing, so I was really surprised when I walked in and smelled no odors at all. Each area was a controlled environment, with the most controlled being a walk-in refrigerator full of prepreg and other materials.
When we entered the wet processing area, I felt I had found the heart of the PCB shop. It looked like something out of a movie. Steaming vats of chemicals, large mechanical racks dunking boards, and areas in the room that punched you in the nostrils all made for a slightly overwhelming scene, but I loved every second of it. Out of all the areas we saw, this one was by far the most interesting to me, probably because I'm a huge fan of chemistry.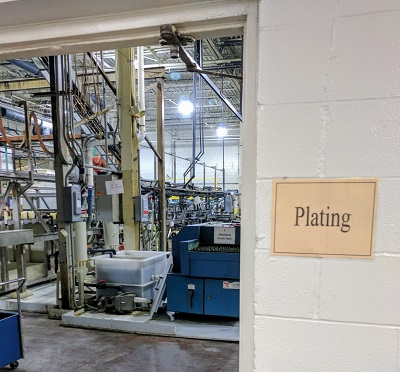 Further, it surprised me how much a board travels around a shop. With all the steps involved, I imagined there would be a good chance for error. I was really surprised at ASC's good yields, which I was told were in the high 90s. They even had some processes that other shops don't offer, such as equipment to produce metal-backed PCBs. One machine was for sputtering copper—imagine, a gaseous form of copper inside it! Yet another piece of equipment was full of molten, lead-free solder that would dunk boards and blast them with hot air on the way out—the hot air leveler.
When I saw all the equipment, I couldn't imagine how long this industry has been developing. It's made me realize that we are shaping the future.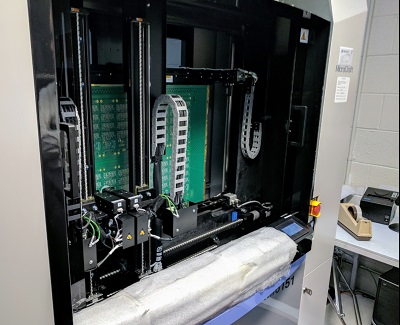 Most of my generation never considers what's behind the screen of their smartphone, much less how it's made. I wish my generation had more exposure to this industry, but I am trying to find ways to help.
Overall, this trip has made me more excited to be in this industry. I know that when I attend trade shows in the future, I will now understand how some of the machines function. We didn't explore what goes on in design or assembly, but I know those are separate beasts. The trip was a lot to take in, but I'm glad I had the opportunity to learn; I look forward to many more.