Editor's note: This blog was originally published in December 2017 at www.weiner-intl.com and is being reprinted here with special permission from the author. 

We wish all our readers and supporters a Happy New Year!
Hold on to your seats! 2018 will be a year full of rapid changes, surprises, and growth. M&A activities will flourish. The supply chain will suffer shortages and changes as demand increases, copycats will rush to market, and new markets and potential suppliers will vanish before they are established. Reliability and testing will increase in importance in the rush to cobots, robots, IoT and the electric and autonomous vehicles. Pressure will increase for speedy new material approvals.
The International Printed Circuit & APEX South China Fair held in Shenzhen China was a sell-out with every booth in Halls 1,2 and 4 occupied. The HKPCA proudly stated that its event was now the biggest in the world for the PCB industry. The mood was positive with the crowds in the aisles on day one reminiscent of those at the Tokyo subways at rush hour! The IPC in China has just signed its 1,000th member. Just five years ago it had only about 300 members.
The elevator in the Sheraton Shenzhen Futian Hotel turned out to be a virtual office for me as I kept encountering colleagues from around the world in it – some of whom I had not seen in years.
Business was up with a forecast of a solid 2018 increase in China, and elsewhere, predicted Dr. H. Nakahara in his presentation just prior to his 80th birthday and the holidays. Printed circuit (substrate) production is forecasted to have double-digit growth in China during 2018.
The world's PCB production is up about 7%. Vietnam's and Thailand's PCB production levels are also surging at double digit levels. WKK stated that it was having its best year in five years.
In response to comments about PCBs being replaced by ICs and new packages, Dr. Nakahara provided the interesting and valid view presented on our Comments & Discussion page[1]. He also noted that the IPhone X has a double-deck main board structure (30 micron L/S) that is "soldered" together. It has 16 flexible boards, five liquid crystal polymer boards, four rigid-flex boards and one tab used to interconnect components. 
More than 10 years ago someone said that mobile phone would be made with one IC. Nakahara asks, "Where is it? Dreaming is one thing but reality is another. A single IC mobile phone may appear some day in the future, but you still need a display for the phone to be useful. How will the IC, which contains all the necessary functions, be connected to the display device?"
Shortages in the supply chain have driven the prices of some Mainland China supplies of components and materials up to reported levels greater than those in Taiwan. Shortages as well as heavy demand (and possible double ordering) are affecting deliveries of some specialty laminates (Rogers) and equipment (e.g., linear drive motors and ball screws used in SMTA equipment). Yamaha is pressed to meet equipment deliveries due to these shortages. Yamaha Motor sold over 1,100 machines in greater China during 2017.
Mobile DRAM prices have risen by about 40% since the third quarter of 2016, according to TrendForce. The market research firm expects DRAM prices will remain high in 2018 due to limited production capacity expansion by suppliers. For NAND flash, demand has exceeded supply since the second half of 2016, resulting in price increases of up to 35% in 2017. Tight supply for NAND flash started to ease in the fourth quarter with some price stabilization, according to TrendForce[2].
Some of the major PCB fabricators (e.g., Nan Ya), are changing some of their manufacturing profiles to move away from red ink and into more profitable market spaces.
The quality of Chinese-built PCB and SMT equipment is up substantially. An example is the line of cut sheet laminators and auxiliary equipment for dry film photoresist built in Dongguan by Sowotech Co. Ltd (subsidiary of Sowotech Precision Industries, a Taiwan company).
"Western" 6-spindle mechanical drilling machines can no longer compete against Chinese-built competition, however they still sell their single spindle driller/router and X-ray drills well in China (Schmoll, Pluritech, etc.). More than 2,500 drilling systems are expected to be sold in China during 2018. Ta Liang, a major Taiwan-based router and mechanical drilling machine maker, posted 79% revenue growth this year.
In 2018, Chinese companies will produce more than 50% of the world's mobile phones. All of them will need some form or level of environmental/humidity/water protection.
Shanghai PhiChem Material was reported to have recently had is fluoropolymer conformal coating approved by HuaWei for its cellphones. Applied by spray, it is said to provide 30 minutes of protection while submerged in water.
Bosch's Mobility Solutions' James Tan (Automotive Electronics) presented a paper at the HKPCA event pointing out the reliability needs and challenges for printed circuits. These include higher voltages, untested circuits/components, hotter operating temperatures, increases in copper for bus bar, needs for conformal coatings for batteries as well as circuits and other components.
There is concern about "hot spots" of 160-175oC in automotive electronics. Most current specs and materials are set for 150oC. Ventec is one of the leaders in providing special thermally conductive laminates for these applications.
50% of the value of a car in 2030 will be in electronics. The leading suppliers of printed and flexible circuits for cars are currently include TTM, ChinPoon, CMK, Meiko Electonics and KCE.
Fan Out Wafer Level Processing was valued at over $1 billion for 2017. MSAP (modified semi-additive) processing continues to be the process for iPhones and other advanced smartphone circuitry in Taiwan and China.
Demand for 25 μm lines and spaces will increase in 2018.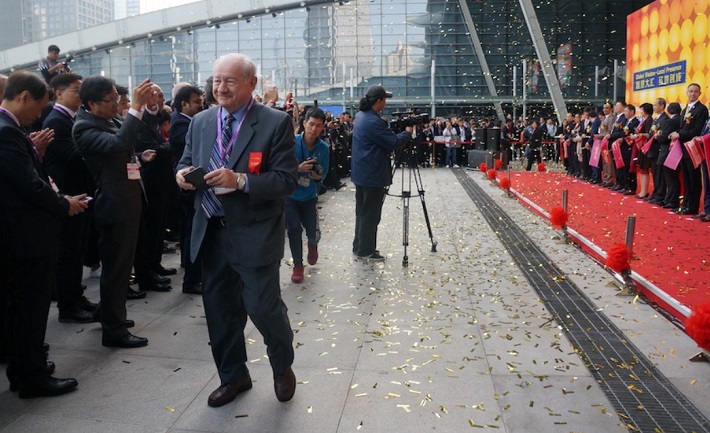 China's UCE Group in Dongguan is now clearly the world's largest wet process equipment supplier (with 1 million square feet of manufacturing building automatic VCP, develop-etch-strip, metalizing, etc.) lines, and is now targeting the U.S. market.
I was disappointed by the (lack of) response by PAL when I visited their booth several times to get information for a client's new need for an automated copper electroplating line. Perhaps they grew too quickly in 2017 to respond efficiently.
Lewader-Tech Electronics (Shenzhen) said that it will seek to buy or build a quick-turn PCB/flex facility in the USA late in 2018 or early 2019.
AGFA is targeting China for primary imaging inks (for printing, including ink jet) as well as solder masks for inkjet printing. It is testing the masks with two European ink-jet makers (Notion and Myer Burger). It intends to focus for imaging product for all digital printing applications as films (in PCB fabrication) and elsewhere are "going away." Dr. Marc Van Damme, VP marketing & sales, Agfa Specialty Products, Belgium, said that they expect to have a full line of UV-curing jettable masks and legend inks by end of 2018.
MivaTek now has more than 300 digital imaging systems in the marketplace and has appointed WKK as distributor for China.
Huntsman introduced a new white solder mask in the Shenzhen event.
ESI is now using a sub-contractor in Suzhou to build its laser drills. Mitsubishi Electric was reported to now have over 500 laser drilling systems in the field.
Cerambus is "doing very well" now that it is focusing on electroplating materials for VCP and other lines, according to CEO John Nash.
Orbotech made a big splash with its revolutionary Ultra Dimension series which included SLP, mSAP, advanced HDI, advanced flex and IC substrates. It is the first AOI solution to integrate pattern inspection, laser via (LV) inspection, Remote Multi-Image Verification (RMIV) and 2D metrology into a single system.
Pulse Electronics introduced a new 3D-capable printing technology through WKK designed to create printed electronics directly on 3D surfaces using a new software-controlled digital process and a nano Ag ink supplied by Sun Chemical. The "Fluidwriter" system was priced at about $150K versus the $500K+ price of competitive models. It was introduced to the industry a month ago at productronica.
There were notably several large displays of copycat carbon-based and electroless copper systems for PTH.  These included Foshun Keyun Technology and Skychem.
SEMI announced at Semicon Japan that semiconductor equipment spending will hit $57 billion in 2017, a historic high, with moderate growth expected in 2018.
Chip sales for automotive systems and the internet of things (IoT) will grow 70% faster than total IC revenues between 2016 and 2021, according to IC Insights' 2018 Integrated Circuit Market Drivers Report[3]. IC sales for automobiles and other vehicles are forecast to grow from $22.9 billion in 2016 to $42.9 billion in 2021, while revenues for IoT functionality will grow from $18.4 billion in 2016 to $34.2 billion in 2021.
The electronics content in vehicles continues to rise thanks in part to new technologies and advanced functionality particularly for safety systems. IC Insights forecasts automotive IC sales to reach $28 billion in 2017, up 22% from 2016. Double-digit growth will continue into 2018 with automotive IC sales reaching $32.4 billion, up 16%.
Car parts maker Denso Corporation is set to become the largest investor in a Japan Display affiliate's plan to raise $880 million to begin mass production of advanced panels. Denso is prepared to invest around $440 million in JOLED Inc., a developer of organic light-emitting diode panels used in smartphones and TVs. Denso, an affiliate of Toyota Motor, likely also will become a JOLED customer and use the displays in car dashboards or rear-view mirrors. JOLED was created in 2015 from operations spun off by Sony and Panasonic in a government-backed consolidation of Japan's development of OLED panels.
JOLED plans to expand its production of mid-sized panels 10-fold, as it races to catch up to the South Korean global leaders in the OLED panel market. State-backed fund Innovation Network Corporation of Japan owns a 75% stake in JOLED, while Japan Display owns 15% and Sony and Panasonic each 5%.  (Source: Kyodo News International)
Accelerating automotive electronics market entries: Where is the reliability data? Who is making and testing the circuits and sensors?
Chinese electric-car maker NIO has launched sales of its first vehicle, the ES8 sports utility vehicle. It has a range of 311 miles on a single charge, and is priced at $67,783. That compares with $127,800 (in China) for Tesla's Model X, and $91,160 for BMW's gasoline-powered X5. The seven-seater ES8 can accelerate to 62 mph in 4.4 seconds.
After raising more than $1 billion from investors led by Tencent Holdings Ltd., NIO is preparing for its next phase of growth in the world's biggest electric-car market. It will also be competing against homegrown rivals such as BYD Co.[4], as well as Volkswagen and General Motors. NIO, formerly known as NextEV, is among several startups to have sprouted in China after the introduction of incentives[5] for new-energy carmakers. Last month, VW said it would invest more[6] than $11.8 billion with its partner Anhui Jianghuai Automobile Group[7] to develop a range of new-energy vehicles, and Ford Motor[8] will spend $760 million in an alliance with Anhui Zotye Automobile Company.
Multek was featured in a customer roadshow organized by Flex Automotive, held in Shanghai, China. Multek team members presented on its rigid and flexible printed circuit (FPC) solutions for the automotive industry, including rigid-flex PCBs, roll-to-roll FPC and assembly, plus its proprietary Q-Prime technology for LED applications.
Samsung Electronics' $8 billion purchase of automotive and audio electronics company Harman signals its intent to continue to grow in the automotive electronics segment by acquisition. Young Sohn, the South Korean company's Silicon Valley-based president and chief strategy officer, said he was keen for world's top maker of memory chips, smartphones and televisions to expand in automotive markets, digital health and industrial automation. In case you missed it, Samsung, surpassed Intel this year to become the world's biggest semiconductors manufacturer.
Schweizer Electronic signed an investment agreement with the government of Jintan/China (Jiangsu Province) to set up a sustainable high technology printed circuit board (PCB) and embedding production facility in China. The total investment will amount to $180 million over the next few years to enable group sales to grow to $500 million.
Schweizer is a leading manufacturer in the field of innovative high technology PCBs focusing on e-mobility, advanced driver assistance systems and autonomous driving. These trends have become the most powerful market drivers in the company's most important business segment, namely automotive.
TTM Technologies Inc. has agreed to acquire Anaren for approximately $775 million in cash from affiliates of Veritas Capital. The transaction combines TTM's strength in printed circuit board manufacturing with Anaren's product portfolio of unique and proprietary RF components and subsystems for the aerospace, defense, and networking/communication markets.
EMS Note
The total electronics assembly value was valued at $1.4 trillion in 2016. It is forecasted to grow to about $1.7 trillion in 2021[9]. The worldwide electronics manufacturing services (EMS) market segment now accounts for almost 40% of all assembly, even though the rate of growth for outsourcing by OEMs has slowed.
References