Here we are again in Las Vegas, with attendees, exhibitors and the city getting ready for the start of CES 2018.
The official CES events started only about 15 hours ago. I have already been to CES Unveiled, an amazing (but somewhat long) NVIDIA press event, and now the Panasonic press conference is soon to begin, launching the Press Day activities. So far, it's been amazing!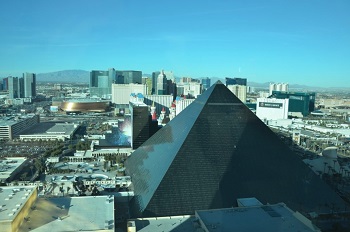 The advances in artificial intelligence since last year's show are truly astounding. What we are experiencing in AI would have been considered science fiction when I was a teenager.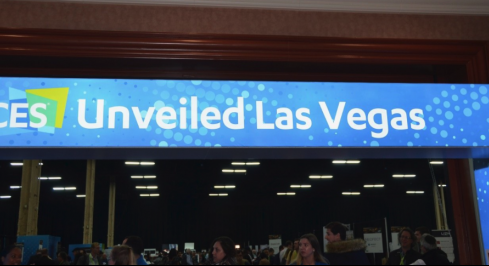 Let's start with CES Unveiled, the first major event of the week. A mixture of the large, established companies and the small newcomers, this year's offering are mostly comprised of newly introduced devices. Many of them are me-too options for devices that were introduced in the last year or so, but they are usually less expensive this year, and come with some added features or fixes.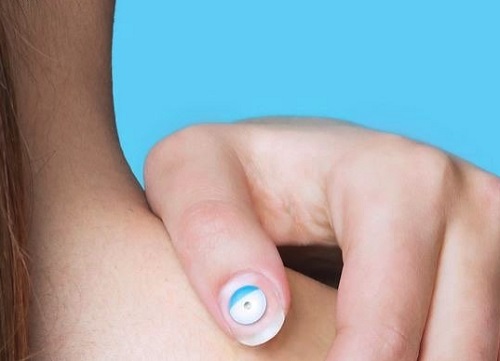 New products include everything from an artificial L'Oreal fingernail that sends sunbathers a mobilephone alert if they are at risk of getting sunburn, to a very high-resolution RICOH Anajet printer that creates amazingly high-definition images on a custom T-shirt in five minutes using your own pictures, and anything in between.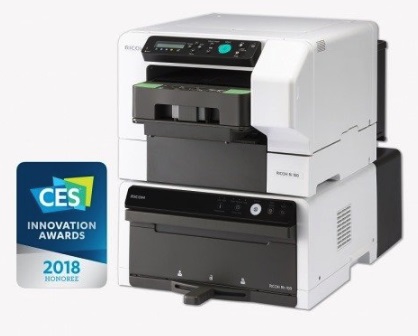 Here are some highlights, a few additional devices that may sound ridiculous, but are actually very useful, advanced products.
How about a new smart mirror that analyzes a user's face and notes flaws, spots and wrinkles? HiMirror has teamed with Amazon's Alexa to give the user advice on skin care, providing make-up tutorials and the ability to track "skincare goals" when using various products and treatments. The HiMirror uses a camera to analyze skin and complexion; it then displays the image back to the user on a screen, highlighting imperfections, from red spots to wrinkles.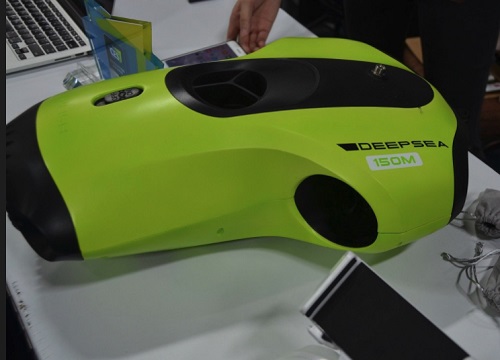 The next device that caught my eye was the DeepSea underwater drone. Remote controlled, it swims underwater capturing photos and videos. Want to take a picture of that shark swimming nearby, the underside of the group's surfboards, or just look for that key you dropped into the pool? This is the drone for you.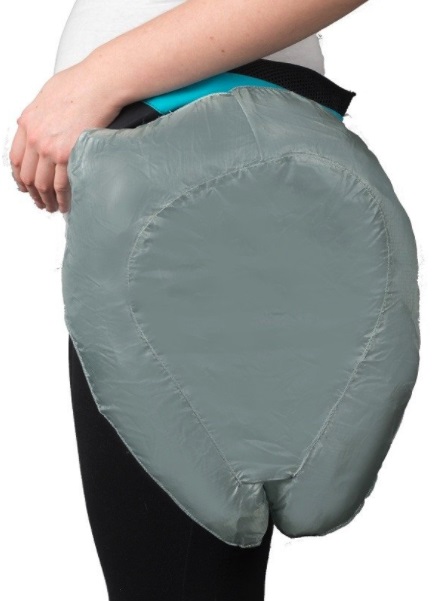 How about air bags for your hips? Helite demoed the Hip'Air, a wearable airbag belt designed to protect elderly people from falls. If you fall, two airbags deploy, one from each hip, to take the brunt of a fall and hopefully reduce pain, damage and discomfort as well as medical costs. The belt weighs in at about 2 lbs. and will deploy the airbags when its sensors detect a person falling.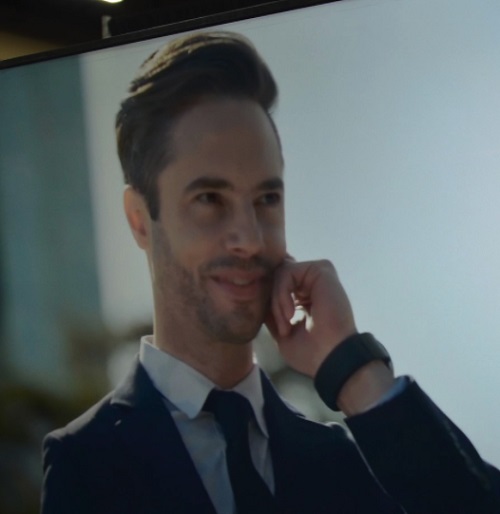 How many times are you in the middle of something and a call comes in? You have to ignore it or put down what you are doing and answer the phone. A new device, the SNGL by Innomdle Lab (a Samsung spin-off), is a smartwatch strap that allows you to answer calls by simply putting your finger in your ear. I tried it and it works great; it's a really neat device, especially for taking quick calls while you are involved with other things. I think we will be seeing more "bone conduction" devices in the near future.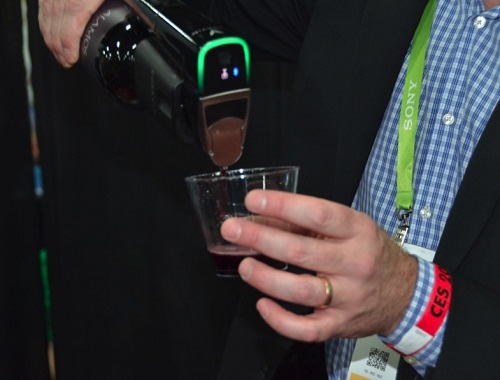 It was "time to head off to the NVIDIA event, but on the way out I could not help but watch a demo of a unique high-tech wine bottle device from Corvain that removes wine without removing the cork, replacing the wine with inert gas to keep the remaining wine in the bottle fresh. I want one.

Next, many of us took a shuttle over to the MGM Grand for the NVIDIA event. CEO Jensen Huang spent some time bragging—rightfully so—about the amazing advancements NVIDIA has made in the ever-expanding area of AI.
NVIDIA is known primarily for its leading position regarding computer graphics processing units over the last 15 years. Their latest, the GTX 1000 series and GTX 1080Ti (very underpriced for its performance) are the ultimate graphics and gaming components for under $1,000. What many who are not involved in AI or autonomous driving do not realize is that their technology, when used as a processor, has taken AI and AI-enabled autonomous driving light years ahead in the last two years. AI and its enabled deep learning are today solving what were considered unsolvable problems just a year or so ago. NVIDIA is a far-thinking company that is taking the lead in the rapid development of hardware technology for AI.
The evening was all about AI, gaming and autonomous vehicles, with the latter, enabled by the huge advances in AI, taking center stage.
The largest industry globally involves moving people, and gaming is now the largest sport. NVIDIA is heavily involved and leading the way in these segments.
Speaking to the large crowd, Huang announced that the company is now working with over 320 partners on autonomous vehicles, including new agreements with key global players. At the focal point of these collaborations is the new Xavier autonomous machine processor This is the most complex and powerful SoC ever created. Xavier will be available to select partners over the next few months, about a year after it was first announced.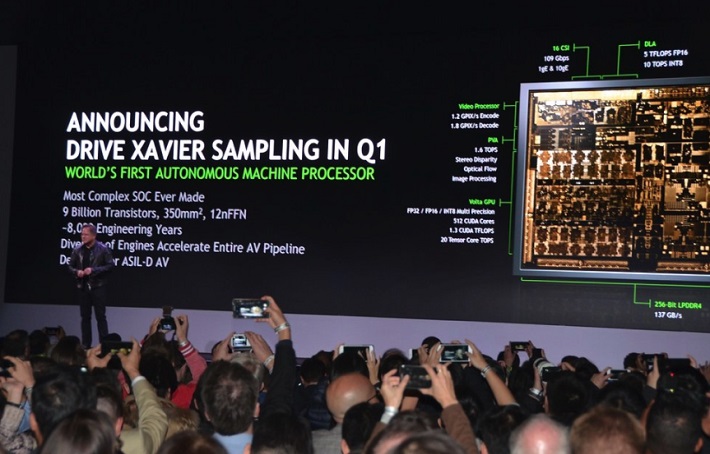 "The complexity of future cars is incredible. It begins with Xavier, which can do deep learning, computer vision and high-performance computing at highly efficient levels," said Huang, speaking to the full house of press, partners and professionals from around the automotive and consumer electronics industries.
The company announced a partnership with Volkswagen, and has teamed with the ISP Baidu and automotive supplier ZF to build an autonomous vehicle platform in China. NVIDIA also inked agreements with ride-sharing service Uber, and Aurora, a US startup led by some of the leading names in autonomous driving.
The new NVIDIA devices put truly massive computer power on the road. The Volta will process 125 teraflops; the hand-sized supercomputer Titan V can outproduce 20 racks of standard computers.
As Huang told the crowd, "This is more computing power than I can describe here."
Last year's headline unit, the Drive PX2, which powered a driverless vehicle from the NVIDIA HQ in central California to CES in Las Vegas, has been soundly beaten by the new, smaller Xavier, which draws half the power. It seems like the power of these devices is expanding at an exponential level. Has NVIDIA created a 21st century Moore's law?
This is the result of $2 billion in R&D, Huang explained.
"Now, we've built PCs, laptops, game consoles, supercomputers, and I can tell you, without exception, building a computer for autonomous vehicles is of a level of complexity the world has never known. This computer is on all the time, monitoring all of the sensors that are coming at it—it can never fail, it can never fail, because lives are at stake," Huang said. "And it has to make the right decision, running software the world has never known how to write."
The end of the event focused on the new partnership with Uber as well as the newly announced partnership with Volkswagen, by introducing the VW CEO.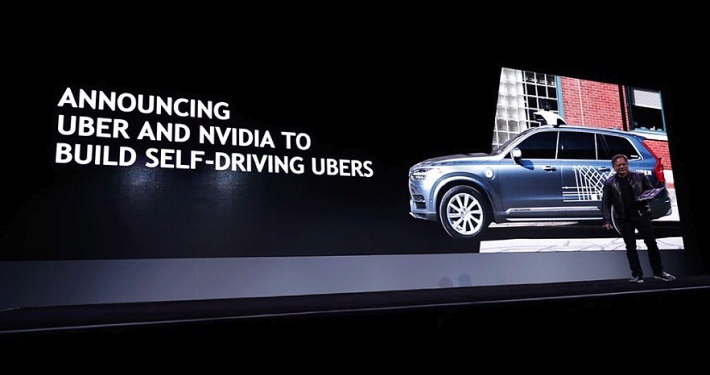 As we left the hall, many of us commented that the event featured so many announcements that we were all weary, and that we were all amazed at the progress announced by NVIDIA in what appears to be a very productive year.
Next, tune in tomorrow for a report on the Panasonic presser as well as the "ShowStoppers Launch It" event, followed by the Day 1 highlights.s
References
Additional Reads:
CES 2018 Showstoppers: Launchit and Press EventCES 2018, Augmented Reality and Much More