On March 29, 2018, Scott McCurdy, president of the Orange County Chapter of the IPC Designers Council, hosted the quarterly Designers Council meeting at Harvard Athletic Park in Irvine, California. It was standing room only for this meeting of the largest Designers Council Chapter in the country. (McCurdy likes to remind us that OC has the most-attended DC chapter meetings in the US.)
A total of about 80 people were in attendance to hear two speakers at this Lunch 'n' Learn event. The first topic was Rigid-Flex PCB Design, presented by Vern Wnek, technical marketing engineer for Mentor. Wnek offered a variety of rigid-flex tips, and he fielded many relevant questions from the PCB designers who are seeing more applications and designs that require rigid-flex technology.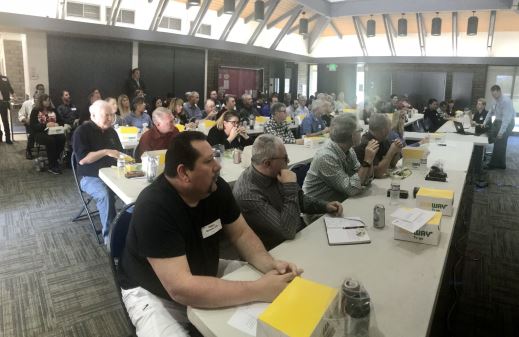 The second topic was Flex for 5G: Why Materials Matter, which was presented by John Weldon, principal investigator from Dupont Circuit and Industrial Technologies. While Weldon admits that 5G is still a way off, he believes that the continual push for low Dk and heightened performance on flex demand a clear understanding of materials like polyimide and LCP.
The rise of flex and rigid-flex applications has created an increased hunger for information among PCB designers who need to keep up with the shifting landscape of issues related to these types of circuits. The large turnout at this week's IPC Designers Council was a clear indicator of that thirst for information--and once again the Orange County Chapter delivered in spades.