During PCB West 2018, I spoke with Dan Fernsebner, product marketing group director, and Hemant Shah, product management group director for enterprise PCB products, both with Cadence Design Systems, about their new software launch—DesignTrue DFM Ecosystem. The new software system aims to help designers and manufacturers upload and check design for manufacturing (DFM) rules earlier in the cycle. Fernsebner and Shah also address recent technical papers from Cadence on Industry 4.0, IPC-2581, system-level design, and return-path analysis and management.
Nolan Johnson: Could you start by giving us a brief introduction on Cadence Design Systems and your particular roles within the company?
Hemant Shah: Cadence is a premier electronic design automation (EDA) tools supplier. We focus on a complete EDA suite of tools from integrated circuit (IC) design, to package design, PCB design, and overall system design. We're the only company that provides a complete solution in the marketplace. At Cadence, I am responsible for product management of the Allegro PCB suite of software, including the Design Authoring and PCB layout parts.
Dan Fernsebner: I'm responsible for product marketing and management for all of the PCB products, which includes Allegro, OrCAD, and our data management solutions.
Johnson: Do you have any new product announcements?
Fernsebner: Yes, we recently launched DesignTrue DFM Ecosystem. A year ago, we debuted a technology called DesignTrue DFM inside of our PCB editor. DesignTrue DFM allows engineers to check DFM violations in real time as they design the PCB itself. What we're debuting at this year's show is the DesignTrue DFM Ecosystem. We are now partnering with a number of different manufacturers and fabricators and allowing them to supply their DFM rules directly to our customer base. The intention with the DesignTrue Ecosystem is that designers are now using the manufacturing rules that they usually work with and designing with those rules to prevent manufacturing re-spins.
Johnson: It sounds like designers can start their design the very beginning according to that manufacturer's restrictions and capabilities. Is the manufacturer assembling a rule deck that is made available to your users to choose from and access?
Fernsebner: Absolutely. Part of the challenge with PCB design is summed in on the old saying, "Just because you can design it, doesn't necessarily mean you can build it." Manufacturing rules vary from one manufacturer to the next depending on technology, product lines, and production lines. The value here is that back-and-forth interactions typically occur between a PCB company, the design house, and the manufacturing house based on if you met manufacturing DFM requirements. By enabling this and allowing the manufacturer to provide their design rules, the intention is to reduce the back-and-forth interactions and hopefully have very few manufacturing rules on the final DFM check.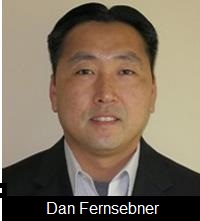 Johnson: With that in mind, are rule decks being put together by your team, or are you having the manufacturers define the rule decks and then vetting them? What's your process for getting a certified rule deck so that a user can trust it?
Fernsebner: That's what the Ecosystem platform provides. The DesignTrue DFM Ecosystem platform comprises two different portals. One is a customer portal, and the other is a vendor/partner portal. In the vendor/partner portal, you log in once you've been approved as a DFM partner, and then we provide you with a user interface where you can define all of the necessary DFM rules. Once you've defined those DFM rules, you can download the rule file and save it locally. We don't store any of the rule files. We see that as the manufacturer's intellectual property (IP), and we don't want to violate that.
On the customer side, once they log in, they'll plug in their customer-specific information, including their company name and details on the design that they're creating. There's no transmission of any design content, but they can define an IPC class for the design. The information contains a typical layer stackup, the via, if it's plated or not—all of these different parameters that would be relevant for the user to communicate to a manufacturer. Then the user can see all participating manufacturers in a list, from which they can choose. Once the user hits submit, the Ecosystem sends an email request to those manufacturers saying, "I'd like to get your rule files, and here's the type of design that I'm building."
The request goes directly to the manufacturer. The manufacturer sends them an email with their rule file. It's a nice handshake, and Cadence enables that handshake between the customer and the manufacturer.
Johnson: With protection for the IP on both sides.
Fernsebner: Correct. Once the customer receives the manufacturing rule file, they can immediately import it into the Cadence PCB editor and start.
Johnson: You haven't mentioned a specific PCB editor, so is this available in the whole suite of PCB editors?
Fernsebner: Correct, both OrCAD and Allegro.
Johnson: Fantastic. That has to be an interesting prospect. How would a manufacturer participate if they wanted to?
Fernsebner: You can register in the portal if you want to participate. The main page of the vendor portal explains the program and benefits to the manufacturer; then they can opt in and register. We'll receive the registration request, approve them, and provide a login. In most cases, there's no reason why they shouldn't be approved. There are a lot of PCB manufacturers here at PCB West, and we've been signing some up in real time at the show. Honestly, all of them have seen immediate benefits because the last thing they want to do is go back-and-forth with a customer over DFM errors. There's no value on either side for that.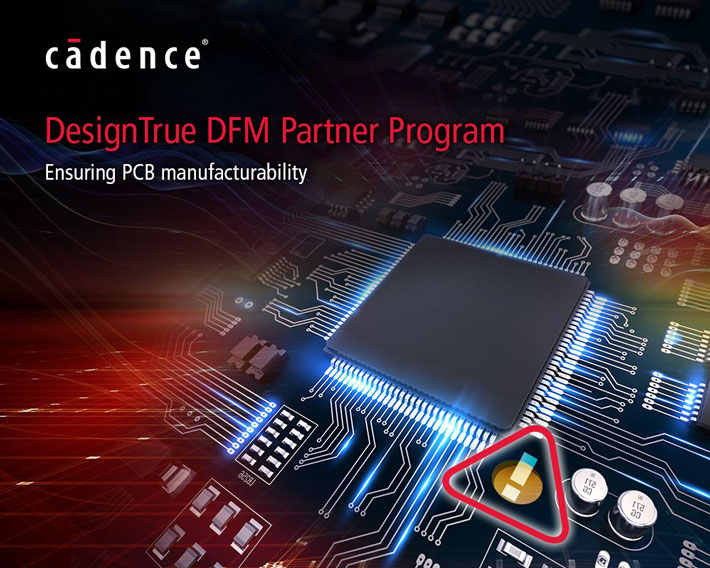 Johnson: That's one of the biggest hassles for sure. It helps if you can decide what you're designing for first. It's always heartbreaking for a fabrication shop to have to give customers the bad news that the customer might not find anybody who can manufacture what they designed because building what they designed is going to be either hard or expensive.
Shah: There are two parts to that. One is getting the rules and design to them, which is important. The second part is that our DesignTrue DFM technology checks those rules in real time. This is a unique capability that we have. Earlier is always better. As soon as you make a mistake, it's cheaper to fix it as soon as you make it in design than if you finish the board and figure out what's wrong, and then move everything out.
One typical case is annular ring violations. As soon as you place a component, our tool will tell you that you have an annular ring violation. You don't want to place all of your components and put all the traces around it to find out late in the cycle that there are violations and you must move everything out of the way.
Johnson: It's an expensive rip up.
Shah: Exactly. Coupling the rules with this technology is what enables the designers and manufacturers to get the product out faster. It's a shorter design cycle for designers, and it's a very efficient process for manufacturers because that's where they want to go instead of doing the technical qualifiers (TQs) iterations with the customer.
Johnson: How long does the acceptance process take and what's the typical development time?
Fernsebner: The longest time for the manufacturer is creating the rules themselves. The rules can be as sophisticated or as simple as the manufacturer wants them to be. Overall, the rule set is quite robust. We now support approximately 2,500 DFM rules. Some manufacturers are not going to use all 2,500 because that's pretty extensive. Others don't want to fill out every single area because they might feel very protected and that's part of their IP. The length of time depends on how thorough they want to be when filling out the rules. However, as soon as you're registered and approved, you immediately appear as a vendor for customers.
Johnson: Do you see this as a global manufacturer network or regional?
Fernsebner: The program's brand new, so there are a few U.S. participants. The ultimate goal is to provide international services, such as Würth Electronics. They're approved and based in Germany.
Johnson: With the Ecosystem, you're already giving manufacturers a heads-up that there's a design started with them in mind. At some point, does the quoting and pricing information become a natural thing included in the customer/vendor conversation?
Shah: Yes. I think that's a natural progression to enable that sort of collaboration between the design house and manufacturers. We are working with a couple of partner companies to allow that directly from the design. We're not to the point of announcing that yet, but that's where we're going.
Johnson: Certainly, a concept down the road.
Shah: Correct.
Fernsebner: There is a long-term roadmap for this platform, and we are in phase one. Like Hemant said, the DesignTrue DFM technology is unique to Cadence. We have the only tools that check DFM rules in real time as the PCB designer is laying out the board. Some might argue by saying, "You're doing DFM against the actual PCB design file and not the physical manufacturing artwork." The reality is if you look at the manufacturing support we're already receiving early the program, many fabrication providers see the benefits and realize that the number of cyclical back-and-forth interactions with the design house can be greatly reduced with this platform.
Johnson: How do you see this DFM solution interacting with parts libraries?
Shah: That's an interesting question. Part libraries become relevant when design for assembly (DFA) is part of it. The challenge is getting the manufacturers' libraries because every manufacturer has a slightly different profile. The design house can check a 3D part, but it's an approximation to what you're going to see on the manufacturing floor. We ensure that the design is correct based on the libraries customers provide, but the manufacturer will have to do that check again to make sure it's accurate. We'll bring it very close, but without having a manufacturer's library also in the design process, that's not solvable.
Johnson: That makes sense. You guys are doing some cool stuff that's long overdue.
Shah: Yes, it is.
Fernsebner: As I said earlier, you can design whatever you want with software, but can you actually build it? That's where they say the proof is in the pudding.
Johnson: Can you tell us about the three papers you've recently published?
Shah: One of the papers covers Industry 4.0 and IPC-2581. We discussed how IPC-2581 is going beyond the handoff to manufacturing and enabling Industry 4.0 automation in building the smart factories of tomorrow. IPC-2581 was always intended to go from design to manufacturer and to the manufacturing floor. We have a consortium of companies—the IPC-2581 Consortium—with 98 PCB design and supply chain companies. We've been doing this since 2011, trying to make sure the standard is right and interpreted correctly. Today, all PCB EDA companies either produce IPC-2581 or consume it, and some that do both. Current information about the support of IPC-2581 is available at www.ipc2581.com.
We've gotten to a point where many companies now use IPC-2581 to build their boards. Some companies have standardized on IPC-2581, which is all they provide. Then there are manufacturing companies that accept IPC-2581 (along with other stuff), but they offer an incentive to companies who provide IPC-2581 because they know it's an intelligent format that makes their process more efficient.
Johnson: Who are the authors for this paper?
Shah: Myself and Michael Ford from Aegis Software. We presented the paper here, and it will be available as part of the proceedings for PCB West.
Johnson: I look forward to reading it.
Shah: There is also a system-level design paper that Gary Hinde from Cadence presented, which introduced the concept of how to do system-level design. We do it a little differently than others because we are focused more on doing it earlier in the cycle, like DesignTrue DFM. We're enabling hardware engineers to do what-if analyses earlier as they're designing the multi-board system. Almost everybody does multi-board systems, but it's important to enable the engineers to make the decisions earlier in the cycle, which is what we're doing.  
Johnson: Was that paper also presented at PCB West?
Shah: Correct. The third paper we presented at PCB West focused on return path analysis and management for PCB designers. We took some Sigrity technology and embedded it into Allegro so PCB designers can make decisions on critical signals as they're designing. One of them is impedance analysis that enables PCB designers to quickly analyze all signals to ensure that they are meeting the specifications.
The tool then shows you any signal with impedance far above what you had anticipated. A simple example is a signal crossing split planes, which is something that people tend to find manually. They have to go through their design and see if they missed a signal that's crossing a split plane. With this analysis, you can discover where impedances are off the charts within minutes. It has easy to use filters to focus on the impedance ranges that you want to focus on. There's also visual color-coded feedback on the screen to show you that these impedances are different. Some of them could be by design, others could be accidental, but you can manage that.
The second part of the paper addressed return path management. We give you return path visualization based on analysis results, as well as return path management through constraints. For example, you can specify for a critical signal that must have a ground plane above and a power plane below with specific voltages. The DRC system will then check for you, and if you deviate from that, it will flag that it's a design rule violation. Many times, your power plane is slightly off, you're too close to the edge, and therefore the signal won't work as you expected.
Typically, finding this problem is a manual process. We introduced some rules to let the system know what you expect for critical signals, and then it will check throughout the design process.
Johnson: Great. Can anyone find these papers in the PCB West proceedings?
Shah: Correct. This is a big show for us.
Fernsebner: It is.
Johnson: It certainly has been! Thank you very much for the time.
Shah: Thank you.
Fernsebner: Thank you.
Sponsored Links: