The Saturday before CES begins is a transition day here in Las Vegas. The weekend sports fans and partygoers are leaving, and floods of techies from around the world are pouring in. This afternoon, a number of the very first 2019 public relation gatherings—showing mostly startup companies—are open to the press. Since I was here in time to attend an early event, we decided to accept an invitation from Uproar PR to get a first look at new devices and technologies being shown this year by some of their clients.
Uproar PR is a global PR and social media firm that has been in the tech space since its inception in 2011. The agency works with tech companies to generate brand awareness. This year, they had some interesting product showings that grabbed our attention. In addition, they responded quickly to our last-minute inquiries. Some of the more exciting showings include:
•  Eyetracker: Glasses and hardware that let you active things and turn them on or off by simply looking at them. If you want to turn on that light across the room, just look at it.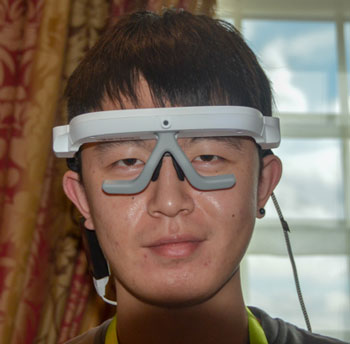 Figure 1: Eyetracker.
• FLEXIT: A technology-based way to use any gym or workout center that is part of their group nationally. You pay a reasonable price based on the time you use their facility without having to join any specific gym. This is for those of us that do not want to commit to a specific gym. Just open the app, locate a gym, and check in with a click.
• Forward X Robotics: An autonomous robot suitcase with facial recognition that knows who you are and follows you as you walk from baggage claim to and from almost anywhere. Very impressive.
Figure 2: Robot suitcase and handle cameras.
• eSight: An advanced wearable device that uses real-time video, enhances it, and projects it onto two glasses-mounted OLED screens that allow the legally blind to actually see. This is a very impressive, extremely valuable, and heartwarming device [1].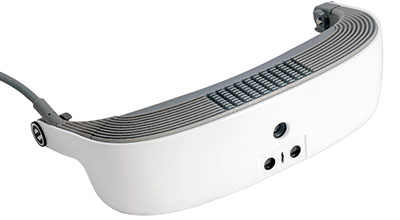 Figure 3: eSight.
The next event—and the official kickoff to CES—was CES Unveiled. This year, Unveiled seemed significantly larger. I was barely able to do a complete walkthrough in the two hours available before heading to the NVIDIA event. It seemed like most of the devices and apps being shown were more evolutionary rather than revolutionary.
HyperX was showing some high-end computer peripherals such as a new keyboard and mic that add customizable capabilities and include personalized RGB LED lighting. Most of us that build computers instead of playing golf wouldn't think of getting an add-on without having RGB customizable lighting, but this is an example of an evolutionary product.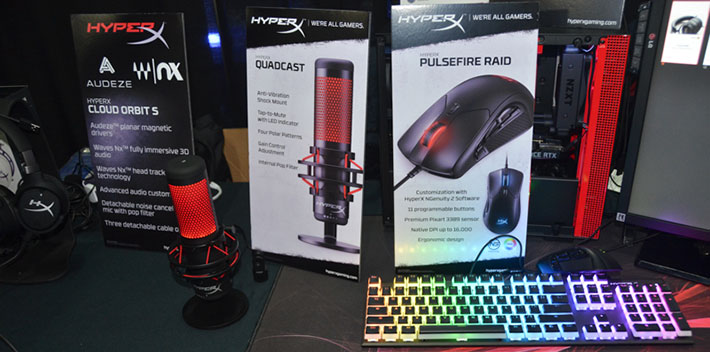 Figure 4: HyperX.
One revolutionary exhibit was by iSpace (it has anything to do with Apple). iSpace has designed and built a lunar rover that they plan to land on the moon. The launch will be by SpaceX—one of a few private companies planning to explore space with the help of launch companies such as SpaceX.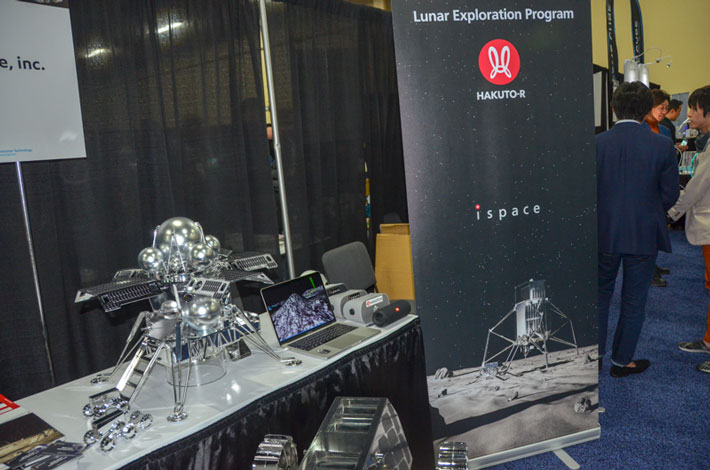 Figure 5: Private lunar explorer.
Another interesting device was the My Parcelguard for safe package delivery. For anyone concerned about delivered packages being stolen, this unit allows far more secure delivery. After all, having your Ring doorbell take a souvenir picture of someone stealing your newly delivered order from Amazon does little to get it back.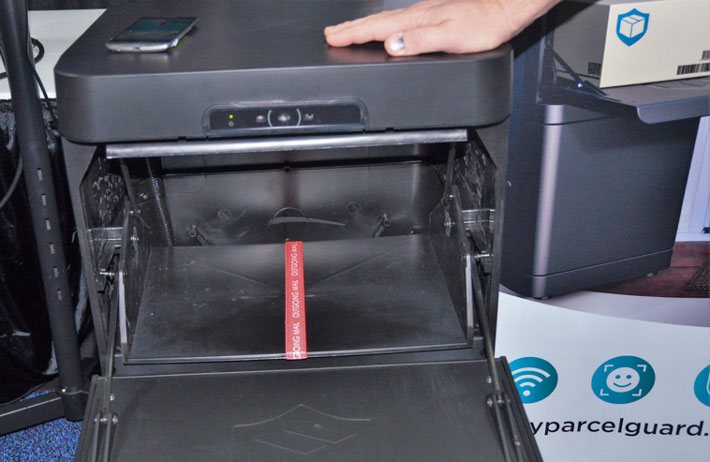 Figure 6: Safe package delivery.
Another evolutionary gadget is the mini selfie drone. It is a tiny drone that has self-return and good picture-taking features. This pocket drone could be considered the 2019 selfie stick.

Figure 7: Mini selfie drone.
Another device in the same category is the connected cycling helmet. It can track you and provide notification of location or an emergency. Further, its fiber construction appears to provide excellent protection, and it looks high-tech.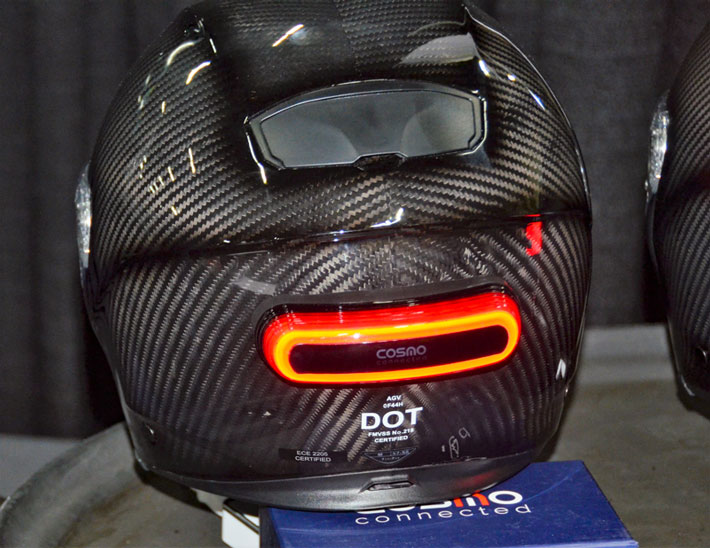 Figure 8: Connected cycling helmet.
There were updated devices from Ring, lots of other door cams and security devices, and numerous add-ons for smart homes with most of them saying that they are safe from spying on you. In addition, I saw new quality low-cost headphones, smartboxes, and cartoonish-looking robots (I hope to see more impressive robots at the show later this week). In addition, there were updated monitors, soundbars and, in general, improved devices for just about anything you already have or are aware of.
One category that may actually be revolutionary is medical devices. Using apps on your smartphone and a peripheral are medical diagnostic devices. PDCheck provides a small device and software that lets you do your own eye exam. It also generates a prescription for your next eyeglasses. I used it to run the diagnostic, which took under five minutes. The results matched my present glasses exactly.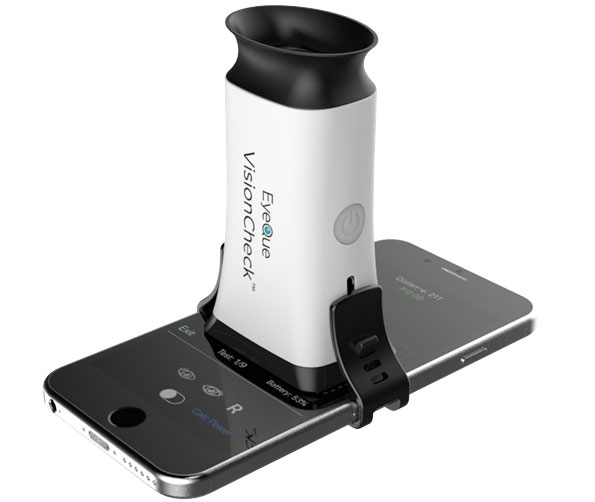 Figure 9: Eye checkup app.
Other medical self-diagnostics included a brain scan, urine incontinence test, and just about everything in between. Perhaps this segment may create some revolution in the medical checkup field. Of course, caution was provided that these should not take the place of normal checkups with a real doctor.
In addition to medical, holographic images floated in the air, and a number of laptops from various computer manufacturers were revealed including some new low-end Chromebooks and so much more. CES Unveiled may not have had a large number of revolutionary announcements, but there is no doubt that things are progressing overall and becoming more capable and reliable with more options to choose from. This was a good start to what I am sure will be a very interesting week.
Stay tuned for coverage on revolutionary announcements from the NVIDIA event as well highlights from the CES Media Days.
References
1. esighteyewear.com
Related Video:

%%https://www.youtube.com/embed/GgdZ1QVPs2k%%
Related Article:
CES Press Day: NVIDIA, Samsung, and Intel