Does inkjet solder mask have the potential for volume production? Mariana Van Dam, global sales manager for PCB imaging solutions, and Dr. Frank Louwet, business unit manager for advanced coatings and chemicals, discuss Agfa's latest developments, plus some novel applications for inkjet etch and plating resists.
Pete Starkey: I'm at electronica 2018 with Agfa, and am delighted to have the opportunity to sit down with Mariana Van Dam and Frank Louwet to talk about developments in inkjet resists. It's lovely to meet you both again. We seem to catch up with you at most of the major events, and we're very interested to hear about the progress of your product developments, particularly in inkjet solder mask.
In my previous experience, it appeared that inkjettable solder mask was an unachievable objective, but you seem to have made it into a reality. Can you bring us up to date with recent developments in the formulation, qualification, and customer acceptance?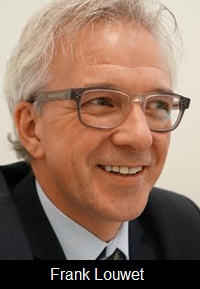 Frank Louwet: Yes. We have focused on the green-coloured solder mask for rigid PCBs. The inkjet solder mask development in Agfa started about two or three years ago. During our interview last year at productronica, this ink was almost ready for field testing.
And that's what we have been doing for the last 12 months—getting this ink validated at a selective number of customer sites. This time was required because it's not only about the ink; the complete system needs to perform. Just as important is the printer hardware and software, including the printing and curing strategy for the different layers that build the solder mask. A lot of hard work and optimization was going on, not the least on the side of our customer. Basically we did not change too much on the ink itself.
Starkey: You've chosen some end users to cooperate with. Have you chosen to run with one particular supplier of equipment, or have you kept to an open policy that you'll cooperate with anybody that's interested? When you're doing customer trials, have these been with specific printing machines—what the end user already has—or have you provided ink and a machine to print with?
Louwet: We have an open policy with respect to printer integration. Of course, the above-mentioned optimization between ink, printer and software requires a lot of capacity. Cooperating at a specific customer site builds a lot of know-how and the "ink and system" are tuned to one another. Doing this effort in parallel for all printers would be tough to organize. But we are open to cooperate with any and all worldwide.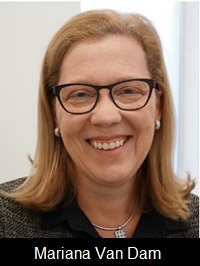 Mariana Van Dam: We have invested in an application lab at Agfa with several inkjet printer brands and we have the different printhead choices. All regions in the world are represented in our lab with state-of-the-art printers.
Louwet: So, we try to get all the different printer heads and technologies together in one room so we can print for customers and can optimize together with the customers.
Starkey: Do you think that you will be able to provide a small number of standard formulations that will be of universal acceptance and will run with any machine and customer, or do you have to optimize the formulation, printing strategy, etc., specifically for each machine and each end user?
Louwet: Having one ink serving all printers would be the optimum. But in reality that will not be the case. A first selection depends on the printhead technology. A Konica Minolta printhead or a Fuji Samba printhead have requirements that are a little different. And in that sense, you have to play a bit with the formulation. The next difference will be the type of curing: bulb versus LED and the wavelength. So some adaptation for this is also required.
Agfa continues to develop solder resist inkjet inks "in-depth and in-width." In-depth new concepts are tested for next generations and in-width new type of inks (white inks, black inks and flex inks) are being worked on.
Starkey: That was a big obstacle in previous generations of solder mask development. When ink vendors had developed a formulation that would jet and cure well with a successful print strategy, then it would struggle or fail to pass international qualification tests or to win customer acceptance.
Louwet: In the process of the optimization and bringing it to a customer production environment, problems and issues occur. Up to now, these could be solved by workarounds known in this industry. Working together with companies that supply pre-treatment chemistry, like the antitarnish or the copper pre-etch, opened up possibilities before laying down the solder mask. Also post treatments like final UV and/or thermal cure determine the properties of the mask layer. But of course the basic fundamentals need to be good.
Van Dam: You cannot separate just one step from the rest; you really have to optimize the full process for inkjet, because it is very different from the traditional technologies.
Starkey: I understand. I think you have taken a systematic and professional approach to it. The evidence is there in the product. Are you in a position to place this material on general order, or is it still a development?
Van Dam: It's available.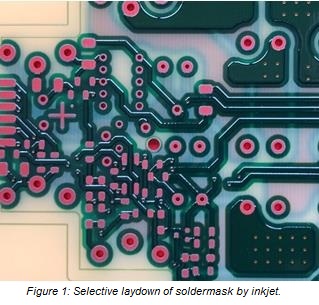 Louwet: Here at electronica Fela and Würth presented what they call the 'S-Mask concept.' It is a smarter way of putting down the mask. Because you can do it digitally, you print the solder mask only where you need it as you can see here (Figure 1).
Starkey: What I'm looking at is a PCB that's not covered completely in green mask. The green solder resist is placed only where it is necessary; at least 50% of the surface area of this example is just the bare laminate. So, it's probably not the best way to go commercially for an ink supplier.
Louwet: Depends what side you're coming from [laughs]. For some competitors that would probably not be a good way to go. But yes, ink consumption will indeed go down. It is not only because you print selectively but it's also a 100% UV curable ink so there are no solvents involved. We calculated that ink consumption of solder mask would decrease by at least 50%.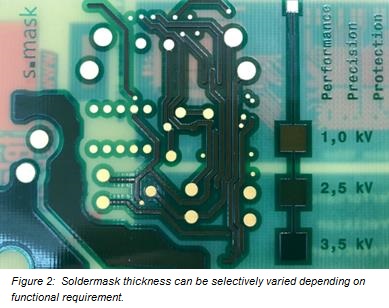 Van Dam: Yes, that's right. And depending on the functional requirements, digital inkjet printing can also vary the solder mask thickness. For example, if you have a high break-through voltage requirement in a certain area on your board, you can put a thicker coating there. That's what's demonstrated in this example (Figure 2). It offers so many possibilities.
Starkey: Again, such a logical solution. Why hasn't anybody done it before?
Van Dam: The way Fela and Würth presented it, "it is not just an evolution, in fact it's a revolution!" There are so many advantages with this new way of applying solder mask. For instance, you don't put ink in the holes because you can control this with your inkjet; you don't have undercut because there is no development step, etc.
Starkey: What sort of edge profile can you achieve in terms of squareness and waviness? We'll always have some sort of meniscus at the edge, but how sharply can you define the edge? And is that edge free of the residual geometry of the print strategy?
Louwet: The printing is done in different stages. It's not one-pass printing, but multi-pass: printing dams for definition followed by filling. So 125-micron line/space with dams in between are demonstrated on production tools. The ultimate L/S and edge definition depends on the accuracy of the printer and the printhead. Samba heads have a two-picoliter drop size.
Starkey: That is very impressive.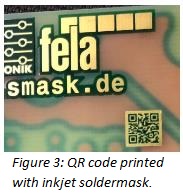 Van Dam: I like this QR code (Figure 3). It works—you can scan it with your phone! It is very difficult to make with the traditional solder mask process.
Louwet: This QR code is full copper with the soldermask printed on top, followed by nickel-gold finishing. If you do the nickel-gold process, it is important that the adhesion is good every time. You need to be able to guarantee 100% yield in that respect. We have quite good confidence.
Starkey: With UV curing, are there preferred wavelengths for your photoinitiators? I see exposure equipment now that has either a broad wavelength or a series of wavelengths with different peaks in various areas of the spectrum. Some will cure the surface, and others will provide a through-cure or guarantee a good cure against the surface, so you get good adhesion.
Louwet: It's all LED-curing. In some cases you use two wavelengths, like 395nm and 365nm, that you combine into one machine to achieve the surface cure and the through cure.
Starkey: Again, these are really important; the nickel-gold process is a very aggressive chemical process and can harm the solder resist and reduce its resistance at subsequent stages. If you consider this as a production process with good industry standard inkjet-printing machines, what sort of throughput could you expect?
Louwet: It all depends on the printer itself, and it comes down to the number of heads. For instance, we are working with a Chinese printer integrator. At the moment he's concentrating on mass production legend-ink printers. His next step is solder mask. What you see in China is that companies are replacing their complete screen-printing lines with inkjet. It's growing massively. The latest machines that they have for flex applications can do up to 400 panels per hour. So that's the kind of throughput that they're thinking of.
Starkey: Does inkjet solder mask have a future as a production process rather than just a prototyping process?
Louwet: Certainly. When I see how fast it goes with the legend ink in China, I'm convinced that it will. And there is a big pull from the market; it's not that you have to push this technology.
Starkey: The market has been waiting for it for a long time, maybe even 15 years. I think that the market has been promised products before they've been fully developed, perfected, or qualified. There have been so many false dawns and promises that have never been realized.
Louwet: The market is indeed waiting and pulling for some time. Also distributors and dealers are saying "Let's start selling this." We really have to slow them down.
Starkey: The worst thing you can do at this stage in the development is go too fast.
Van Dam: Absolutely. You have to study the whole process, and it takes time before we can fully go to the market.
Starkey: I think some suppliers have been guilty of being too eager to hit the market. They haven't fully resolved all of the problems or gained all of the knowledge, and then the process starts poorly and garners a bad reputation.
Van Dam: Agreed.
Starkey: You mentioned earlier your developments in etch resist. What's the situation there?
Louwet: We developed an ink for etching copper for inner- and outer layers. But that as a technology is not flying as well as we expected. Also from the hardware side, there's more interest in developing something first for solder mask rather than for etch resist. And for inner layers, LDI is progressing very fast and is becoming the accepted technology. So the window of opportunity for inkjet imaging of innerlayers is getting smaller.
But for etch resist there are still some very interesting applications, like decorative etching and chemical milling. We have several very nice projects and some good volumes.
Starkey: The chemical milling market has been around for a long time. It doesn't have high visibility, but if you are a supplier of the right process into this industry, it can be a good market sector.
Louwet: Yes, so far we have great success with die cutting, embossing and decorative applications.
Van Dam: For cutting dies, inkjet is really interesting. If you use dry film, you must cover the whole surface just for a few lines! With inkjet you need only a small amount of ink, so it is the perfect method for this kind of product.

Starkey: Yes, I'm looking at a stainless steel die (Figure 4), which is in three dimensions and the actual cutting edges are standing a millimeter above the surface. So the pattern has been defined by inkjet printing, and then by etching. If you had to make that tool by machining, that would be very expensive!
Louwet: Yes, and those types of companies may make hundreds of different designs on a weekly or monthly basis. For them, the digital way of working is very important.
Van Dam: Metal decoration is also interesting. For instance, in China you have the decorated elevator doors, that also can be done with an inkjet etch resist. With all those different designs, it's great to have the digital solution.
Louwet: Next to this, we have also a plating resist which is a kind of derivative of our etch resist. In this instance we're not talking about pattern plating as such. It is used in the post processing, in the nickel gold finishing. For some boards, they want to have, for instance, nickel-gold here, but over there they want OSP or something else. So it's an ink that is printed to protect that part while you do the nickel-gold on the other part. Then you strip the ink, and put the OSP on the remaining areas.
Starkey: Now I understand. You're not really using the resist to define the pattern. You're using it to protect areas of the pattern. The solder resist has already defined the pattern that you're going to plate.
Louwet:  Yes. It's also different from just printing on copper, because now you have not only to strip from the copper, but also from the solder mask. So you need a different ink that can be removed without damaging the mask.
Starkey: I have learned a lot, Mariana and Frank. Thank you very much for your very clear answers to my questions.
Van Dam: Thank you, Pete.
Louwet: It has been a pleasure.