How can additional data, including test results, ensure a greater understanding of the most suitable coating for your application? The fifth episode of the popular webinar series, Coatings Uncoated, is now available to view. Author of The Printed Circuit Assembler's Guide to Conformal Coatings for Harsh Environments and topic expert Phil Kinner from Electrolube shares highly focused educational information on conformal coating and encapsulation. If you are in the assembly business, an EMS, or responsible for specifying conformal coating and/or encapsulation, then this free series is for you.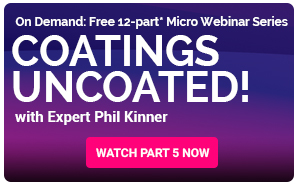 Watch the latest segment, Not All Acrylics Are Created Equally, in under five minutes!
In this engaging, 12-part webinar series, Kinner will delve even deeper into the subject, examining conformal coating chemistries in further detail, including their properties, applications, issues to be mindful of and the processes you should follow to achieve a successful coating outcome. The entire "Coatings Uncoated!" webinar series can be viewed in an hour and covers a comprehensive range of hot topics and application-relevant case-study overviews, as well as back-to-basic subject matter and issues, such as condensation and contamination. Each of the 12 segments can be viewed in about five minutes.
Got five minutes? Visit iconnect007.com/webinar/cu/.