Reading time ( words)
Goodwin led me into an immaculately presented warehouse area, buzzing with activity, but clearly under meticulous control. Behind glass windows I could see a gleaming processing area with airlock entry and operators in clean-room overalls.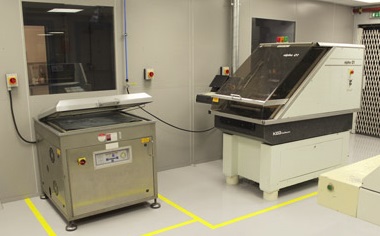 Goodwin: This is our new polyimide prepreg room. VT901 polyimide represents a substantial part of our business, and it has become adopted as an industry leader. We have always kept polyimide fabrication strictly separate from FR4 processing: We are well aware of the reliability problems that can be created if traces of epoxy dust come into contact with polyimide prepreg. Now we have a dedicated clean room with real-time temperature and humidity monitoring and brand new machinery for slitting, panelling, tooling, packaging, and handling. The equipment has all been designed to aerospace standards to avoid or eliminate dust and debris. The Pasquato slitter-sheeters are fitted with roll-end detectors to prevent adhesive transfer and all work surfaces are stainless steel. We are using photocell safety interlocks instead of mechanical cages, again to eliminate dust traps, and the machines have the latest Simco-ion anti-static bars.

Once a prepreg roll is transferred from cold store to slitting machine, the whole roll is slit so that there is no backwards-and-forwards traffic of part-rolls. And the prepreg that comes out of the clean room is in the form of sealed aluminised packs that can go straight into the customer's lay-up room. We are introducing a labelling system that is fully barcode- and human-readable, with full product-identity, lot-number, quantity and customer-reference details. As part of our ongoing continuous-improvement process, the environmental controls are being extended to include the FR4 prepreg area and the saw room.
Starkey: What laboratory facilities do you have here to support the distribution operation?
Goodwin: We are well-equipped for prepreg reference testing. As well as differential scanning calorimetry, we have a thermo-mechanical analyser for polyimide, a rotary viscometer for minimum melt viscosity measurement as well as gel-time measurement equipment, and a lab-scale press for flow testing on low-flow and no-flow prepregs and for characterizing materials for customer-specific press cycles.
Starkey: It's an impressive set-up, Mark. And it's clear that your people have a very positive quality-orientated approach to their work.
Goodwin: Yes, I am proud of the team we have built in Ventec Europe. There's a natural lean culture in the way we work, supplemented by ongoing 5-S training and a continuous-improvement philosophy. We need to be fast and efficient in our business and the results speak for themselves--we supply all the top-name European PCB fabricators in the aerospace and defence sector. And, in 2015, we aim to participate in the SC21 21st Century Supply Chains programme, which is designed to accelerate the competitiveness of the aerospace and defence industry by raising the performance of its supply chains.
Starkey: The supply chain theme again--it's clear it's a subject you feel strongly about.
Goodwin: Yes, as I said earlier, we are committed to managing delivered quality to the highest standards and can offer our PCB customers a fully-accredited AS9100C supply chain, but we have a difficult job to get their customers, the OEMs, to look seriously at the issues they have in their existing supply chains. The OEMs are pushing AS9100C and SC21. Their board suppliers are responding positively, but that's not the case with all of their laminate suppliers. Some are frankly not good enough to meet current standards, but they are written-in to the specification. The OEMs need better suppliers, they need a better supply chain, they need cleaner laminate, but until they update their drawings they are risking being supplied with less-than-perfect materials for safety-critical applications.
Starkey: Mark, I understand your frustration. All you can do is be patient and persistent and eventually the message will get through. It's clear that the safety-critical, high-reliability market sector represents a major target area in your business plan, and your investments in equipment, environment and systems reflect this. Does that mean that the whole of your customer base gets the benefit?
Goodwin: It certainly does! Our investments differentiate us from our competitors and support the direction in which our UK and European customers are heading. We intend to be the best in technology, quality, and service, whilst maintaining competitive prices. All of the investments we have made in the UK are being replicated in our North American operations and we are already well on the way at our mil/aero service centre in California. How do we maintain our leading position? We are under no illusions--we are well-aware that we are pitching at an ever-moving target. But we will never be satisfied; we are always looking for improvement.
Starkey: Well, Mark, carry on driving forward. With your determination, you can't fail. It will be interesting to see what the next six years brings.
Share
Suggested Items
11/11/2022 | Nolan Johnson, I-Connect007
The industry news cycle seems to be picking up speed lately. Of course, 30 days into the quarter is about when public companies announce their results, and in the midst of this worldwide financial situation, we've got all eyes on anything coming out from our counterparts in the industry. I've noticed that global corporate results (Nan Ya PCB and TTM, in particular) do seem to be on everyone's radar. In addition to financial news, trade shows are popping back up around the world—Europe, India, and a special report from editor Andy Shaughnessy, who took his own road trip to Raleigh, reporting on PCB Carolina, which had its own heyday this year.
10/14/2022 | Nolan Johnson, I-Connect007
I've been in Washington, D.C., most of this week, attending and reporting on the IPC Advanced Packaging Symposium. You'll see more content from me in the weeks and months to come as I sort through and highlight the varied aspects of this ground-breaking event. If you're in this industry, advanced packaging will affect you, make no mistake about it.
09/28/2022 | I-Connect007 Editorial Team
In this second half of our conversation, Michael Carano discusses some of the metrics that fabricators need to consider before investing in new processes, especially process control technologies, and some of the challenges board shops face updating brownfield sites.