Here we are again at what is probably the largest and most fascinating technology event globally—CES. It is hard for me to believe that as a post-semi-retirement activity for me, I have been attending and writing about CES for over 20 years. The progress that has taken place is immense, and the rate of change has also accelerated.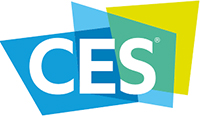 First, I will share some CES statistics. This year, the estimates are that over 4,400 exhibiting companies are using exhibit space of more than 2.9 million net square feet spread across all buildings and floors of the Las Vegas Convention Center as well as the Sands Convention Center, numerous hotels, and other locations. With total attendance approaching 200,000 people, CES continues to grow.
This first article will cover the highlights of the key events leading up to the show floor opening on Tuesday morning. There is much happening before the doors to the exhibition open. Yes, you must get to Vegas, get checked in and organized, pick up your press badge, and if you are media, you will want to head to a pre-show event. The largest media event is on pre-show day one, and one of the more interesting events is CES Unveiled, which takes place on Sunday evening. Many of the best new ideas and offerings are being shown there.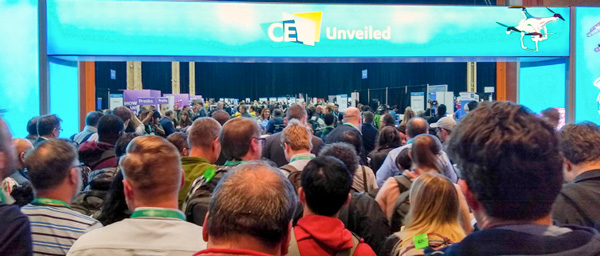 This first event provides an excellent opportunity for companies to exhibit and get coverage for new devices and ideas. The latest tech for consumers is in fitness and medical tracking as well as transportation, entertainment, wireless and smart home devices, and just about anything else, including connected baby diapers warning you on your phone when a diaper change is necessary.
CES Unveiled is crowded, but a good way to see as much as you can is to have a list of those you definitely want to see and peruse the aisles, stopping to speak with the exhibitors showing things that interest you. This year, smart home devices were in vogue with fewer drones, cellphones, and associated devices than I recall from previous years.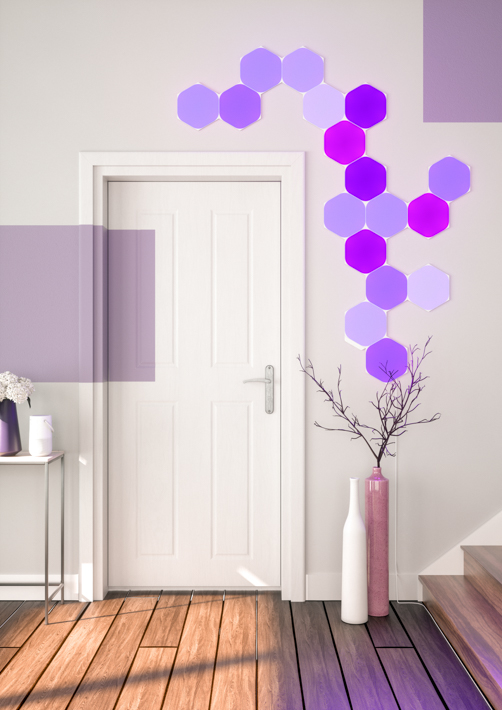 Exhibit Highlights
Some of the exhibits that grabbed my attention this year include the following.
Nanoleaf's united light panels are hexagon-shaped panels that you can place on a wall in any design you wish and set patterns and colors to suit your mood. It's not high-tech, but there were many admirers.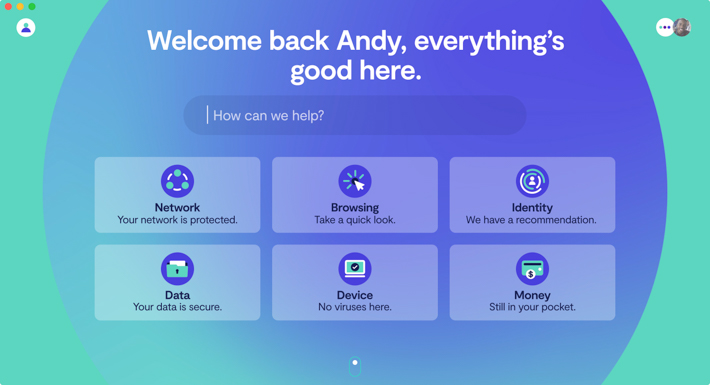 Clario is a new way to fight cyber-crime through a comprehensive and intuitive multi-platform app. It covers all protection needs in one and provides a simple interface, integrating on-hand, 24/7 security experts. It gives real-time protection against digital threats (malware, ransomware, spyware), money loss, breaches of personal information and identity theft, device security, data privacy, and more.
Clario's simplified approach makes powerful security features seamlessly accessible through a single app powered by some of the world's most sophisticated and trusted security providers, including BitDefender and NordVPN. It can be displayed on a desktop, laptop, tablet, or phone. Clario offers users a refreshing and strictly jargon-free product.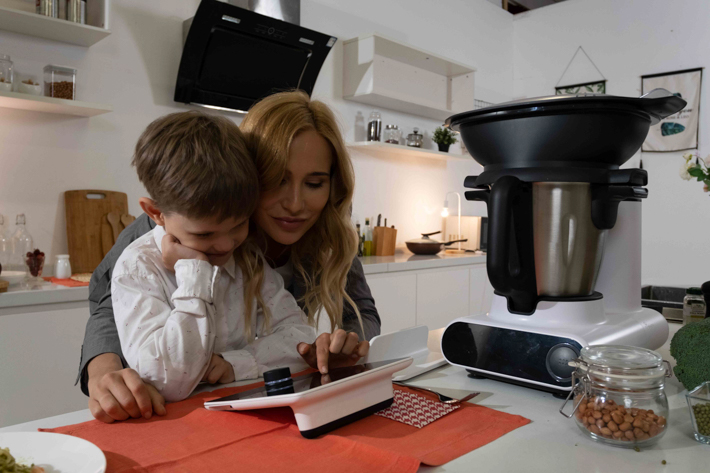 CookingPal is a pioneer in smart kitchen solutions and introduced Julia—an intelligent, autonomous cooking system that makes delicious meals materialize with minimal effort. The Julia system is comprised of a smart kitchen hub that suggests meals and provides step-by-step guides for following recipes and a smart kitchen appliance that takes the work out of preparing dishes with the ability to carry out a myriad of cooking tasks.
Reliefband is an FDA-cleared, clinically proven, wearable technology for use in the prevention and treatment of nausea and vomiting. Reliefband has been FDA-approved for the prevention and treatment of nausea and vomiting associated with morning sickness and chemotherapy and as an adjunct to antiemetics to treat post-operative nausea.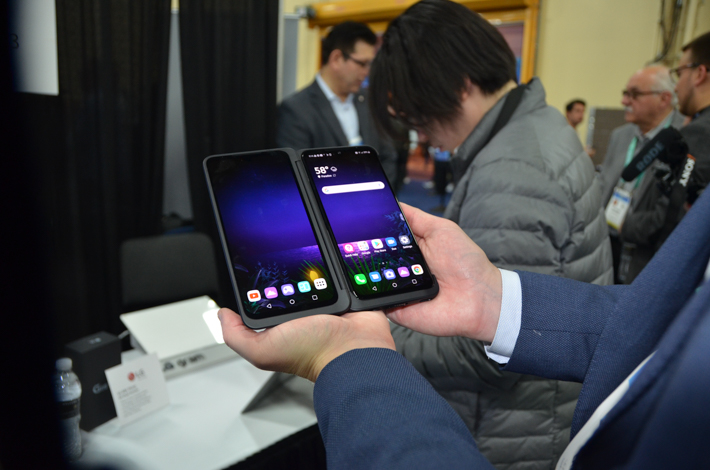 I expect to see more foldable phones this year and a plethora of them a year from now. LG was showing a new foldable phone offering, and it looks like we will see more from them.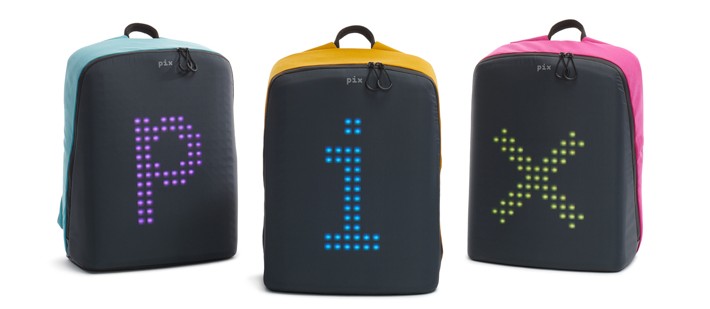 The Pix Backpack allows you (or your kids) to load any message or graphic onto the back of this backpack and will certainly be noticed.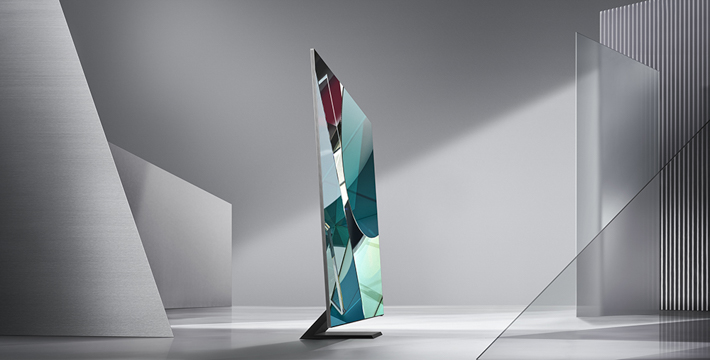 And then there is the amazing Samsung 8K TV, but there will be more on TVs later when we get a chance to walk the show floor.
There were many more things to see at Unveiled, but many of them, while being interesting, were not advanced technology. New technology announcements will start at the beginning of the week.
Panasonic
The first press event of the day for me was Panasonic, who has become one of the leading consumer electronics companies globally. Their press events are usually very entertaining, and this one was no exception. Here are their major announcements.
Olympic partnerships with Michael Phelps, Katie Ledecky, Lex Gillette, and Sakura Kokumai as part of the "Team Panasonic" initiative
Samsung will provide advanced native 4K projector technology for immersive entertainment onboard select Princess Cruises starting this year
eBike safety standard certification using Samsung technology has been granted
"Mario & Sonic at the Olympic Games in Tokyo 2020" video games will be available in partnership with SEGA
National Stadium will be upgraded with large screens and audio-visual equipment for the Tokyo 2020 Olympics using Samsung technology
CIRRUS by Panasonic is a connected vehicle data platform being recognized by CES as a 2020 Innovation Award Honoree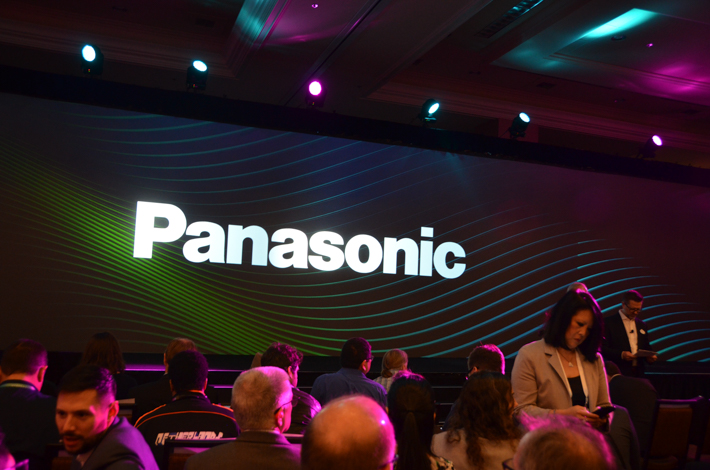 It was also obvious that Panasonic is focused on the Tokyo Olympics as well as their collaboration with Disney for their "Star Wars: Galaxy's Edge" areas at Disneyland.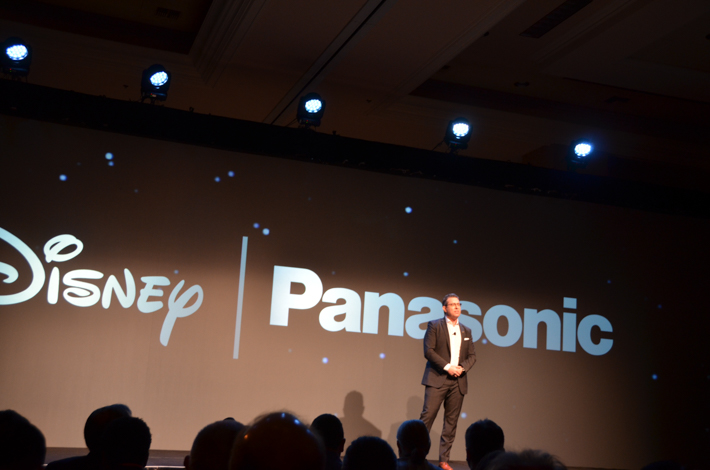 They are also working with various Airline partners for inflight entertainment as well as the new on-board flight map displays for passengers. A version will be available on roadways for automotive. Further, they announced a partnership with Klipsch and Fender for high-end automotive sound in addition to Google.
Other announcements were regarding their partnership with Tropos Motors for small electric work vehicles as well as small, electric-powered, fire-response trucks as well as electric bike bikes, connected vehicles, and electric Harley Davidson motorcycles. Also, Samsung is partnering with CIRRUS Connected, and their roadway data system will be implemented in Utah over the next few years. There will be 30 vehicles and 40 sites in phase one, but then there will be exponential expansion. A few other things to expect from them include OLED TVs, bass enhanced wireless headsets, etc.
The following will be shown at the Panasonic booth when the show floor opens.
A replica of a transportation network operator center powered by CIRRUS by Panasonic
Two Tropos eCUV concept trucks, an emergency firetruck, and a refrigeration cargo truck
Harley-Davidson LiveWire Electric Motorcycles powered by OneConnect
eCockpit concept with SkipGen 3.0S and SPYDR 3
WHILLNext autonomous wheelchair
VR glasses, high-speed projection mapping, Technics SL-1200MK7 turntable, and intelligent living spaces, such as connected home technology
This year, Panasonic is almost a show all by themselves.
The second press event I attended was by Brainco, who is the world's largest brain-machine interface company. Signals from your brain use these subtle signals to analyze and help people train their brains to gain better control.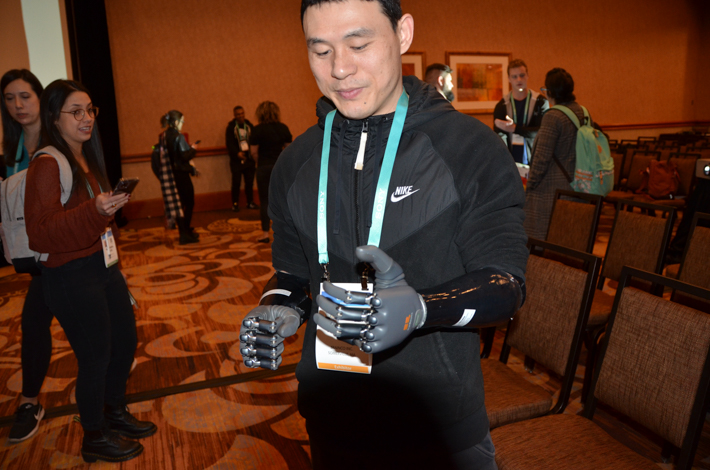 They announced that their goal for this year is to have a fully functional, AI-controlled, smart prosthetic available for under $10,000. I had a chance to meet a few users of their latest prosthetics. They are able to control the artificial arms and hands solely by thought. The advances in this field over the last few years are truly amazing. While shaking hands with him, it was just so natural and seemed to have some advantages.
AMD Press Event
AMD has made great progress in the last year, and they are proud of their 7-nm CPUs. In one year, they doubled the performance of their higher-end CPUs and GPUs. They introduced Zen 2, chiplets, and 7 nm, which helped them take the lead in enthusiast CPUs in 2019. I chose to use a Ryzen 9 CPU in a rig I just built and can attest to its amazing power and performance as well as its reasonable cost. In graphics, it looks as if they are aiming to be able to drive 8K resolution.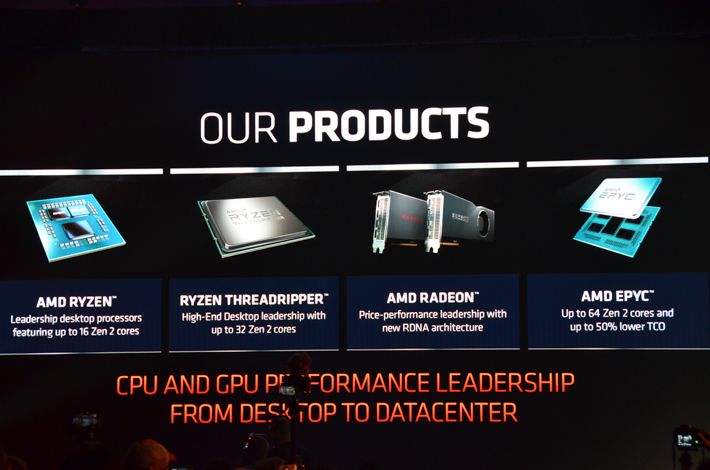 AMD also announced the Ryzen 4000 for mobile/notebooks (7-nm, 8-core, 16-thread, ultra-thin, and powerful). It has amazing 15-Wt TDP, excellent performance, and great battery life for the next generation of light and powerful notebooks. AMD is very attentive to gaming for their Radion cards too. They are comparing their new Radions to others in their class and not to the higher-class NVIDIA cards, which I know would still with the GPU power crown. Their new latest is being compared to the mid-range 1660 NVIDIA. At $279, it is a great value.
ShowStoppers LaunchIt
ShowStoppers gives the top offerings that will be shown at the CES Eureka Park a chance to make a "Shark Tank"-type presentation. The winner will have a chance to display at ShowStoppers and get the publicity needed to possibly gain needed investment capital. Here is a brief description of those who presented at the LaunchIt event.
Aeronext
Aeronext from Japan has made great progress in industrial drones and maintained stability. Especially in strong wind, they are able to fly stable and with improved battery life. With its innovative structure, it can complete multiple and precise tasks. They also have a human-carrying stable drone. Aeronext will license its technology for 10% of the selling price.
Caregiver Smart Solutions
Caregiver Smart Solutions help monitor loved ones using small, unobtrusive monitors in their home. You can tell if they are active, what they are doing, and if they are okay. It's low-cost, does not need to be worn, and focuses on daily habits, not just catastrophic events. It comes with monitoring kits and reports if people are moving around, eating, sleeping, etc. It allows them to age in place and helps you ask the right questions. This is the third generation, which is ready to be made commercially available.
D3 Products
D3 Products transform furniture into a space-saving charging platform. The product is the patented Intelashelf charger cord. Clutter and related safety issues are big problems that this device solves. It easily slides under furniture and can charge three devices at once. It has five patents granted so far and will license to others. The selling price is $89.99.
FutoRocket
From Japan, FutoRocket is a small, easy-to-use AI camera that can tell how many people are visiting the store where it is installed. It counts the number of visitors, including data by the hour, and is wireless, mountable, and designed for small businesses. They are looking to sell to areas such as India and Africa. A prototype is ready that will sell for $35.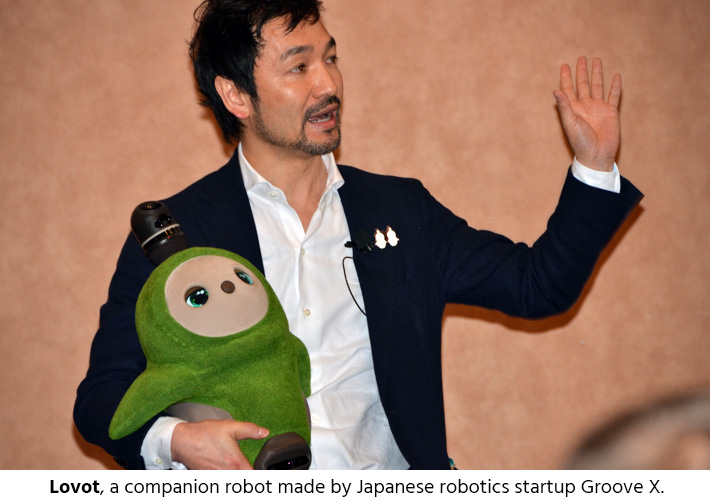 GROOVE X, which is also from Japan, makes a cute, family-focused robot called Lovot. It learns about you and gets close to you like a pet dog. GROOVE X hopes to improve performance with emotional robots that get to know you, recognize you, talk to you, and remember your face. Prices start at $3,000, and they have started selling in Japan. They are looking for a U.S. investor.
Inirv
Inirv connects devices in the kitchen. Unattended cooking is a major cause of fires, and this product aims to combat that through fail-safes that will notify you if you don't turn off one of the smart knobs. It works with existing appliances by replacing knobs with their smart knobs that can be monitored and controlled remotely by an app. Inirv can automate cooking for $99 per knob or $279 for four knobs. The knobs are simple to install, and Inirv will guide you through it. They are looking to get built into consumer products.
iWater Tech
iWater Tech solves waste issues, automates water flow as needed, cuts flow when warming up, and reduces flow when you are in the shower shampooing or when you move partially out of the flow measured by a sensor. Their next product will be for leaky toilets.
Mui Labs
Mui Labs has a smart home IoT interface device that can control lighting, music, and show weather. It's calm and unobtrusive. They are selling the device and technology. It's $1,000 for the panel and functions as a universal remote for a home automation system.
DreamOn
Patented DreamOn helps people fall asleep faster without the use of drugs. Loss of sleep is a major health issue, so DreamOn creates a sleep-inducing pulse that you focus on to fall asleep quickly. Users can use different patterns, and the device is small, portable, easy to wear, and effective.
Teracube
Teracube is a sustainable smartphone with a four-year warranty, including battery. Its key value is the full, long-life warranty and the replacement of broken parts and screens, which leads to a much lower annual cost.
Conclusion
The winner of LaunchIt will be announced within the next day. We will cover ShowStoppers and let you know in the next CES coverage article. Stay tuned as we cover the more interesting and advanced devices that we see over the next few days at CES.