Reading time ( words)
This year, we celebrate the 55th anniversary of the introduction of the Gerber machine language format. We can thank H. Joseph Gerber, the man who took manual PCB design to the next level with the automated photoplotter, for giving us this format in 1964.
At that time, America was still in shock from the assassination of John Kennedy. The Beatles toured the U.S., riding on the popularity of their number one hit single, "I Want to Hold Your Hand." Gasoline was 21 cents per gallon. "Mary Poppins" (the original) was playing in theaters. Cassius Clay defeated Sonny Liston to become the heavyweight champion of the world. The first Ford Mustang was introduced at a suggested retail price of $2,368. And Gerber Scientific Instrument Company introduced the Gerber format.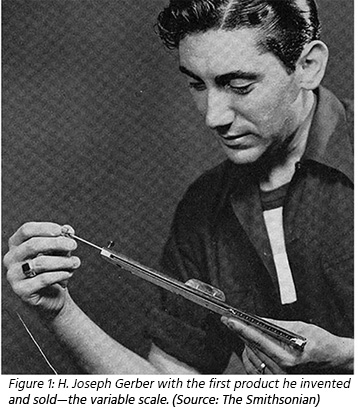 A History of Venerable Industrial Achievements
Gerber immigrated to the United States in 1940 with his mother following the death of his father during the Holocaust. Gerber started Gerber Scientific Instrument Company in 1948 to commercialize his first patented invention—the variable scale. He applied his aeronautical engineering degree to developing various solutions for industrial manufacturers.
One of Gerber's earliest products was a large-area plotter. These were used in the automotive and aerospace industries to plot digitized body components at full scale. To make it easy for the early CAD tools to drive his plotters, Gerber decided to use a numerical control (NC) programming language developed a few years earlier at MIT Servomechanisms Laboratory. Ownership of this NC language was transferred to the Electronics Industry Association (EIA) and became known as EIA-RS274D. This is the same format that the metalworking industry used for two-axis milling.
In 1967, the Radio Corporation of America (RCA) in Camden, New Jersey, asked Gerber to develop an automated Rubylith cutting machine for their nascent PCB application. For those of you not familiar with the design-to-manufacturing process for PCBs at that time, Rubylith was a thick film with a red peelable layer. Design departments used X-ACTO-type knives to cut the PCB pattern at a 20:1 scale. Then, the Rubylith films were mounted on a large-format camera frame for photo-reduction to nominal size. The photo-reduction process reduced the mechanical tolerances of the cutting process.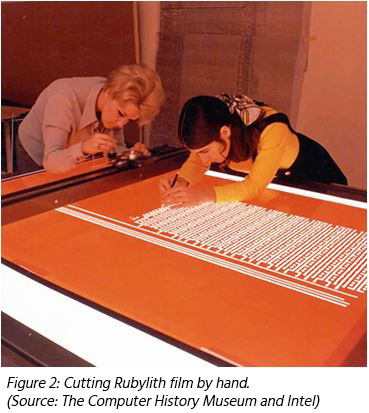 Gerber asked the engineers at RCA about their end objective and realized that if he imaged directly on the film, the customer could bypass intermediate steps while improving quality. With RCA's support, the photoplotter was born. There's a lesson here. Sometimes, it makes more sense to understand and start with the ultimate desired result rather than starting with the focus on just automating a single step in the process—look at the whole forest, not just each tree alone.
Gerber created a derivative of the original format to suit his automated plotters. For example, the "T" codes in Gerber format represented tool (pen, and later, aperture) changes and the "G" codes for linear and circular motion were adopted, but certain miscellaneous ("M") codes such as M08 for "coolant flood on" were excluded for obvious reasons.
The new photoplotters used a lamp in the photohead to project light through apertures of various sizes mechanically mounted on an aperture wheel to achieve the desired feature sizes on film. Back in the 1960s, 24 apertures pretty much covered all the features sizes and types you needed to design a PCB. Each aperture was sized for the circuit feature sizes of the time—8, 10, 12, 15, and 20 mils round—complemented by special apertures for fiducials and thermal reliefs.
Share
Print
Suggested Items
06/17/2019 | Andy Shaughnessy, I-Connect007
At the SMTA show in Atlanta, I spoke with Rick Kincaid, founder of K&F Electronics, about his son Sean taking over the family business as well as the current uncertainty with trade tariffs.
05/10/2019 | Patrick McGoff and David Wiens, Mentor, a Siemens business
Almost all of the conversation regarding Industry 4.0 is centered on the manufacturing floor, which is where the effect of the initiative is most felt initially. Little attention is given to the starting data for manufacturing—the data that comes from design. However, you can't have smart manufacturing if your process begins with dumb data. As Pink Floyd said, "You can't have your pudding if you don't eat your meat!"
04/24/2019 | Andy Shaughnessy, Design007 Magazine
During DesignCon, I met with Geoffrey Hazelett, VP of sales for Polar Instruments. Even though he has been in EDA for a few years, Geoffrey is still in his thirties, which makes him a youthful cherub in this industry. I asked Geoffrey what he thinks about the new PCB designers and EEs entering this field, and what more can be done to expose young people to the world of PCBs.