Reading time ( words)
Several weeks ago, I released a short column about monocoque printed circuits, a new 3D circuit technology using thermoplastic materials considered next-generation technology for printed circuits. The circuit traces are built on thermoplastic sheets and bent using a heating process. The new technology reduces wiring space in mobile electronic devices and eliminates flexible circuits and wire harnesses. I received many inquiries, specifically requesting detailed technical information. A few companies commented about their success with this same circuit technology. There is much interest from design engineers looking for practical 3D wiring material for compact electronic devices, such as smartphones and digital cameras. Let's take a brief look at this new 3D circuit technology.
More than 30 years ago, a flex circuit manufacturer in New England developed bendable circuits and modified the standard technology for flex circuits. A plastic resin was introduced as a base layer for copper foil laminates. The laminates were chemically etched to generate copper circuits, and these circuits could be bent to form 3D wiring. Unfortunately, the base material was not stiff enough, so 3D circuits were eliminated in many applications.
Almost the same time 30 years ago, the basic concept for molded interconnect device (MID) circuits was created to build 3D circuits on plastic parts. The process of creating 3D components was already established through molding or injection using traditional plastic resins. Component manufacturers found it difficult to generate electronic circuits on plastic components. They tried with newer technologies (metalizing and laser scribing) but were unsuccessful due to the limited capabilities of these technologies.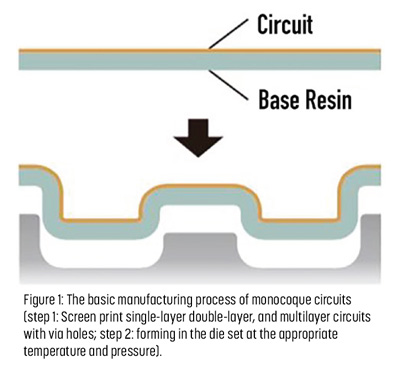 An easy solution came to light using silver ink printing for thick-film circuit technology. It looks like a Columbus egg. The process is very simple (Figure 1). Silver-based conductive ink is screen-printed on a thermoplastic sheet to create electronic circuits. Single-layer circuits are easy to make. Double-layer and multilayer circuits are practical as they are made on a film base substrate with via holes. Through-holes are easy to make using a traditional thick film process. The baking temperature should be relatively low to generate a higher yield. Appropriate ink materials are selected for the thermal process. The second step of the process is to place the work in a die set after pre-heating. A vacuumed forming could make a better shape for the thicker substrates. We are successful using PET sheets, PEN films, acrylic sheets, polycarbonate sheets, and more. There may be additional plastic resins available.
3D circuit technology is not universally available because of mechanical stresses during the forming process. The forming on the corners requires a radius greater than 2 mm, and the silver traces should be wider than 0.3 mm. We are preparing a design guide for 3D circuits.
The best feature of this 3D circuit technology is the wiring built-in plastic parts. The plastic parts will serve as mechanical framing and wiring—hence the name monocoque printed circuits. The use of supplemental flexible circuits and wire harnesses are not required; the space required for wiring is reduced without an increase in cost. There are no special technologies or manufacturing equipment required, but experience using specific materials is necessary.
Editor's note: Read Part 1, Part 2, Part 3, and Part 4 on monocoque printed circuits.
This column appeared in the August issue of Design007 Magazine in the FLEX007 section.
Share
Print
Suggested Items
10/30/2020 | Jasbir Bath, Shantanu Joshi, and Noriyoshi Uchida, Koki Solder America And Koki Company Limited
With the increased use of electronics in new technology areas, flux formulations are being developed to address the new and existing requirements. For sensors and camera modules used for Advanced Driver Assistance System (ADAS) and internet of things (IoT) applications, there is a demand for no-clean flux formulations in lead-free solder paste, which can reduce flux splattering during reflow.
10/29/2020 | Pete Starkey, I-Connect007
As Lawrence Romine said in his introduction, "There's that moment when you sit in the crowd and hear Mr. Rick Hartley speak that you know you've arrived in PCB design." With 50 years in the industry focused on circuit and PCB design—and as a specialist in EMI, noise, and signal integrity issues—Rick Hartley was invited to talk about PCB optimization. Pete Starkey provides an overview of the presentation.
10/28/2020 | Pete Starkey, I-Connect007
Webinars are in vogue! But in Pete Starkey's experience, the master of the technical webinar with many years' experience of delivering first-rate events is Bob Willis—electronics assembly specialist, soldering expert, and provider of training and consultancy in electronics manufacture. Here, Pete recaps Bob's presentation on the upcoming robotic soldering experience.