Reading time ( words)
Carpenters have hammers, bricklayers have trowels, and painters have their brushes; for PCB designers, the tool that defines us is our CAD software. Designers spend hours, days, or weeks in their CAD tool for each circuit board design, examining each connection, plotting each through-hole, and carefully placing each specific component. They discover quickly that not all CAD tools are created equally.
How can designers find the right CAD tools to fit their particular methodology and needs?
Not every designer spends the same amount of time immersed in a CAD tool. Some designers may just work on a few designs per year, which means there is limited opportunity to learn the ins and outs of complex CAD software. They definitely won't have the time to invest in heavy customization. Sporadic use can also equate to a limited software budget to invest in an expensive CAD package or heavy customization of the one they have. Some designers go right from one design to the next with barely enough time to catch their breath, making that high-priced CAD tool a bargain due to its versatility, customizability, and sheer raw power. No names here, but we've worked with some real hotrods.
What's Available in the CAD World?
A quick search reveals that the world of PCB design is flooded with tools. We read one article[1], promising "46 Must-Have Tools to Streamline PCB Design." The average PCB designer is too busy to evaluate more than a handful of tools. To narrow the field, we need to look at some basic criteria.
Price
For hobbyists and part-time PCB designers, the price will most likely be the most important criteria, so let's look at that first. Luckily, there are lots of low-cost and free CAD tools available, keeping students and hobbyist designers in the game.
When evaluating free tools, though, pay close attention. Some of them will be open-source or community-run projects, and while the philosophy behind them might be attractive, make sure those tools are still being actively maintained. When you run into a problem, you want to make sure you can get help.
Some low-cost and free CAD tools are funded and developed by PCB manufacturers. They produce tools that specifically work with their manufacturing process, which can be great if you have a specific manufacturer in mind. However, this choice can also lock you into a specific manufacturer path, so choose carefully. If your CAD tool is tied to a manufacturer, can you get the Gerber files? Do they cost money? Is the price reasonable?
Commercial packages can become expensive quickly. There are a few CAD tools available that charge a monthly subscription price, but most offer prices ranging from about $75 all the way up to over $2,000. Pay attention to the limits placed on products with multiple tiers of pricing and be particularly careful not to get caught in a "freemium" trap, where a piece of software seems great until that really important feature is locked behind an expensive paywall.
Design Tip: If you have a PCB manufacturer in mind, make sure their process is compatible with your CAD tool before you spend any time or money on it.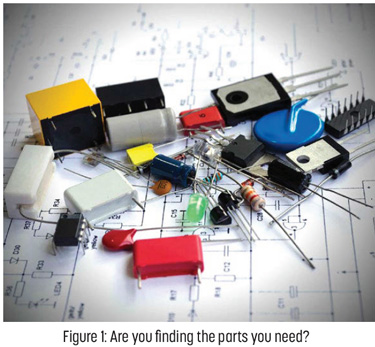 Component Libraries
CAD tools should be customizable with libraries full of parts and components, but you need to be sure that the tool you're looking at can support the parts you need to use. Many tools like to brag about the size of their parts libraries, but don't be fooled by a big number.
A typical designer might need a library of about 10,000 parts, but when looking at the library offered by a CAD tool, are you finding the parts you need? Look for commonly used parts and check whether the tool comes with proprietary libraries or access to specialized libraries.
No matter the CAD tool, eventually you'll have to create components yourself. Make sure the tool provides the capabilities you need to both create new components and add them from external sources.
Complexity
CAD tools exist to tackle the complex problem of designing PCBs. Unfortunately, it's inevitable that your CAD tool will itself be somewhat complex, but that doesn't mean you shouldn't evaluate a tool based on how intuitive and easy it is to use.
Ease of use is an area where open-source software tends to lag behind. If the price is an important factor in your choice, you may end up looking at a balancing act between price and usability.
Help and Documentation
There will come a time when something in your PCB project will get too complicated, and you'll end up needing help. You want to make sure that help is available before you put too many hours into a CAD tool, so evaluate these resources early in the process. Check out the tool's documentation. Some tools make their documentation available online. Look for YouTube tutorials and websites that might be offering solutions to common problems. If there is a phone number for support, call and ask some questions.
Those last two suggestions—checking the tool's documentation and looking for video tutorials— can also help you evaluate a CAD tool without even downloading it. If there are too many people reporting problems, that might mean the tool is too difficult to use. Likewise, a YouTube tutorial that takes the viewer through too many convoluted steps can be a red flag toward usability.
Final Thoughts on Finding the Right CAD Tool
CAD software is almost always highly customizable with design rules, favorite libraries, shortcuts, and modules to increase productivity and make the design process personalized and special.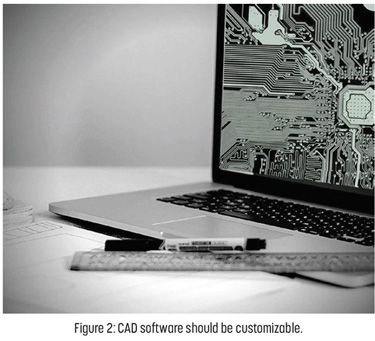 Designers add their own libraries of specific ICs, parts catalogs, and components to make sure the right pieces are available. Getting all of these customizations just right can take a long time, so a designer doesn't want to invest a lot of effort in one CAD tool just to abandon it and start over with another.
Pay attention to limitations, such as board size, and the number of pins or layers a tool can support. Watch for limits on minimum component pitch and the supported sizes for traces, spacing, and vias. Once you have narrowed the field, download the CAD tools that look the most promising, and try them out. Fifteen minutes or so should be enough to tell if the tool is intuitive and will fit your PCB project.
The most important part about picking a CAD tool, though, is that it shouldn't make designing too much of a chore. You want designing to be productive and efficient, and in the end, maybe that's the most important element to evaluate when you're trying out different tools.
Design Tip: Double-check your components and ensure they have proper mechanical drawings. Be sure the physical dimensions of your components fit your design, not just the pins, and make sure your library parts match the datasheets; don't just trust them out of the box.
References
1. Trey Hooper, "Top PCB Design Software Tools for Electronics Engineers: 46 Must-Have Tools to Streamline PCB Design," Pannam Imaging.
This column originally appeared in the September 2020 issue of Design007 Magazine.
Share
Suggested Items
10/20/2022 | Andy Shaughnessy, Design007 Magazine
For this issue on ultra HDI, we reached out to Tara Dunn at Averatek with some specific questions about how she defines UDHI, more about the company's patented semi-additive process, and what really sets ultra HDI apart from everything else. Do designers want to learn a new technology? What about fabricators? We hope this interview answers some of those questions that you may be having about these capabilities and what it could mean for your designs.
09/01/2022 | I-Connect007 Editorial Team
During these times of supply chain uncertainty, many product developers are considering new ways to conserve materials—from laminates to components, layer reduction, and everything in between. Barry Matties and Happy Holden recently spoke with Alun Morgan, president of EIPC and technology ambassador for Ventec, about material conservation strategies for today's PCB designers and design engineers. Alun explained why this may be the perfect time to educate PCB designers about conserving materials: When a model is broken, the people involved are much more open to new ideas.
04/28/2022 | Anaya Vardya, American Standard Circuits
One of the biggest challenges facing PCB designers is understanding the cost drivers in the PCB manufacturing process. This article is the latest in a series that will discuss these cost drivers from the PCB manufacturer's perspective, and the design decisions that will impact product reliability.