Reading time ( words)
The Additive Electronics TechXchange this year was a virtual event. One presentation, "Very High-Density Investigation Project," was given by Steve Vetter of the NSWC Crane Naval Facility in Crane, Indiana.
Crane is a very large Naval Surface Warfare Center created in WWII to be as far from the ocean as possible. It is now a research, storage, and test facility for the DoD. Fortunately, they have a state-of-the-art PCB facility to support interconnect devices for the DoD. Their role is also to support technology development and transition efforts for the DoD (Figure 1).
Steve reported on a new Project at Crane: the S2MARTS VHDI Project (Strategic and Spectrum Missions Resilient Trusted Systems) awarded to them in 2019. The project has four phases that will run over a number of years. The purpose of this program is to show its application to DoD projects and to provide the U.S. public with results and technical advice.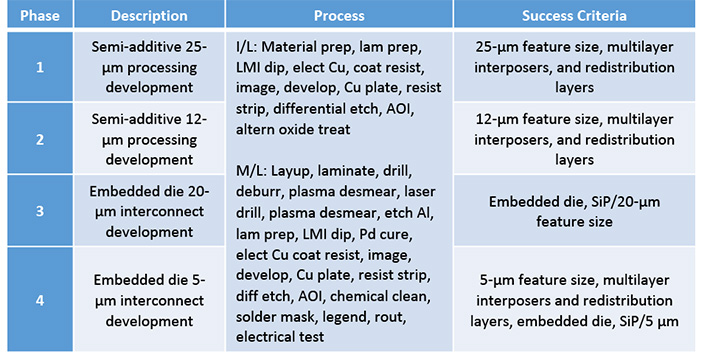 Steve detailed the process of using a proprietary SAP process—first on inner layers, and then on multilayers with through-holes and blind vias. Imaging was performed on a new MIVA LED direct image system with 10-micron resolution. Resist developing, plating, and differential etch processes were modified.
A special multilayer test vehicle was designed to test the performance to the 25-µm and 12-µm geometries. Conclusions and lessons learned from Phase 1 were presented.
Steve finished by outlining plans for Phase 3, the "Embedded Latent Catalyst process (ELCAT)" for 20-micron features and embedded die (SIP).

Figure 1: NSWC Crane's printed circuit facility.
The next presentation was "Electronics Additive Manufacturing for Defense and Space" by Kourtney Wright, Ph.D., of Lockheed Martin Advanced Technology Center.
Dr. Wright gave a short introduction of the Advanced Technology Center, and about the roles Lockheed Martin performs. She explained "Why Additive for Space and Defense," including:
Distributed manufacturing in-field, repair, and anywhere
Lower sustainment cost leading to lower program costs
Lower deployment cost for spare parts/units and quicker diagnostics
Their current focus is on copper inks, additive RF structures, flex circuits, and circuit re-engineering:
Copper Inks: They have developed a large-scale manufacture of nanocopper inks that sinter at 200C to form high electrical conductivity and is solderable
Flex Circuits: Using the new nanocopper inks on flex circuits and printed antennas
RF Structures: Printing on complex 3D substrates and to trim designs for superior performance (Figure 2)
Circuit Re-Engineering: Testing the new nanocopper inks for additive jumper wires to re-engineer a complex board.
Kourtney then provided some insight on issues for adhesion of the new inks and repeatability of print parameters. She concluded with some final thoughts on the future of additive technologies for space and defense use.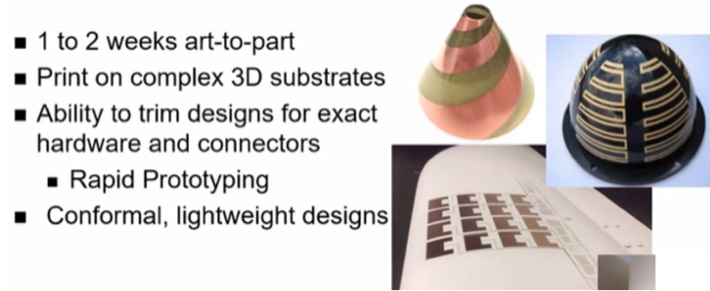 Figure 2: Lockheed Martin's Advanced Technology Center printed antennas.
Share
Suggested Items
08/09/2022 | Didier Mauve and Robert Art, Ventec
Chapter 5 of the 2nd Volume from The Printed Circuit Designer's Guide to... Thermal Managment with Insulated Metal Substrates provides examples of thermally enhanced prepregs and cores now available in the market with the versatility to solve a wide variety of challenges. Included in this chapter you will find examples of simple designs and more complex hybrid assemblies that combine multilayer and single-layer areas on the same board.
12/08/2020 | Anaya Vardya, American Standard Circuits
Concluding this six-part discussion on understanding the military printed circuit board performance standard MIL-PRF-31032, Anaya Vardya the remaining procedure required to address the unique requirements of the military.
10/20/2020 | Anaya Vardya, American Standard Circuits
Continuing with Part 4 of the discussion on understanding the military PCB performance standard MIL-PRF-31032, Anaya Vardya explains how the next step in the process is to create four new procedures to address the unique requirements of the military.