Reading time ( words)
In a previous column, Material Selection for SERDES Design, I pointed out that materials used for the fabrication of the multilayer PCB absorb high frequencies and reduce edge rates and that loss, in the transmission lines, is a major cause of signal integrity issues. But we are not all designing cutting-edge boards, and sometimes we tend to over-specify requirements that can lead to inflated production costs.
In this column, I will look at what types of materials are commonly used for digital design, and how to select an adequate material to minimize costs. Of course, selecting the best possible material will not hurt, but it may blow out the costs.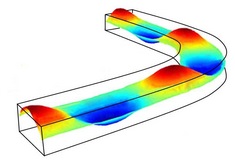 Figure 1: Simulated signal propagating through a curved waveguide.
Signals propagate in a vacuum or air at approximately the speed of light. But, as the electromagnetic energy is enveloped in a dielectric material, sandwiched between planes in the PCB medium, it slows down. Figure 1 illustrates a signal propagating through a curved waveguide. This is representative of a typical stripline configuration of a PCB. What needs to be understood is that the signal traces on a PCB simply guide the signal wave, as the electromagnetic energy propagates in the surrounding dielectric material. It is the dielectric material that determines the velocity (v) of propagation of the electromagnetic energy:

Keep in mind that c is the speed of light (in free space) and Er is the dielectric constant of the material (FR-4 is ~4.0). By contrast, the Er of air is 1. Therefore, the velocity of propagation in FR-4 is about half the speed of light or 6 inches per ns. The important concept is that it is the electromagnetic energy that propagates down the transmission line--not electron flow. Electrons flow at about 0.4 inches per second, a snail's pace by comparison.

Read the full column here.


Editor's Note: This column originally appeared in the August 2014 issue of The PCB Design Magazine.
Share
Suggested Items
05/12/2022 | Andy Shaughnessy, Design007 Magazine
I-Connect007 Columnist Mark Thompson of Out of the Box Manufacturing has been in CAM engineering for decades, and he's also worked as a PCB designer, so we knew he would have a few things to say about working in a vacuum. As he explains, the designer isn't the only stakeholder in the process who feels like he's working inside the dust bag of a Hoover upright.
05/11/2022 | Andy Shaughnessy, Design007 Magazine
Not long ago, I caught up with Carl Schattke, CEO of PCB Product Development LLC and a longtime PCB designer, for his thoughts on "designing in a vacuum." As Carl points out, if you follow PCB design best practices, knowing the identity of your fabricator is not a "must-have." He also offers some communication tips for discovering the information you do need, including one old-fashioned technique—just asking for it.
05/10/2022 | I-Connect007 Editorial Team
We asked Monsoon Solutions VP of Engineering Jen Kolar if she had any thoughts on "designing in a vacuum," and her response was, "Absolutely!" In this wide-ranging discussion, Jen and Senior PCB Engineer and Director of Designer Development Cory Grunwald share some tips and techniques for designing PCBs in a vacuum, and a few methods for getting out of the Hoover's dust bag. As Cory points out, "In the end, the communication is going to happen anyway. It's just a matter of whether it happens at the end or in the beginning."