Reading time ( words)
During IPC APEX EXPO 2015, Chris Banton, marketing manager for EMA Design Automation sat down with me to discuss EMA's recent partnership with PLM software provider Arena Solutions. In this interview, Chris explains how the alliance benefits companies that use both platforms, and why more and more CAD tool users are also taking advantage of PLM.
Kelly Dack: Chris, tell us how the partnership between EMA and Arena Solutions is going to benefit your customers.
Chris Banton: Sure, Kelly. It actually came about because of customer engagements. We were visiting a couple of our customers, discussing their engineering processes, and it came up that they use both Arena and OrCAD Capture, and there were some issues with being able to communicate between the two. Management wanted their engineers to be able to find company approved parts and make sure they only spec those in. No one wants to go do a redesign because they didn't use approved parts or accidentally used obsolete parts, especially if they find the problem at the end of the design phase, right?
Dack: Right.
Banton: We started talking to these customers and a common trend was that they had Arena, they had OrCAD, and there was this missing link between these two systems.
Dack: Can I ask what the missing link was?
Banton: Really, it was being able to connect that data.
Dack: The connection?
Banton: There is a database, which is the backend to that PLM system and then there is a database that manages your component data at the PCB level. Customers needed a way to connect these two systems so they could share the right data efficiently and automatically.
Dack: Did you work together?
Banton: Yes, we did. The key thing there is to understand how the PLM system works so that we're pulling data down from the PLM system in a controlled and automated way. The PLM system has a lot of data that the engineer probably doesn't need every single time they access it, so we want to make sure that we're taking relevant information down to the engineer and not overloading them. We needed to work closely with Arena to get that intimate PLM knowledge while leveraging our experience with what data PCB teams need access to.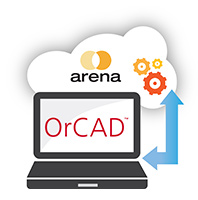 The traditional solution has been, "Oh, just let the engineer log into PLM," which might work, but now you're overloading them with all these things that they don't care about and forcing them to learn a new tool. Not to mention this typically happens at the end of the design so the engineering team is learning about potential part sourcing issues very late in the game.
We worked closely with Arena to make sure that we were doing this in a way that works for both our systems, but focused on the information that we needed to pass back and forth.
Share
Print
Suggested Items
06/28/2019 | Andy Shaughnessy, Design007 Magazine
During SMTA Atlanta, I spoke with Albert Gaines of HiGain Design. We discussed Albert's belief that everything starts with design and that too many engineers and designers focus solely on the final board at the expense of the documentation, which is a designer's most important product. Do you consider your documentation to be a critical product?
05/30/2019 | Andy Shaughnessy, Design007 Magazine
In a recent survey, we asked the following question: What feature would you like to see in your CAD tool? Here are a few of the answers, edited slightly for clarity.
05/28/2019 | Andy Shaughnessy, Design007 Magazine
We recently spoke with Altium's Craig Arcuri about his views on design and manufacturing rules. Craig has experience running both design and manufacturing companies, so he has a fairly circumspect view of constraints from both sides of the product realization process. Craig details some of the challenges with setting and managing hundreds of often divergent design and manufacturing rules, and how both design and manufacturing constraints need to evolve.