Reading time ( words)
In recognition of his ongoing leadership in developing and promoting IPC standards on a global basis, IPC – Association Connecting Electronics Industries bestowed the Dieter Bergman IPC Fellowship Award upon Gary Ferrari of FTG Circuits.
This recognition is given to individuals who have fostered a collaborative spirit, made significant contributions to standards development, and have consistently demonstrated a commitment to global standardization efforts and the electronics industry and embody the work ethic and spirit of the late Dieter Bergman… a pioneer and industry icon. Award recipients are eligible to bestow the Dieter Bergman Memorial Scholarship upon the university or college of his/her choice and Ferrari's selection was the University of Connecticut, Electrical and Computer Engineering program.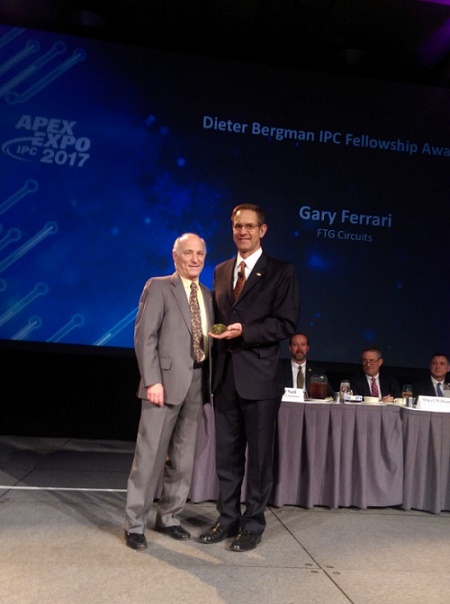 For more than four decades, Ferrari has donated countless hours to IPC and his list of achievements is vast. He spearheaded IPC's highly successful PWB Designer Certification program, which has trained and recognized more than 6,500 designers to date. In addition, he co-founded the IPC Designers Council, and served as its executive director for many years. Ferrari is currently a member of the IPC Designers Council Executive Board and is a member of the Designers Council Education Committee.
His work on standards committees has been long-standing and impactful. He currently serves on four dozen technical committees with a leadership role in four.
He is a member of the Technical Activities Executive Committee (TAEC) and served as a TAEC chair.
"IPC and the entire electronics industry are fortunate to have Gary volunteer his time and expertise to IPC standards and program development," said John Mitchell, IPC president and CEO. "His work has enriched both the industry and IPC and we are thankful for his dedication."
For more information on the Dieter Bergman IPC Fellowship Award and this year's award recipient, contact Sandy Gentry, IPC communications manager, at +1 847-597-2871.
About IPC
IPC is a global industry association based in Bannockburn, Ill., dedicated to the competitive excellence and financial success of its 3,900 member companies which represent all facets of the electronics industry, including design, printed board manufacturing, electronics assembly and test. As a member-driven organization and leading source for industry standards, training, market research and public policy advocacy, IPC supports programs to meet the needs of an estimated $2 trillion global electronics industry. IPC maintains additional offices in Taos, N.M.; Washington, D.C.; Atlanta, Ga.; Brussels, Belgium; Stockholm, Sweden; Moscow, Russia; Bangalore and New Delhi, India; Bangkok, Thailand; and Qingdao, Shanghai, Shenzhen, Chengdu, Suzhou and Beijing, China.
Share
Print
Suggested Items
07/07/2020 | Andy Shaughnessy, Design007 Magazine
Andy Shaughnessy recently spoke with Chris Hanson, global head of IMS Technology for Ventec International Group. During their conversation, Chris discusses his group's recent efforts to create new IMS materials, with a focus on dielectrics. As Chris explains, Ventec has developed several new dielectrics that can withstand much higher operating temperatures, one of which is UL-rated for a maximum operating temp of 155°C, which may be the highest for an IMS dielectric.
07/02/2020 | I-Connect007 Editorial Team
We asked for you to send in your questions for Happy Holden, and you took us up on it! The questions you've posed run the gamut, covering technology, the worldwide fab market, and everything in between. Enjoy.
06/04/2020 | Andy Shaughnessy, Design007
On June 2, components distributor Digi-Key Electronics announced the release of PCB Builder, a tool that lets customers have PCBs shipped directly from the fabricator. PCB Builder also allows customers to perform file layer checks and receive instant quotes from multiple fabricators. Andy Shaughnessy spoke with Josh Mickolio, supplier business development manager for Digi-Key, about the development of PCB Builder and what this tool means to PCB designers and design engineers.