Reading time ( words)
In recognition of his ongoing leadership in developing and promoting IPC standards on a global basis, IPC – Association Connecting Electronics Industries bestowed the Dieter Bergman IPC Fellowship Award upon Gary Ferrari of FTG Circuits.
This recognition is given to individuals who have fostered a collaborative spirit, made significant contributions to standards development, and have consistently demonstrated a commitment to global standardization efforts and the electronics industry and embody the work ethic and spirit of the late Dieter Bergman… a pioneer and industry icon. Award recipients are eligible to bestow the Dieter Bergman Memorial Scholarship upon the university or college of his/her choice and Ferrari's selection was the University of Connecticut, Electrical and Computer Engineering program.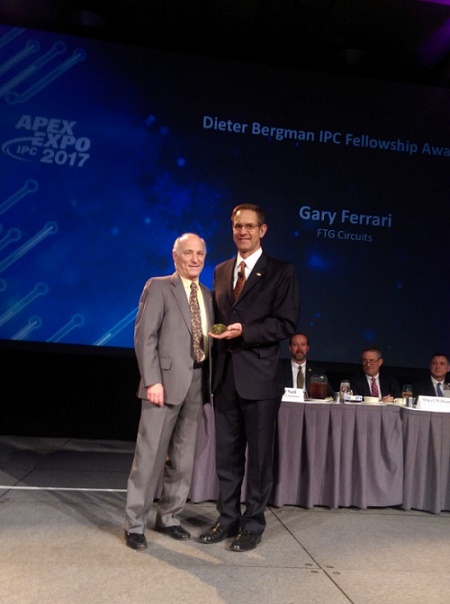 For more than four decades, Ferrari has donated countless hours to IPC and his list of achievements is vast. He spearheaded IPC's highly successful PWB Designer Certification program, which has trained and recognized more than 6,500 designers to date. In addition, he co-founded the IPC Designers Council, and served as its executive director for many years. Ferrari is currently a member of the IPC Designers Council Executive Board and is a member of the Designers Council Education Committee.
His work on standards committees has been long-standing and impactful. He currently serves on four dozen technical committees with a leadership role in four.
He is a member of the Technical Activities Executive Committee (TAEC) and served as a TAEC chair.
"IPC and the entire electronics industry are fortunate to have Gary volunteer his time and expertise to IPC standards and program development," said John Mitchell, IPC president and CEO. "His work has enriched both the industry and IPC and we are thankful for his dedication."
For more information on the Dieter Bergman IPC Fellowship Award and this year's award recipient, contact Sandy Gentry, IPC communications manager, at +1 847-597-2871.
About IPC
IPC is a global industry association based in Bannockburn, Ill., dedicated to the competitive excellence and financial success of its 3,900 member companies which represent all facets of the electronics industry, including design, printed board manufacturing, electronics assembly and test. As a member-driven organization and leading source for industry standards, training, market research and public policy advocacy, IPC supports programs to meet the needs of an estimated $2 trillion global electronics industry. IPC maintains additional offices in Taos, N.M.; Washington, D.C.; Atlanta, Ga.; Brussels, Belgium; Stockholm, Sweden; Moscow, Russia; Bangalore and New Delhi, India; Bangkok, Thailand; and Qingdao, Shanghai, Shenzhen, Chengdu, Suzhou and Beijing, China.
Share
Print
Suggested Items
04/03/2020 | Andy Shaughnessy, I-Connect007
In this interview, Editor Andy Shaughnessy speaks with Manny Marcano, president of EMA EDA Automation, who shares an update on the company's current level of business operations under COVID-19 restrictions. Marcano explains that EMA is classified as an essential business due to its work with the defense segment and that employees are now working from home. He also discusses the company's free work-from-home license offer and why he is available to help any designers or design engineers who have questions during these changing times.
01/21/2020 | I-Connect007 Editorial Team
Meet John Watson, CID, one of our newest I-Connect007 columnists! John has been in the electronics industry for 40 years, with 20 of them being in PCB design, and is now a senior PCB engineer for Legrand Corporation. Read "Elementary, Mr. Watson" in Design007 Week Newsletter.
01/09/2020 | Andy Shaughnessy, Design007 Magazine
I recently spoke with Curtis Scott, a young PCB design engineer with Current Products, a manufacturer of automated window coverings in Pensacola, Florida. I'm always excited to hear about OEMs in Pensacola; I lived there for 17 years, and it's a great town, but you won't find much industry other than tourism. I asked Curtis to share his thoughts on the industry and his job designing PCBs in that scenic city on the Gulf of Mexico.