Reading time ( words)
Collaboration filled the air at the Hyatt Regency in Monterey, California, as the 18th annual Flex/MEMS&Sensors technical conference brought flex technology and sensor experts and 550+ attendees together to network and share ideas from February 18–21, 2019. Known officially as the Flexible Electronics Conference and Expo and the MEMS & Sensors Technical Conference, respectively, these two events shared event space for the second time. SEMI, the industry association representing the electronics supply chain, hosted this conference.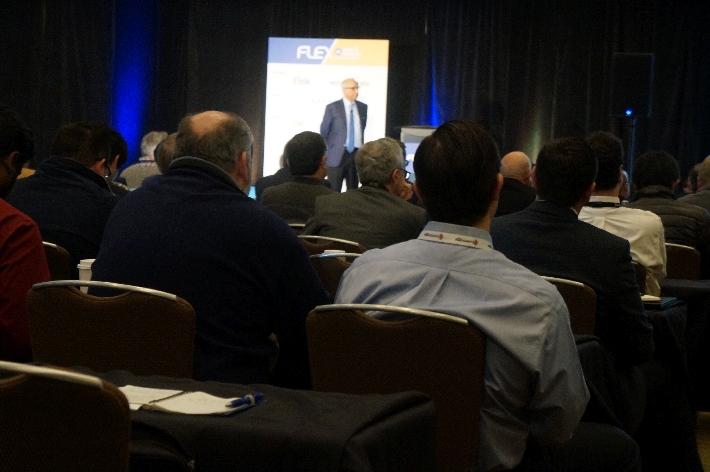 Keynote speakers included Dragos Maciuca from Ford Motor Company, Jason Jelinek from John Deere Electronics Solutions, John A. Rogers from Rogers Research Group, Peter Hartwell from TDK InvenSense, Nancy Ranxing Li from Verizon, and Kristofer Pister from UC Berkley.
"The more than 550 FLEX and MSTC 2019 attendees saw the future of flexible printed and hybrid electronics and the MEMS and sensor technologies that are helping us reinvent a wide range of biomedical, transportation and IoT applications," said Dave Anderson, president of SEMI Americas. He continued, "Small, flexible skin-worn devices that can monitor an infant's vital signs, agricultural sensing platforms capable of improving food production, and autonomous vehicles that are both safe and affordable were just a few innovations highlighted at the event. Globally recognized industry innovators showed us how these technologies will transform our lives."
SEMI President and CEO Ajit Manocha took the opportunity during his opening remarks to launch SEMI's young professionals outreach campaign with this video.
In the expo hall, 60 exhibitor companies were on hand to discuss their latest products and projects. The center of the hall featured a TechTALKS pavilion, which hosted 17 fast-paced presentations, including product demos and discussions of best practices. Also, with 123 papers and presentations overall—36 related to MSTC and 87 sessions related to flex technology—the technical presentations on the conference side of the event were vibrant and full of energy.
The SEMI staff brought a lot of educational outreach to the Flex/MSTC conference. University student work was showcased in the lobby with 11 student teams discussing their research in sensors and flex manufacturing techniques. Look for additional coverage of SEMI's educational programs coming soon.
Share
Print
Suggested Items
12/03/2019 | Real Time with...productronica
Dr. Brüning, global product director, desmear and metallization, and electronics consultant Johan Lundqvist, update Nolan Johnson on the ViaKing graphite-based direct metallization process and explain how it fits in with customer applications. They also discuss Atotech's portfolio of various chemistries. Johan came to Atotech in August 2019 through the acquisition of J-KEM where he held the position of CEO. Johan stated, "We are pleased J-KEM has joined the Atotech family, as it makes sense for both sides."
10/18/2019 | I-Connect007
In a recent interview, Kelly Dack and Tara Dunn (Omni PCB president and conference co-chair) discussed why designers need to attend the SMTA Additive Electronics Conference. Tara will also be attending and moderating a panel discussion at the conference.
10/10/2019 | I-Connect007
Mainstream PCB manufacturing is often limited to 50-75 microns (mm) line and space. But the electronics industry is evolving quickly. Propelled by the demand for more sophisticated electronics, PCB design is being tasked with finer lines, thinner materials, and smaller via sizes.