Reading time ( words)
Webster defines Monocoque as follows:
A type of construction (as of a fuselage) in which the outer skin carries all or a major part of the stresses
A type of vehicle construction (as of an automobile) in which the body is integral with the chassis
But Webster does not consider a third definition: a new, multifunctional circuit system. This week's column will consider the third definition.
During my trip to Taiwan, a local flex circuit manufacturer introduced me to a new printed circuit technology. The circuits are very different from typical rigid circuit boards because they have 3D structures. The final product is not a flexible circuit because it has no flexibility. The manufacturer calls it a thermoformed printed circuit.
The circuits are produced on a relatively thick thermoplastic sheet, either PET or polycarbonate, using screen-printing with silver paste. The circuit manufacturing process is the same as the process for thick film printed circuits produced with conductive inks. Both single- and double-sided circuits with through-holes are available.
The circuits have almost no flexibility when the base thickness exceeds 100 microns, but they can soften when heated to a temperature below 120°C. The soft circuit is then placed in a forming die using a little pressure where the circuit forms to the shape of the housing device. Once the circuit cools down in the forming die set, it becomes a rigid 3D structure. It is neither a rigid circuit board nor a flexible circuit. The construction has both electrical circuit and mechanical framing (Figure).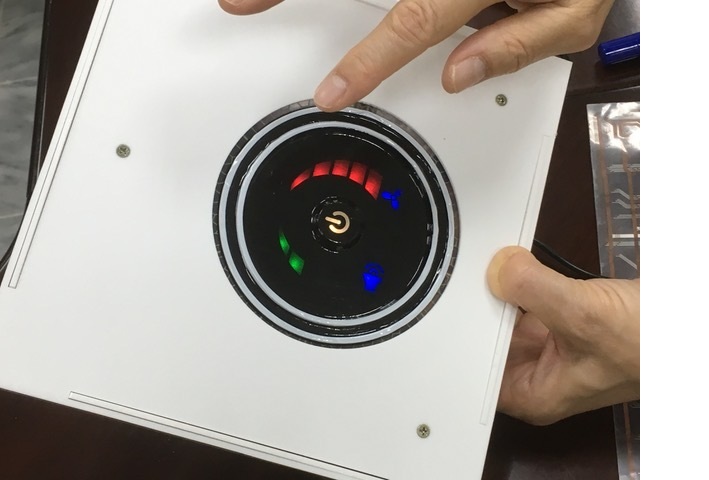 Figure 1: The front side of a formed circuit applied to a switching panel.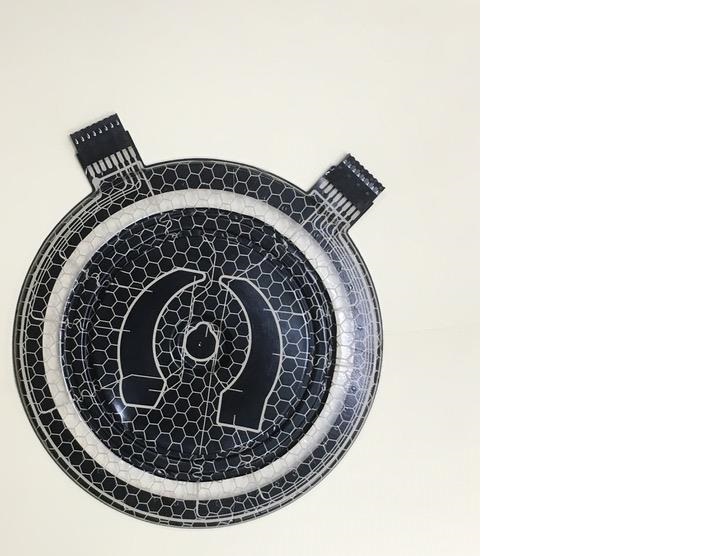 Figure 2: The back side of the circuit.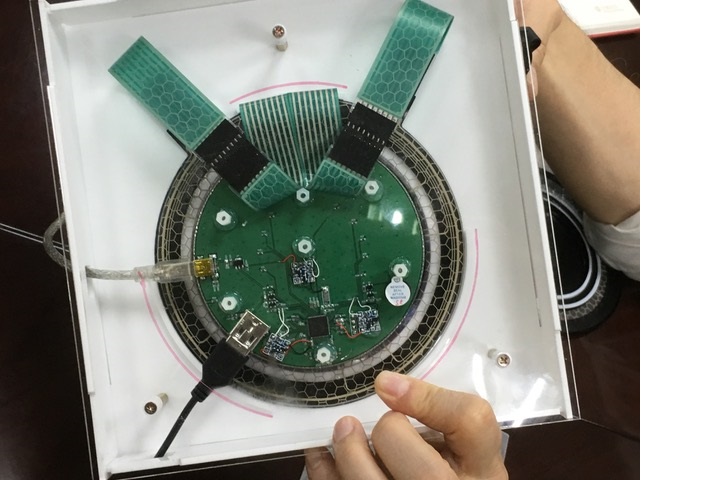 Figure 3: The circuit after assembly.
A picture is worth a thousand words, but not in this case. You have to touch the circuit to appreciate its structure. The panel's surface is not flat; it has several bumps and dimples inside the circle. A double-sided silver ink circuit with via holes was built on the opposite side using a screen-printing process. Many lighting components, including chip-shape LEDs, were mounted on the circuit with conductive glue.
The idea behind the technology is not new. I remember similar technologies developed during the 1990s and throughout the last couple of decades, and various 3D mold circuit technologies were developed based on the same idea. However, none of them were successful in commercial volume applications due to the low reliabilities of copper base conductors. The corners and edges of the metallic copper conductors could easily crack during bending and molding of the circuits.
This Taiwanese circuit manufacturer did not use a new or unique technology to form the circuits but did change the materials. They introduced a fine screen-printing process using several new ink materials to produce a more reliable conductor. The new inks have higher flexibilities compared with metallic copper, so the circuit is more reliable during forming. At this time, they can't guarantee all of its reliabilities, so they prepared a design guide for the formed circuit to eliminate mechanical failures during manufacturing and assembling. The new circuit system cleared significant technical barriers for consumer applications. This could be a breakthrough. More to come.
Headlines
1. Rohm (Device manufacturer in Japan) 4/12
Developed a new AC/DC converter IC "BM2SCQ12xT-LBZ" for power devices.
2. Canon (Electronics company in Japan) 4/16
Developed a new CMOS sensor for monitoring cameras that works under severe circumstances up to 120°C.
3. Nidec (Motor manufacturer in Japan) 4/17
Agreed to buy a subsidiary company OEA from OMRON to strengthen the business of automobile devices.
4. Tohoku University (Japan) 4/18
Co-developed a new n-type mixed conductor that is stable at high temperatures and could be valuable to increase the performances of fuel cell batteries.
5. Sumitomo Corporation (Trading company in Japan) 4/22
Started the subcontracting business of silicon-based photonics devices with Japan Semiconductor Corporation (JSC).
6. Ilica Technologies (Battery manufacturer in the U.K.) 4/22
Unveiled the new all-solid-state battery "Stereax M5o" for in-plant use of the medical devices and can be millimeter-sized.
7. Panasonic (Electronics company in Japan) 4/23
Agreed with Rohm, a device manufacturer in Japan, to sell several semiconductor businesses, including transistors and diodes.
8. TDK (Device manufacturer in Japan) 4/23
Demonstrated the 1-kW class wireless power supply system for unmanned vehicles for in-plant use. Some models are already being used commercially.
9. Kyoto University (Japan) 2/6
Discovered a new photocatalysis[KR1] to generate hydrogen using infrared light (wavelength: 1100 nm).
10. Murata (Device manufacturer in Japan) 4/26
Recorded the highest revenue 1.5750 trillion yen in 2018—a 14.8% increase from the previous year and an increased profit of 63.4%.
11. DISCO (Semiconductor equipment manufacturer in Japan) 4/26
Decided to invest 17.5 billion yen to build a new 10-story manufacturing plant in Nagano (floor size: 132,000 square meters).
Dominique K. Numakura is the managing director of DKN Research LLC. To read past columns or contact Numakura, click here. Contact haverhill@dknreseach.com for further information and news.
Share
Print
Suggested Items
11/08/2019 | Nikolaus Schubkegel
As a general rule, the tack-dry temperature should be as low as possible; in other words, it should only be as high as necessary. If the temperature is too low, the evaporation rate for the solvent will be to slow, and the solder mask will not dry in a reasonable amount of time. If the temperature is too high, however, the dry time certainly will be excellent, but it could create a solder mask lock-in with repercussions by the developing time.
10/18/2019 | I-Connect007
In a recent interview, Kelly Dack and Tara Dunn (Omni PCB president and conference co-chair) discussed why designers need to attend the SMTA Additive Electronics Conference. Tara will also be attending and moderating a panel discussion at the conference.
10/15/2019 | Kelly Dack
Kelly Dack and Tara Dunn talk about the upcoming conference "Additive Electronics: PCB Scale to IC Scale" on October 24, 2019, hosted by SMTA in San Jose, California, and why it's an important event for people to attend—especially those involved in the design process.