Reading time ( words)
New product realization and design for manufacturing and assembly (DFMA) has now started to become more visible as a program that can improve a company's time to market and lower product costs. This is one of the main focuses of Industry 4.0 for the smart factory. Many programs are underway by numerous companies, and what is now needed is a framework to coordinate the application of these programs.
This article will cover the interactions of DFMA and the need for the development of a new framework to coordinate the trade-offs provided by digital twin simulations.
Concurrent engineering has been the basis for electronics design. Its one-way interactions with manufacturing constitute the "old way" of thinking. This article will also propose a new framework—digital twin—patterned after the manufacturing software framework of concurrent manufacturing. This framework will provide the interoperability for manufacturing capabilities and characteristics to be planned into electronic assemblies before the traditional CAE/CAD processes. As part of this framework, the basis for trade-offs will be the basic DFMA metrics that have been developed by different companies. Digital twin is complementary to the growing application of Industry 4.0, smart factory software, and product data management (PDM) software used in electronics manufacturing (Figure 1).
Figure 1: Digital twin evolved from conventional simulation and electrical models to combine with the manufacturing twin models and the performance twin as well as other features of the smart factory. (Source: Machine Design, March 2019)
We have all seen how electronics technologies are increasing in capability at an ever-increasing rate. Unfortunately, those of us in manufacturing have also seen a corresponding increase in the complexity of packaging. Modern EDA tools and concurrent engineering are the primary driver of this phenomena. What we have not learned to do in this era is to develop an effective technique to feed back manufacturing experiences and wisdom. The data flow is all one direction from DFM.
Opportunity Provided by the IC Design Model: Design Planning for PCBs
There are five compelling reasons that digital twin is essential to the design of electronic products. First, products have become increasingly complex. Not only must products meet increased expectations from customers but they must be environmentally friendly, energy-efficient, and conservative of resources. All of this is done in ever-shrinking product life cycles. Second, minimizing cost is imperative. DFMA has been shown in benchmarking and case studies to reduce assembly costs by 35% [1] and PWB costs by 25% [2].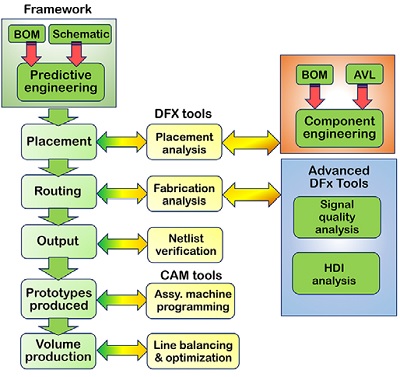 Figure 2: Digital twin contains more than just density modeling; it provides caution on failure-prone components and suitability for testing as well as optimizing electrical performance and minimizing signal integrity problems.
Third, 75% of the manufacturing costs of a product is determined by all the design drawings and specifications. Fourth, in the electronic product design process, 60% of the manufacturing costs are determined in the first stages of design when only 35% of the design cost has been expended. As shown in Figure 2, the product definition process includes specifications and partitioning. This is a technology trade-off analysis of the balance of loss and gain in various domains' performance versus costs. Fifth, a common language needs to be established that links manufacturing to design and R&D. This common language should define producibility as an intrinsic characteristic of design. It is not an inspection milestone conducted by manufacturing. Producibility scores form a non-opinionated basis that allows for a team approach that results in a quality, cost-competitive product.
The Nature of the Problem
The current practice is that design data travels in only one direction: toward manufacturing. As shown in Figure 3, there is no provision for the capabilities, experiences, and wisdom gained in manufacturing to flow back to the design environment. Hence, many companies use concurrent engineering to bring experienced manufacturing personnel into the design process to try and impart some of that wisdom.

Figure 3: Current product data movement.
Unfortunately, these experienced manufacturing people are becoming rarer, and it takes far too long to gain that experience. The difficulties don't just end there; most of the time, the manufacturer is far away. Under the best of circumstances, the wisdom and experience must be imparted as opinion, and opinions are difficult to defend.
To read the full article, which appeared in the June 2019 issue of PCB007 Magazine, click here.
Share
Print
Suggested Items
07/09/2020 | Nolan Johnson, PCB007
On July 8, Nolan Johnson spoke with Shaun Tibbals, sales and marketing director for Electra Polymers. Shaun discusses the Electra Polymer's business outlook responses to the ongoing COVID-19 outbreak.
07/09/2020 | Globe Newswire
Nano Dimension Ltd., a leading Additively Manufactured Electronics (AME)/PE (Printed Electronics) provider, has signed an agreement with LM Instruments, which will represent Nano Dimension in the Mid-Atlantic States by marketing its 3D-Fabrication Machines for High-Performance Electronic Devices (Hi-PEDs).
07/02/2020 | Nolan Johnson, I-Connect007
On July 1, 2020, the USMCA trade act (United States-Mexico-Canada Act) phased in as a trade agreement guiding economic trade and growth in North America. Nolan Johnson spoke with both Shawn DuBravac, IPC's chief economist, and Chris Mitchell, IPC's vice president of global government affairs and an I-Connect007 columnist, about the impact of USMCA on North American electronics manufacturing.