Reading time ( words)
A hand-held device to predict heart failure based on saliva could help millions of potential victims take preventative steps to avoid their fate.
Nano-sensors on the tip of the diagnostic stick measure heart disease biomarkers to accurately predict the risk of heart disease, failure or heart attack, then warn users via a simple app.
RMIT University and the Innovative Manufacturing Cooperative Research Centre (IMCRC) are now researching and developing the device for pilot manufacture, with expectations it will hit market by 2021, in a collaboration led by Melbourne-based start-up, ESN Cleer.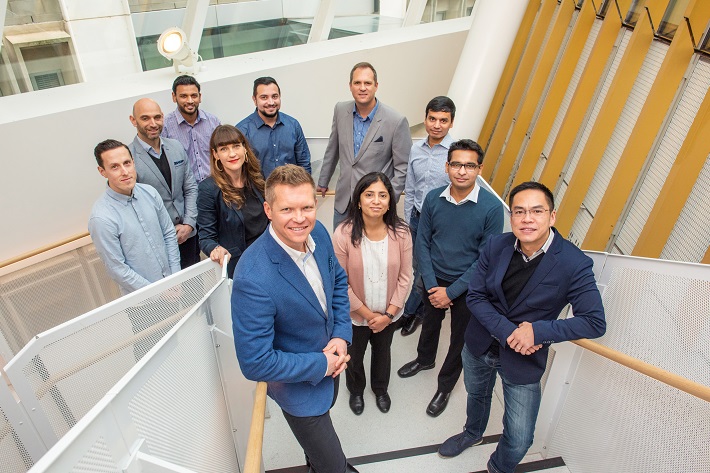 RMIT University nanotechnology and design experts join forces with ESN Cleer and the Innovative Manufacturing CRC to bring the device to market by 2021. Photo: Adam R. Thomas
ESN Cleer CEO Leopoldt de Bruin said the team represented some of the best minds in medical device innovation, design and manufacture.
"We're really pleased to be able to bring these strands together in addressing such a major global health challenge," De Bruin said.
"Of the 400 million people who suffer from cardiovascular disease globally, only 16 per cent of cases are due to genetic traits. This underlines how much room there is to improve on screening and prevention, which is where this device could have such an impact."
Cardiovascular disease currently accounts for nearly one-third of all global disease deaths each year.
Research Co-Director of RMIT University's Functional Materials and Microsystems Research Group, Professor Sharath Sriram, said this was the first portable heart disease test with such high levels of accuracy.
The sensing technology, developed at RMIT University's cutting-edge Micro Nano Research Facility, was validated in the lab to measure biomarker concentrations a thousand times more precisely than levels in human body fluids.
"This marks a big step forward in technology for screening," Sriram said.
"Often, blood tests are only conducted after a heart failure episode. Such reactive testing is too late, leaving people with debilitating illness or leading to deaths."
"Prevention is always better than cure, which is where this technology comes in, adding accurate prediction to the mix."
Share
Print
Suggested Items
06/27/2016 | Marc Carter
There was a time, not so many decades ago, when that most commonly-stated mantra ("lower labor costs") behind offshoring printed circuit fab (and some assembly) operations, still had some case-by-case validity.
04/25/2016 | DARPA
Advanced materials are increasingly embodying counterintuitive properties, such as extreme strength and super lightness, while additive manufacturing and other new technologies are vastly improving the ability to fashion these novel materials into shapes that would previously have been extremely costly or even impossible to create.
04/08/2015 | Purdue University
New research shows how inkjet-printing technology can be used to mass-produce electronic circuits made of liquid-metal alloys for "soft robots" and flexible electronics.