Reading time ( words)
NASA has a wild side. In fact, the agency has a program dedicated to nurturing visionary ideas that could transform future NASA missions with the creation of breakthroughs—radically better or entirely new aerospace concepts.
For years, NASA Innovative Advanced Concepts (NIAC) has supported early-stage research through multiple phases of study, competitively selecting Phase I and follow-on Phase II projects each year.
Phase I studies are nine-month efforts to explore the overall feasibility of innovative aerospace concepts proposed within a mission context. Eligible recipients of Phase I awards who apply and receive subsequent Phase II funding further develop the most promising ideas for up to two years. This advances the technology readiness level of the concepts – how ready they are to be integrated into a spaceflight mission – and explores transition paths within NASA and beyond.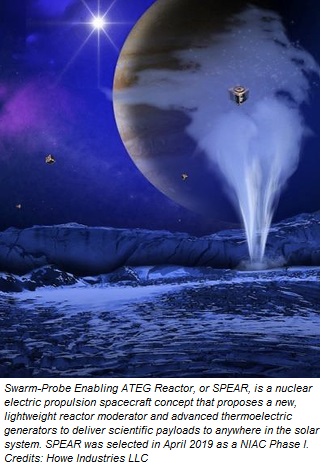 Now, recently announced NIAC Phase III studies have been awarded to strategically fund a small subset of Phase II concepts with clear transition paths and high potential impact to NASA programs, other government agencies or commercial partners.
Focus Areas
In April, NASA announced the 2019 NIAC Phase I and Phase II selections, which include researching concepts for a mission to hellish Venus, highly-mobile and ultra-smart spacesuits, options to power miniature spacecraft for interstellar fly-bys, and the use of special materials to "solar surf" that could allow for dramatic, closer approaches to the Sun.
For the first-ever Phase III selections, announced in June, the two focus areas tell the story of innovation and transition potential: asteroid mining technologies to enable space industrialization and human settlement and robotic technologies to enable the exploration of lunar pits, or craters.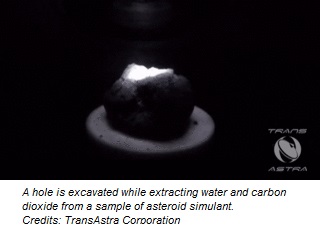 Harvesting Space Resources
Phase III selectee, TransAstra, is a space resources harvesting company. Along with funds from industry, the $2 million NIAC award makes possible the development and ground testing of a small satellite technology demonstration flight system.
The TransAstra Mini Bee is designed to fly into low-Earth orbit on a commercial piggyback launch. Another entrepreneurial space company, Momentus, will provide the spacecraft. Once in place, Mini Bee will capture a small artificial asteroid to showcase TransAstra's patent pending and breakthrough concept of optical mining.
"Optical mining makes it possible to harvest hundreds of tons per year of water from near-Earth asteroids and return that water for use as rocket propellant for in-space transportation services at a fraction of the cost of launching water from Earth," explains Joel Sercel, chief executive officer at TransAstra and chief technology officer at Momentus.
"We could not be more thrilled that NASA selected TransAstra, Momentus, and our other industry partners to work together to build the Mini Bee system," Sercel adds. "NASA's investment in this area is further validation of the importance of water as a propellant for transportation in space and the importance of near-Earth asteroids as a cost-effective source of that water."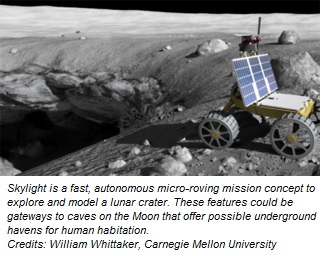 Rim Shots
Also receiving a NIAC Phase III award is robotic pioneer, William "Red" Whittaker, a professor at Carnegie Mellon University's Robotics Institute.
Whittaker's NIAC-supported work appraises use of one or more "smart and speedy" robots to inspect and quickly generate on-the-spot, computer-generated models of craters on the Moon. These craters, up to now only spotted by Moon-orbiting spacecraft, may be sites of caves that could offer future explorers underground shelter, as well as access to minerals, ice and other resources.
The mission envisioned by Whittaker and his team is dubbed Skylight.
"The game is on," underscores Whittaker in terms of renewed human exploration of the Moon with NASA's Artemis program by way of public-private partnerships. "NIAC is that special place in NASA that lets a thousand flowers bloom."
It is essential to develop small autonomous robots, Whittaker says, self-thinking machinery that's fast and can achieve lunar crater investigations in just a week. After that period of time, he points out that the solar-energized equipment would be exposed to the ultra-chilly lunar night that would permanently disable them.
"The idea here is that a rover coming onto a pit is akin to seeing the Grand Canyon for the first time," observes Whittaker. "The robot will be constantly reasoning to occupy the vantage points at the pit's rim and game the risk. Acquiring thousands of images, the robot would generate high-fidelity scientific models that are the purpose of this exploration."
Share
Print
Suggested Items
05/20/2019 | BAE Systems
BAE Systems Australia opened a world class High Frequency laboratory in South Australia that will be used to develop new technology that will be 'the brains' of the upgraded Jindalee Operational Radar Network (JORN).
11/19/2018 | DARPA
Throughout DARPA's history, artificial intelligence (AI) has been an important area of groundbreaking research and development (R&D). In the 1960s, DARPA researchers completed some of the foundational work in the field, leading to the creation of expert systems, or the first wave of AI technologies.
01/11/2018 | DARPA
The growing complexity of space operations coupled with an increased need for timely decisions demands innovative approaches to battle management command and control (BMC2) technologies.