Reading time ( words)
The Horton Grand Hotel in San Diego was the site of "A Night of Happy-ness" on the evening of Monday, February 3, 2020. I-Connect007 transformed the Regal Ballroom into a cozy lecture hall with two key objectives: to award the I-Connect007 Good for the Industry awards, and to celebrate the life, achievements, and personality that is industry pioneer Happy Holden.
The evening started with cocktails and appetizers. Barry Matties served as master of ceremonies, setting the mood with a mix of humor and sincerity.
The headliner of the evening was Happy Holden, who shared his memories and reminiscences growing up, as a student at Oregon State University, and then as a true pioneer at Hewlett-Packard. Happy's career brought him in contact with virtually every other luminary in the electronics and computer segments. Happy kept the crowd captivated with funny stories and interesting asides, right up to the scheduled Q&A session.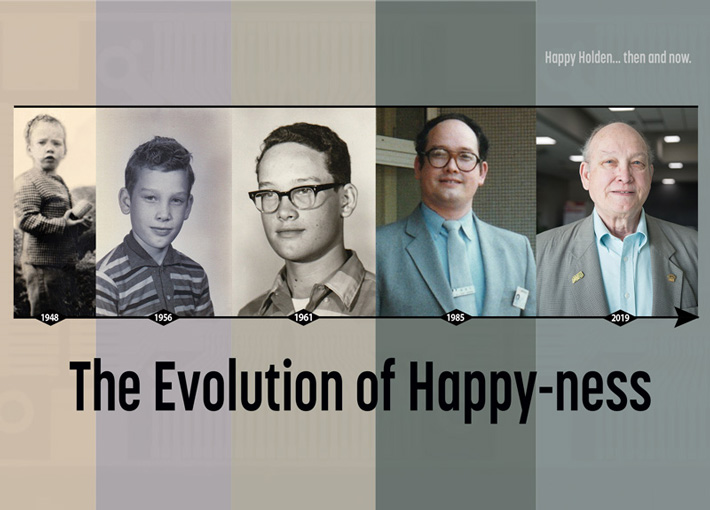 I-Connect007 was also pleased to announce the recipients of this year's prestigious Good for the Industry Award. I-Connect007 columnists from various industry segments—including Design007, PCB007, SMT007, and Flex007—were recognized and celebrated for sharing their knowledge and expertise with the industry. This year's recipients each contributed a minimum of 50 columns, articles, interviews, etc., since becoming I-Connect007 columnists.
Publisher Barry Matties said, "At I-Connect007, we believe being good for the industry means helping the industry improve cycle time, lower cost, increase yields, build better products, increase profitability, reduce waste, become overall more efficient, do things differently, and motivate and inspire others to do the same—all things that are good for the industry. These are things that we strive to do in our own business every day."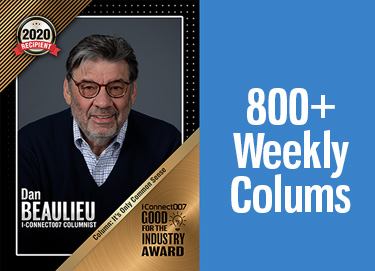 Kiersten Rohde, I-Connect007 editor and columnist coordinator, stated, "It was an honor to recognize these columnists and all the work they have contributed to the industry over many years. They're an incredible group of industry experts and I greatly respect their commitment to education and knowledge-sharing."
The entire I-Connect007 team congratulates these recipients and thanks them for being good for the industry.
>Check out photos from this event at our Real Time with... IPC APEX EXPO 2020 site.
800+ Contributions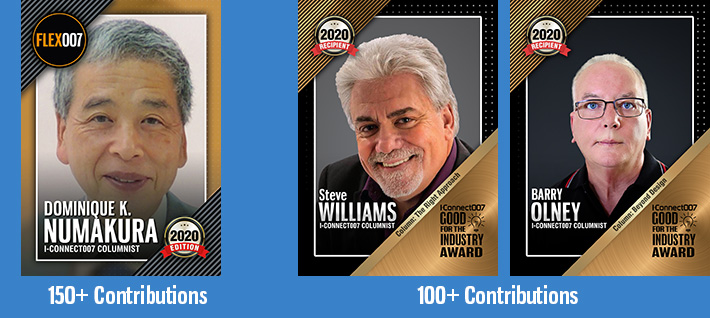 150+ Contributions
100+ Contributions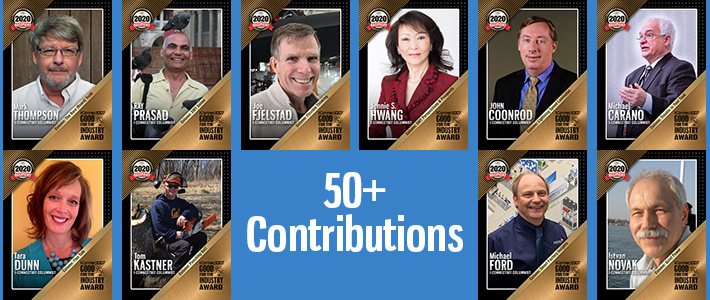 50+ Contributions
Share
Print
Suggested Items
10/16/2020 | Nolan Johnson, I-Connect007
Trade shows and technical conferences haven't died; they've just moved online. The trade show season continues in virtual full force this week, and event coverage dominates the top five this week. Surprisingly, I don't see events as this week's theme. No, this week's theme is "pundits." We have Walt Custer's industry outlook, seven experts on additive electronics, a designers conference keynote, and the IPC's government relations expert. Don't get me wrong: These folks are asked to speak to the industry for a good reason. They know their subject matter, and they present it skillfully. This week's top five picks are worth reading.
10/12/2020 | Pete Starkey, I-Connect007
"We're not out of trouble yet, but it's a whole lot better than a couple of months ago." Walt Custer's business outlook update, with emphasis on the European electronics industry, attracted a capacity audience to EIPC's webinar on October 2. Pete Starkey details how it wasn't all bad news.
10/05/2020 | I-Connect007 Editorial Team
We asked for you to send in your questions for IPC President and CEO John Mitchell, and you took us up on it! We know you all enjoyed reading these questions and answers, so we've compiled all of them into one article for easy reference. We hope you enjoy having another bite at the apple. And if you'd like to hear more from John Mitchell, view his column series "One World, One Industry."