Reading time ( words)
The Horton Grand Hotel in San Diego was the site of "A Night of Happy-ness" on the evening of Monday, February 3, 2020. I-Connect007 transformed the Regal Ballroom into a cozy lecture hall with two key objectives: to award the I-Connect007 Good for the Industry awards, and to celebrate the life, achievements, and personality that is industry pioneer Happy Holden.
The evening started with cocktails and appetizers. Barry Matties served as master of ceremonies, setting the mood with a mix of humor and sincerity.
The headliner of the evening was Happy Holden, who shared his memories and reminiscences growing up, as a student at Oregon State University, and then as a true pioneer at Hewlett-Packard. Happy's career brought him in contact with virtually every other luminary in the electronics and computer segments. Happy kept the crowd captivated with funny stories and interesting asides, right up to the scheduled Q&A session.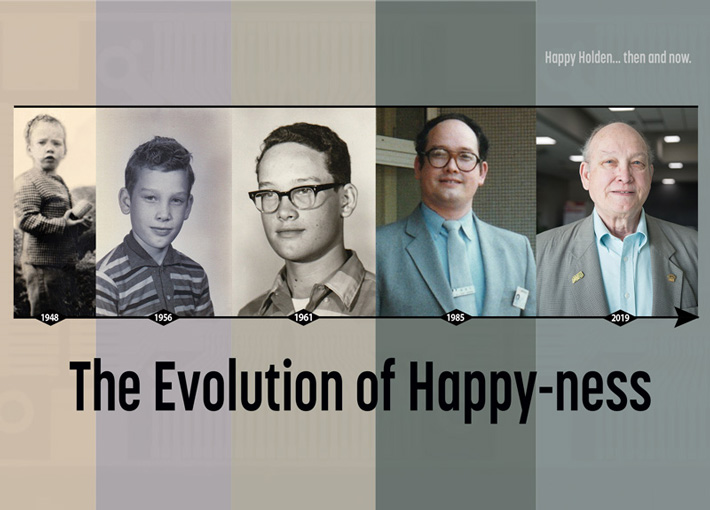 I-Connect007 was also pleased to announce the recipients of this year's prestigious Good for the Industry Award. I-Connect007 columnists from various industry segments—including Design007, PCB007, SMT007, and Flex007—were recognized and celebrated for sharing their knowledge and expertise with the industry. This year's recipients each contributed a minimum of 50 columns, articles, interviews, etc., since becoming I-Connect007 columnists.
Publisher Barry Matties said, "At I-Connect007, we believe being good for the industry means helping the industry improve cycle time, lower cost, increase yields, build better products, increase profitability, reduce waste, become overall more efficient, do things differently, and motivate and inspire others to do the same—all things that are good for the industry. These are things that we strive to do in our own business every day."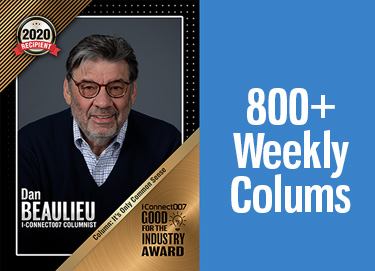 Kiersten Rohde, I-Connect007 editor and columnist coordinator, stated, "It was an honor to recognize these columnists and all the work they have contributed to the industry over many years. They're an incredible group of industry experts and I greatly respect their commitment to education and knowledge-sharing."
The entire I-Connect007 team congratulates these recipients and thanks them for being good for the industry.
>Check out photos from this event at our Real Time with... IPC APEX EXPO 2020 site.
800+ Contributions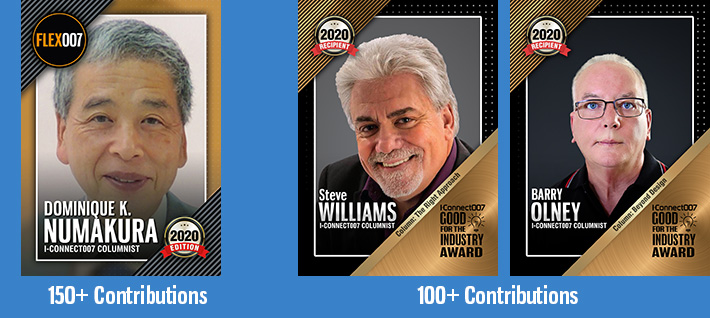 150+ Contributions
100+ Contributions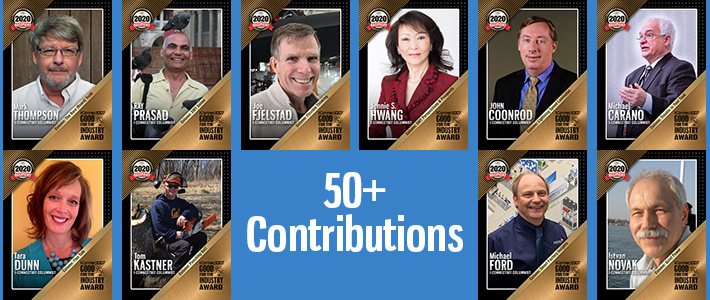 50+ Contributions
Share
Print
Suggested Items
03/05/2021 | Nolan Johnson, I-Connect007
A perennial and yet irregular category on the popular game show Jeopardy is "potpourri." My dad, as I was growing up, pronounced the word as "pot-poury." It wasn't until I was a sophomore in college that my girlfriend's mom—who had a penchant for a soupcon of French euphemism in her tête-à-têtes—pronounced the word properly: "po-pu-ree." Such are the risks of growing up just a bit rural.
02/24/2021 | Hailey Lynne McKeefy, Freelance Journalist and Supply Chain Specialist
The 2020s have not started as anyone would have wished. The COVID-19 pandemic has exposed weaknesses in supply chains and in global manufacturing, yet this could still be the most innovative decade ever.
02/19/2021 | Nolan Johnson, I-Connect007
I'm following the landing procedures for NASA's Perseverance Mars lander as I'm finishing my Top 5 list for the week. The successful landing of the lander seems a nice highlight for this week. Our global aerospace programs, both national and private enterprise, make these missions seem almost, almost routine. They are, as we all know, anything but routine. No surprise, then, that aerospace-related news percolated to the top of mind for our readers this week.