Reading time ( words)
In a recent survey, we wanted to know what the industry's expectations are for PCB designers. One of the questions that we asked our readers was: Of the following criteria, which are the three most important for your job, according to your customers and/or your company? We requested that respondents choose only three items from the list.
We have created a chart of the results. (Because respondents selected more than one, choices do not total 100%.) To make your voice heard, you can take part in this survey by clicking here. Surveys like this help us stay on top of the issues and challenges that our readers face every day. We appreciate your participation.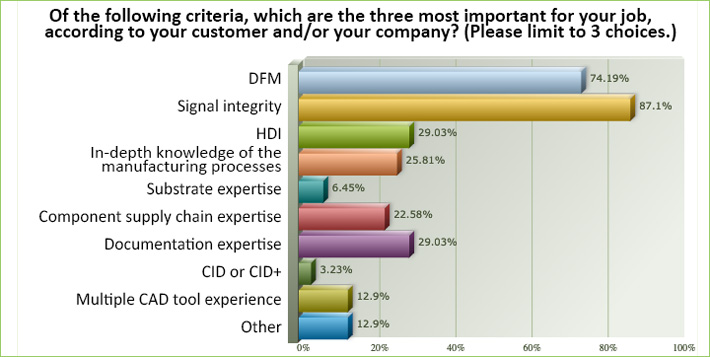 Share
Print
Suggested Items
09/10/2020 | Dan Beaulieu, D.B. Management Group
I had the opportunity to speak with Anaya Vardya, president and CEO of American Standard Circuits, about "The Printed Circuit Designer's Guide to…Thermal Management: A Fabricator's Perspective," which serves as a desk reference for designers on the most current thermal management techniques and methods.
06/17/2020 | Andy Shaughnessy, Design007 Magazine
On June 15, Andy Shaughnessy spoke with Joe Clark, co-founder of DownStream Technologies, about the company's drive to take care of its customers and employees throughout the pandemic and beyond. As the U.S. slowly starts reopening, Joe discusses some of his customers' current challenges, especially those working from home for the first time, and how DownStream's forecast has helped the company prepare for the uncertainties in the industry right now.
06/04/2020 | Andy Shaughnessy, Design007
On June 2, components distributor Digi-Key Electronics announced the release of PCB Builder, a tool that lets customers have PCBs shipped directly from the fabricator. PCB Builder also allows customers to perform file layer checks and receive instant quotes from multiple fabricators. Andy Shaughnessy spoke with Josh Mickolio, supplier business development manager for Digi-Key, about the development of PCB Builder and what this tool means to PCB designers and design engineers.