Reading time ( words)
The following is an excerpt from The Printed Circuit Designer's Guide to... Signal Integrity by Example, written by Fadi Deek of Mentor, a Siemens Business. Deek explores how to reach effective design solutions and make strong engineering tradeoffs through analysis techniques, best design principles, and software tools to achieve accurate simulations and measurements.
Chapter 3: Crosstalk
Root Cause
Crosstalk is another major issue to investigate during signal integrity analysis of a design. Typically, a third of the design's noise budget is allocated to noise coming from crosstalk. In order to solve crosstalk issues, it is very important to understand the root cause. Coupling between two transmission lines occurs due to fringe electric fields and magnetic fields. When a signal propagates on a transmission line, it will generate fields as shown in Figure 3-1.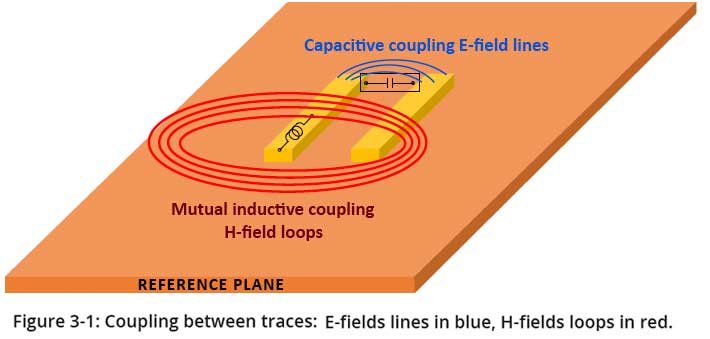 The E-fields, in blue, are lines emanating from the signal and return paths on which the signal is propagating and couples to all surrounding metal. That E-field will induce a voltage on any conductors lying inside the field. Similarly, the signal will also generate H-fields that will induce currents on the surrounding metal.
The coupling mechanism can also be described using mutual inductances and capacitances. A signal return path loop has a loop inductance. Any two loops in close proximity will have a loop mutual inductance between them. A signal carrying a time-varying current, di/dt, will couple from one loop to the other through this mutual inductance. Also, the same signal will have a time-varying voltage, dV/dt, and that will capacitively couple to neighboring traces.
Based on this, it is important to keep in mind that as a signal propagates down a trace, the coupling takes place at the location of the transitioning edge, where the dV/dt and the dI/dt are. As a signal propagates, the edge will have a spatial extent along the interconnect. Whether it is a falling or a rising edge, the time varying fields exist where that edge is. The steady state part of the signal does not contribute to coupling since it contains no time varying voltages or currents.
It is very important to mention that once a signal couples onto a trace as noise, the noise will split and propagate in both directions as shown in Figure 3-2.

To download the eBook The Printed Circuit Designer's Guide to... Signal Integrity by Example, written by Fadi Deek of Mentor, a Siemens Business, click here.
To visit the I-Connect007 library and check out the entire lineup of free eBooks, click here.
Share
Print
Suggested Items
09/17/2020 | Andy Shaughnessy, Design007 Magazine
I recently spoke with Max Clark, business unit manager with Mentor, a Siemens Business, and Z-zero founder Bill Hargin about the newly formed partnership that resulted in a new stackup tool that Mentor is now selling worldwide. Fun fact: Hargin used to work for Mentor as part of the HyperLynx team, which now has an interface with Z-planner Enterprise. Talk about coming full circle.
09/09/2020 | I-Connect007 Editorial Team
The I-Connect007 team recently interviewed Mike Jouppi, one of the champions of thermal management in PCBs. Mike spent decades working on updating the old IPC current-carrying data, which dated back to the 1950s, and he is the primary architect behind IPC-2152— the standard for determining current-carrying capacity in printed board design. As Mike explained in this wide-ranging interview, even if you're using the latest thermal design software, you still need to have a firm understanding of the fundamentals.
08/13/2020 | Happy Holden, I-Connect007
We asked for you to send in your questions for Happy Holden, and you took us up on it! We loved them so much, and we know that you did too, so we've compiled all 21 questions and answers into one document for easy reference.