Reading time ( words)
No discussion about fab notes and documentation would be complete without the insight from DownStream Technologies. DownStream has spent 18 years developing tools to help PCB designers provide more accurate, complete data packages to the fabricator. We recently asked Rick Almeida, DownStream co-founder, and Technical Sales Manager Ray Fugitt to discuss why so many fabricators are still receiving (and correcting) inaccurate and incomplete data from their customers. And if fabricators and designers are content with this current process, is it really a problem after all?
Andy Shaughnessy: It's great to speak with you both, even by conference call. Can you tell us about some of the biggest problems that fabricators have to deal with, as far as data from their customers?
Rick Almeida: Ray's experience is actually working for fabricators, so he'd have a pretty good technical knowledge of what some of the issues are. But from what we see as a company, dealing with this on a day-to-day basis, is that some of the problems are in a couple of different areas. One is there's a myriad of data files that get handed off. The market, in general, is still Gerber-centric and not so much single manufacturing file-centric. Because of that, you have a lot of different data files and documentation to tell you how to use those data files, which creates issues. When you have so many different data files, you run into the issue of if all the data files are there and correct. Does the design itself line up with what the manufacturer is asking you to build? Those are the common things that we see people having problems with. Ray, do you want to add anything to that?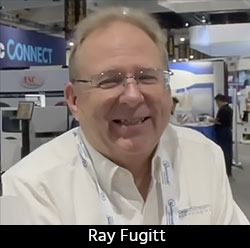 Ray Fugitt: One of the biggest ones we see, and especially since I'm in tech support now, is bad data out of the CAD systems. There is this thought throughout the industry that the CAD systems don't put out bad data, but we see it every day.
Barry Matties: Why are they getting bad data out of the CAD system?
Fugitt: I have examples. Things like—I'll throw the term out there, and you can put yourself to sleep Googling it—"self-intersecting polygons."
Almeida: It's just a conversion of the intelligent design into unintelligent Gerber files, and what that entails to drive a machine, as opposed to screen graphics.
Fugitt: We're doing a translation, and just to carry that one just a little bit further is it's illegal, per the Gerber spec, to get all the CAD system's output and know how you can go any further with that.
Almeida: It always goes back to that common issue between design systems and manufacturing systems. This is at the end of the process, and it's where the smallest amount of R&D is spent on the manufacturing side of the design tools. And that's a large reason why people are still gravitating toward Gerber files, as opposed to an ODB++ or an IPC-2581 file; they just don't have that experience.
To read this entire interview, which appeared in the August 2020 issue of Design007 Magazine, click here.
Share
Suggested Items
01/20/2023 | Andy Shaughnessy, Design007 Magazine
We're in the middle of show season, and it certainly "shows." Thank you very much. I'm here all week. Don't forget to tip your wait staff. This week, we published a variety of articles, columns, and news items, and much of it centered on trade shows. Technical Editor Dan Feinberg brings us a report from CES 2023. IPC announced the winners of the Best Technical Paper awards for IPC APEX EXPO 2023. And we have an interview with Altium's Rea Callender about the company's educational efforts at APEX and around the globe.
01/16/2023 | I-Connect007 Editorial Team
Altium keeps its eyes on the designers of the future. The company has been working with colleges and universities for years, providing free seats of Altium Designer for the next generation of PCB designers and design engineers. At IPC APEX EXPO 2023, Altium will be providing software for the finalists in the IPC Design Competition just as it did last year. They offer a variety of other educational programs as well, including Upverter classes and a design competition that aims to address environmental change. Here, Rea Callender, Altium's VP of education, discusses its educational programs and plans for the week of the show.
01/12/2023 | Patrick Crawford, IPC
Last year, IPC held its first-ever design competition at IPC APEX EXPO in San Diego. PCB designers from around the world competed in a series of heats during the months before the show, culminating in a showdown on the show floor between the top three finalists. Rafal Przeslawski, now with AMD, took home the top prize last year. This year, the competition is back for its sophomore year. I asked Patrick Crawford, manager of design standards and related programs for IPC, to "layout" the details on the design contest, including lessons learned in 2022 and what's new for the 2023 competition.